Regular price
Rs. 1,107.00
Regular price
Rs. 1,107.00
Sale price
Rs. 1,107.00
Unit price
per
0 % off
0 % off
Share
Offers available
FLAT 4% OFF
No minimum purchase
THO4
FLAT 7% OFF
on purchase of 999/-
THO7
FLAT 10% OFF
on purchase of 1499/-
THO10
View full details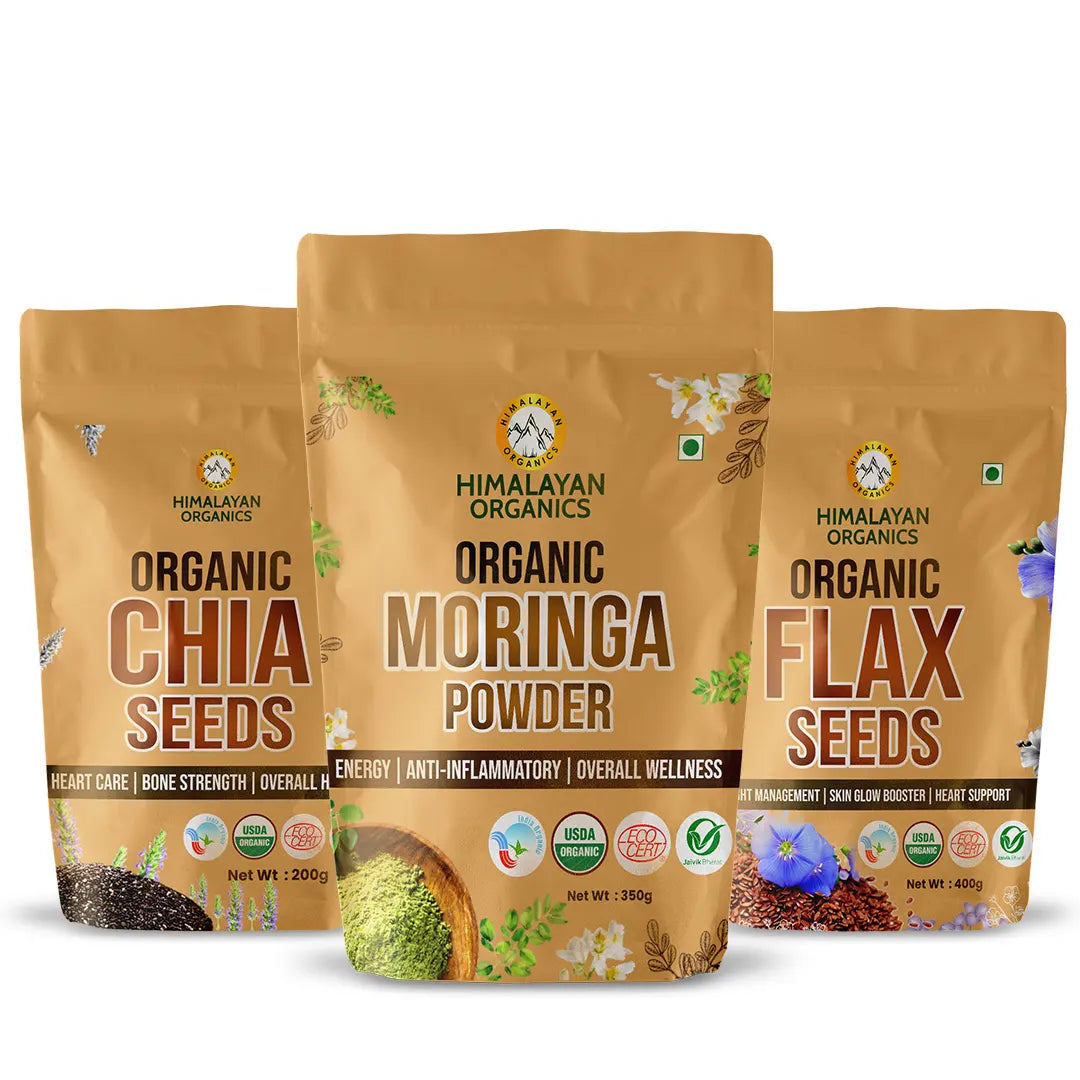 Description
The power combination of chia, flax and moringa is a treat full of antioxidants, proteins, minerals and fibre. The power station of nutrients enables you to renew your eating patterns with a number of healthy new add ons to your regular recipes, with nature's goodness. To make the deal better, we have harvested each of them from organic farms, and deliver you with the certified organic seal! What will be better than tasty, healthy and clean food! 
IMMUNITY REINFORCEMENT: Just a spoonful of chia seeds carry loads of antioxidants, magnesium, and zinc that amp up your natural immunity levels for optimum well-being. Achieve good levels of immunity and stay safe.
INTERESTING NUTRITION: Himalayan Organics Organic Moringa Powder makes your daily nutrition interesting. It is not limited to a super drink made with water. Instead, you can do MORE with MORINGA. You can add it in smoothies, shakes, juices & more to make your daily delicacy drinks. You can also sprinkle Moringa over fruit salads for a super healthy & tasty treat.
SMOOTHER, GLOWING SKIN: A daily dose of flaxseeds is indispensable to a good skin care regimen. Himalayan Organics Organic Flax Seeds feed your skin with vital nutrients it needs for cell regeneration and vitality. The organic seeds make the skin smooth and supple. Organic Flax Seeds also tighten the skin and help delay skin ageing.
All benefits in a basket : We deliver you all the goodness, and three yummy ingredients to your health, heart, and tummy, in just a single delivery, brought together mindfully to fill in all the spaces in your diet and habits. 
CERTIFIED ORGANIC:
Himalayan Organics Organic Chia Seeds is a pure, clean, and nutritious superfood. Carefully handpicked from the best farms and packaged to the highest standards for retaining nutrient values.
Does this work as a zinc magnesium supplement as well?
Himalayan Organics Combo of Certified Organic Moringa Powder, Chia Seeds & Flax Seeds may provide antioxidants, magnesium, and zinc but it is not a substitute for zinc magnesium supplement.
I drink them with water add them to my smoothies and consume them every day such an amazing result I received everyday
Greetings of the day, Thank you for your feedback
Will this help my nails? They are extremely brittle.
Himalayan Organics Combo of Certified Organic Moringa Powder, Chia Seeds & Flax Seeds may help to nourish your nails as it contains omega in it, the brittle nails may be due to nutritional deficiency of biotin, so you can add Himalayan organics biotin supplement to improve your nails quality.
How to consume these 3 together?
We would like to suggest you take 1/2 teaspoon of organic moringa powder per day and drink it in the morning and evening each as per your need. And you can mix chia seeds and flax with other nuts and fruits, or you can bake it in cookies, bread, cakes, and more.