Regular price
Rs. 799.00
Sale price
Rs. 749.00
Unit price
per
6 % off
6 % off
Share
Offers available
FLAT 4% OFF
No minimum purchase
THO4
FLAT 7% OFF
on purchase of 999/-
THO7
FLAT 10% OFF
on purchase of 1499/-
THO10
View full details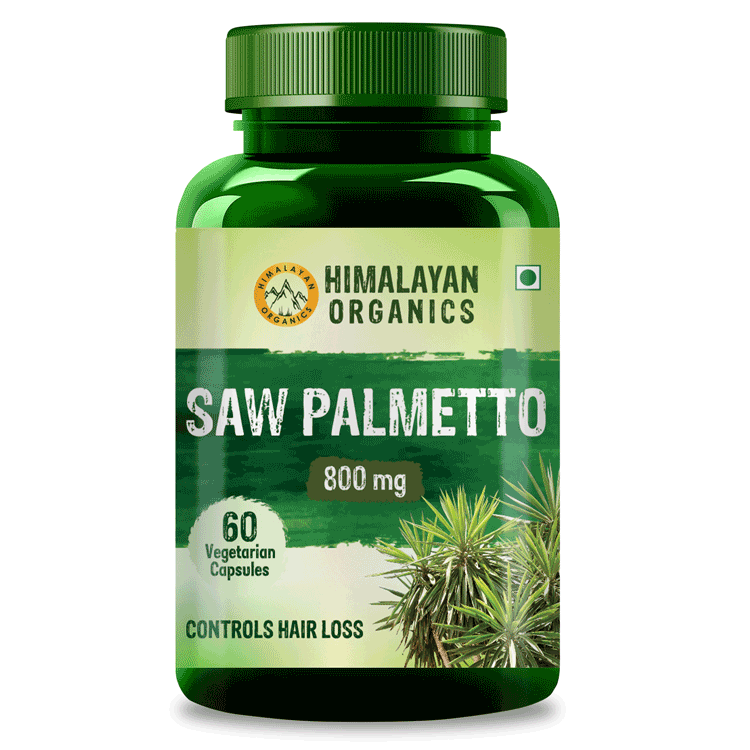 Description
Why do we need Saw Palmetto?:Saw Palmetto is known to ward off hair loss and enhance density. It has antioxidant compounds that safeguard from damage-causing molecules as well. Saw palmetto supplement serves you the pure extracts and greater benefits.
Flaunt-Worthy hair naturally:The capsules are curated with natural Saw Palmetto extracts that combat harmful enzyme actions causing hair fall. Saw Palmetto capsules promote healthy hair growth, enhance density, and better texture.
Prostrate health support:Saw palmetto manages urinary functioning in men, and keeps prostrate gland healthy functioning and helps prevent related diseases.
Balanced hormones for balanced health:Saw palmetto extracts manage testosterone levels in men. It balances hormones to prevent hairfall, promote blemish-free skin, and overall healthy body.
Healthy Hair:
Maintains healthy and balanced DHT levels and promotes hair follicle growth.
Clear skin:
Nourishing and hydrating saw palmetto extract that combats acne and promotes healthy skin.
Stress-Relief:
Stress-relieving Saw palmetto extract that balances your hormones.
Saw Palmetto Extract: Filled with antioxidant compounds that keep hormonal balance in check to promote healthy body functioning.
FAQs
Saw palmetto helps DHT, the hormone that promotes hair loss. It also reduces the ability of DHT to reach hair follicles and thus helps you reduce hair fall.
Yes, the capsules are curated with purely natural extracts of Saw Palmetto to serve as a safe and effective supplement for hair health and stress relief.
Yes, the capsules aid in balancing hormones, combat inflammation and might help you lower the size of your prostate and prevent related diseases.
Yes, Saw Palmetto extract manages sebum production, an oily secretion that makes you prone to acne. It also keeps combats acne growth and breakouts.
The capsules are purely plant-based, made from natural extracts of saw palmetto. They are free from harsh chemicals, gluten, tree nuts, soy, and dairy.
YOUR DAILY CLEAN, GREEN, VEGAN NUTRITION
Hair loss
Mujhe two months complete ho gye hai but abhi bhi hair loss ho RHA hai
NOT RECOMANDED
TOLL FREE NO NOT WORKING NO CONTACT SOURCE .HOW TO TAKE WHEN TO ATKE NO SOURCE OF POINT....
Is it safe to take saw palmetto daily?
Yes, It is safe to consume Himalayan Organics Saw Palmetto supplement regularly.
Yes it works. As soon as I received the supplement I've started taking its advised daily dosage. In the third day of my use I've had more relax and comfortable daily life.
Greetings of the day, Thank you for your feedback