Regular price
Rs. 795.00
Sale price
Rs. 545.00
Unit price
per
31 % off
31 % off
Share
Offers available
FLAT 4% OFF
No minimum purchase
THO4
FLAT 7% OFF
on purchase of 999/-
THO7
FLAT 10% OFF
on purchase of 1499/-
THO10
View full details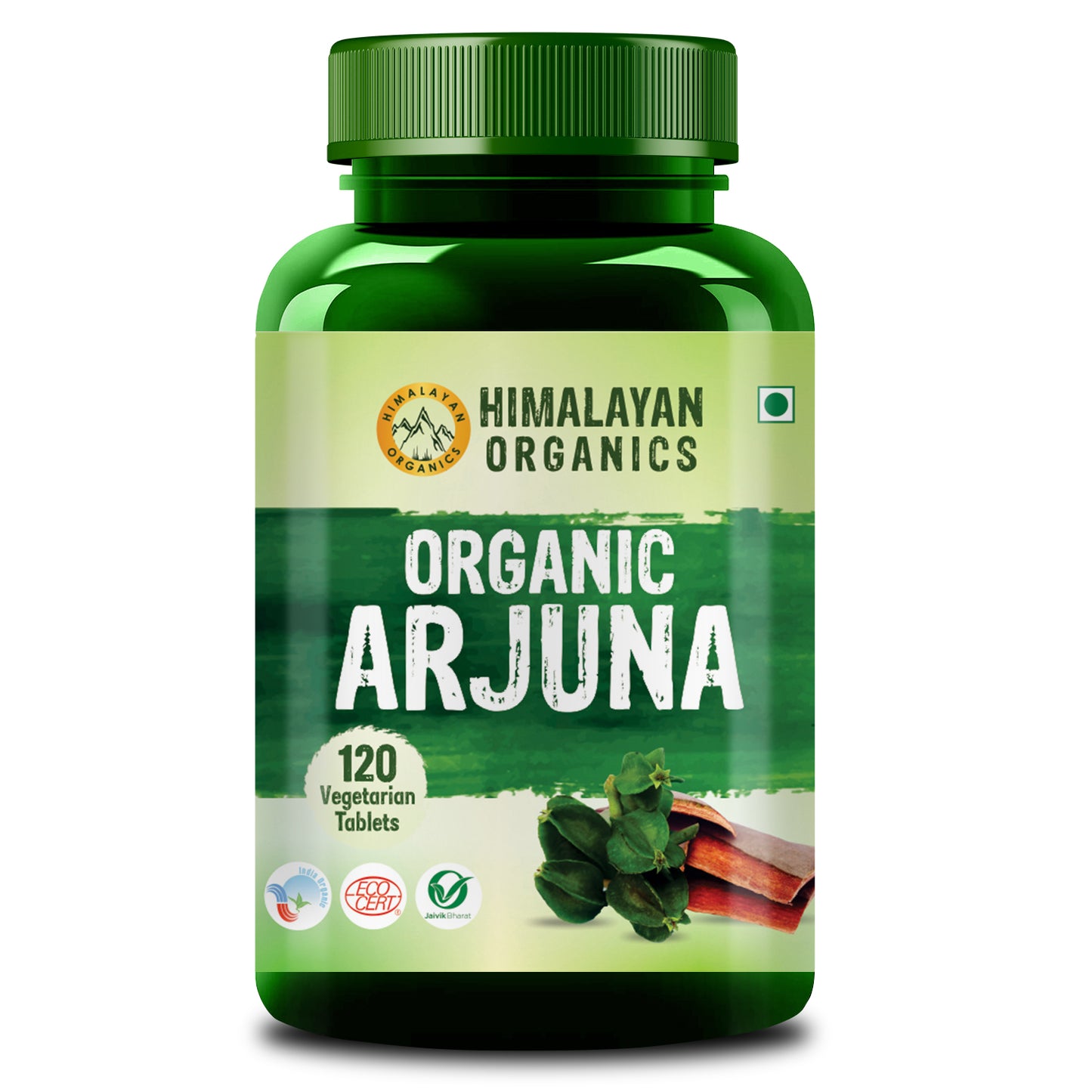 Description
Arjuna Bark - Quintessential Herb for Heart! Strengthens, nourishes & builds physical as well as emotional resilience of the heart
Keep your heart lively, healthy, hearty & happy! Tone your heart muscles, ensure proper blood flow, regulate blood cholesterol levels & discourage stress on your heart
It's the heart that is important: Abundant intrinsic properties - Antioxidant | Anti-inflammatory | Cardioprotective | Antiplatelet
Nourished heart for a thriving you - organically!: Organic Nutrition that is thoughtfully sourced from sustainable farms & processed in clean facilities to give your body the purest Nutrition it deserves.
HEART FUNCTIONING:
It safeguards arteries & facilitates smooth blood circulation for a stress-free heart
HEALTHY HEART VITALS:
Promotes good cholesterol, healthy blood sugar & blood pressure levels
ANTIOXIDANT SUPPORT:
Neutralizes harmful free radicals & discourages oxidative stress in the body
Arjuna - One of the potent Ayurvedic herbs that is treasured till date for its abundant intrinsic properties & heart health boosting properties.
FAQs
Arjuna has anti-hypertensive properties that help in the dilation of blood vessels, ensure smooth blood flow and regulate blood pressure levels.
Arjuna Bark has abundant plant compounds which regulate glucose metabolism & balance blood sugar levels.
Arjuna contains a good quantity of minerals and amino acids like calcium, magnesium, zinc, copper, tryptophan, tyrosine, histidine, cysteine & more.
No. Organic Arjuna Tablets are easily digestible by the body. On top of that, it is a readily absorbable formula that does not cause any reflux action or acidity.
Yes, it is an expert-approved organic formula made as per regulatory standards, making it fit for consumption & side-effect free.
YOUR DAILY CLEAN, GREEN, VEGAN NUTRITION
Does this help in maintaining Blood Pressure at the proper rate?
Himalayan Organics Arjuna Tablets help to promote good cholesterol, healthy blood sugar & blood pressure levels.
I was experiencing pain around my heart and purchased this based on some of my research. My pain is minimal at this point so I have to remember to take it on a regular basis. Great product.
Greetings of the day, Thank you for your feedback
Worked great for me. I was having a racing heart and shortness of breath every morning for about 2 hours. According to the TCM body clock, this was the 'heart hours'. After 1-2 weeks of this i am feeling SO much better and haven't had an issue with those symptoms. Will continue to purchase. Good price
Greetings of the day, Thank you for your feedback
I have taken Arjuna about a month, without fish oil or garlic supplements. My blood pressure was perfect this morning for the first time in a long time,love the result very good!
Greetings of the day, Thank you for your feedback
Himalayan Organics Arjuna Tablets are vegan products devoid of harsh chemicals, additives, gluten, soy & dairy.