Regular price
Rs. 1,295.00
Sale price
Rs. 299.00
Unit price
per
76 % off
76 % off
Share
Offers available
FLAT 4% OFF
No minimum purchase
THO4
FLAT 7% OFF
on purchase of 999/-
THO7
FLAT 10% OFF
on purchase of 1499/-
THO10
View full details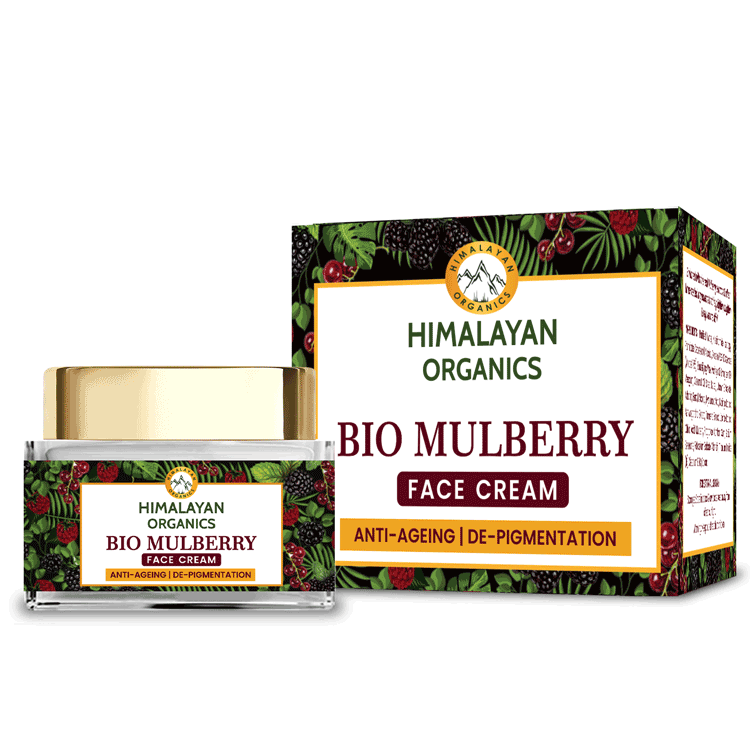 Description
Lighten, Brighten, Freshen for Complete Rejuvenation!
Since ancient times, Mulberry is considered to be a wonderful skin ingredient that revives & rejuvenates skin in the most natural way. Mulberry inhibits Tyrosinase, an enzyme that triggers the production of melanin in a safe & effective way. Himalayan Organics Bio Mulberry Cream is a super-light face cream with a delicious aroma. Blessed with the goodness of real mulberry extracts, Vitamin C, Vitamin E, & other essential natural skin protective ingredients, it regulates melanin synthesis, promotes glowing skin while relieving dark spots and hyperpigmentation for an even skin tone. Time to lighten, brighten and freshen for complete rejuvenation!
Plant-based extracts for fresh and glowing skin!
Mulberry Oil Rich in vitamins, minerals, and antioxidants, it has natural skin brightening properties that combat dark spots, regulates pigmentation, neutralizes free radicals that cause damage to skin cells.
Turmeric Loaded with antioxidants and anti-inflammatory components, turmeric revives the skin by bringing out the natural glow and provides the luster and glow to your skin. It targets your pores and calms your skin.
Coconut Oil Touted for its health-promoting properties, it guards your skin against various microorganisms that can cause potential damage to your skin. It moisturizes, hydrates, heals, and nourishes your skin from deep within.
Superfood for lightening, brightening, and rejuvenating skin!
ANTI-AGING CREAM: Himalayan Organics Bio Mulberry cream is synonymous with anti-aging cream due to the powerful antioxidant properties that mulberry oil has. Not just that, it has the ability to make you look young and fresh and promotes skin free of wrinkles & fine lines. The antioxidants in mulberries like beta-carotene plus Vitamins A, C, and E, neutralize free radicals that damage skin and lead to wrinkles.
FRESH & CLEAN SKIN: This cream contains various skin freshening ingredients that regulate the occurrence of blemishes on the skin. Mulberries balance the melanin synthesis in your skin, which naturally clears off the dark spots. It moisturizes skin, unclogs pores, and removes toxins, keeping your skin fresh and vibrant. Not just that, Bio Mulberry cream is rich in minerals that provide elasticity, flexibility, and nourishment to the skin.
SUITABLE FOR ALL: Himalayan Organics Bio Mulberry Cream is an enriching formula for all, developed after extensive research & expert recommendation. Rich in vital vitamins, minerals, and antioxidants, it soothes dry and delicate skin. It also hydrates your skin from within and is suitable for both men & women and all skin types.
Is this an ancient recipe or an Ayurvedic product?
Himalayan Organics Bio mulberry Cream is a combination of plant extract and synthetic ingredients.
I started using these creams 4 months and loved the results I'm getting great results it fades away and improves my skin texture as well!
Greetings of the day, Thank you for your feedback
Can I use these creams in monsoon season or anything else would you suggest?
Himalayan Organics Bio mulberry Cream can be used in the monsoon season, but if you have oily skin we do not suggest using the cream.
Can I use these at night or only day I need to use them?
We would like to suggest you use Himalayan Organics Bio mulberry Cream day and night for better results.
I want to buy this product but my skin is normal skin type so can I use these?
Yes, you can use Himalayan Organics Bio mulberry Cream helps to regulate melanin synthesis, and promotes glowing skin while relieving dark spots and hyperpigmentation for an even skin tone