Regular price
Rs. 549.00
Sale price
Rs. 299.00
Unit price
per
45 % off
45 % off
Share
Offers available
FLAT 4% OFF
No minimum purchase
THO4
FLAT 7% OFF
on purchase of 999/-
THO7
FLAT 10% OFF
on purchase of 1499/-
THO10
View full details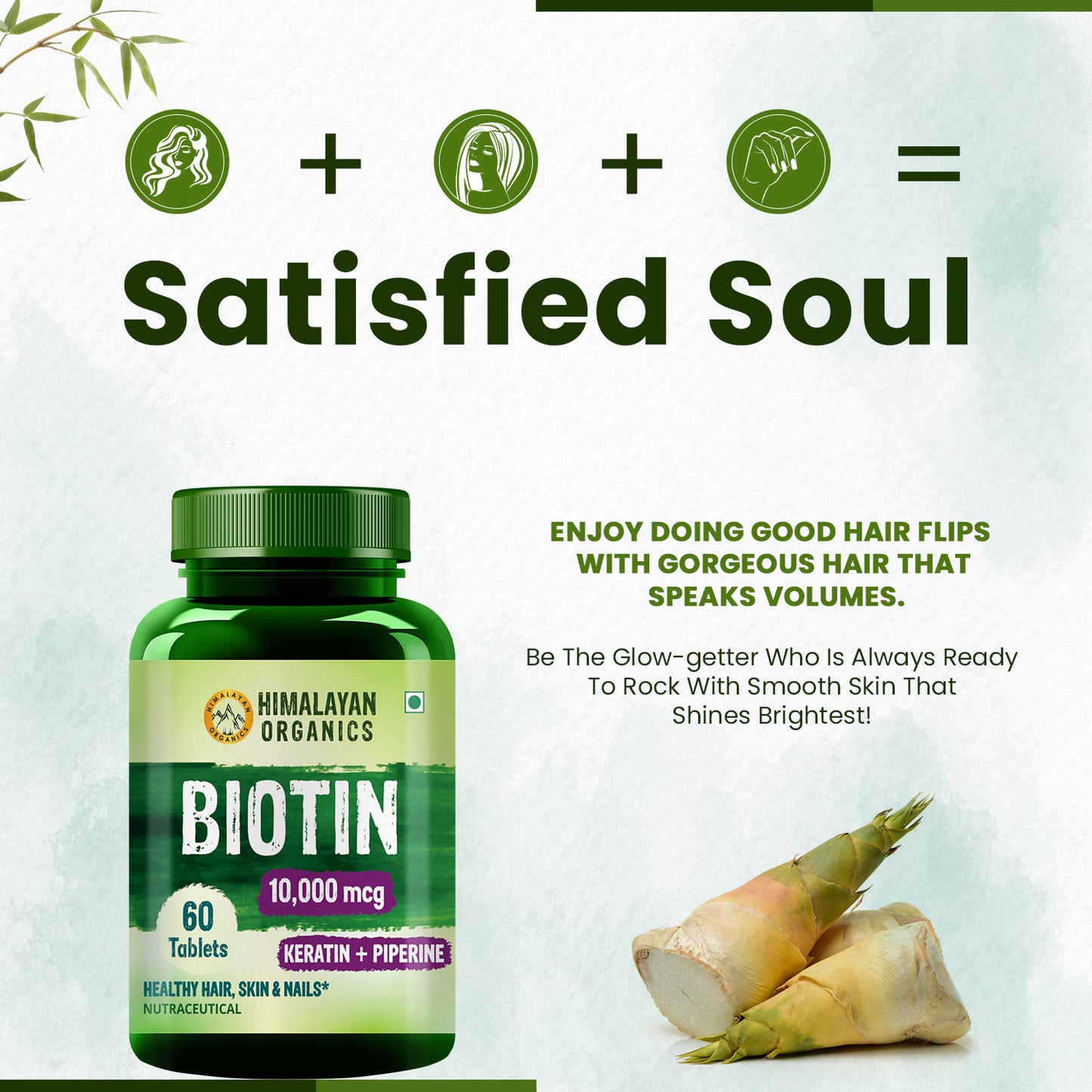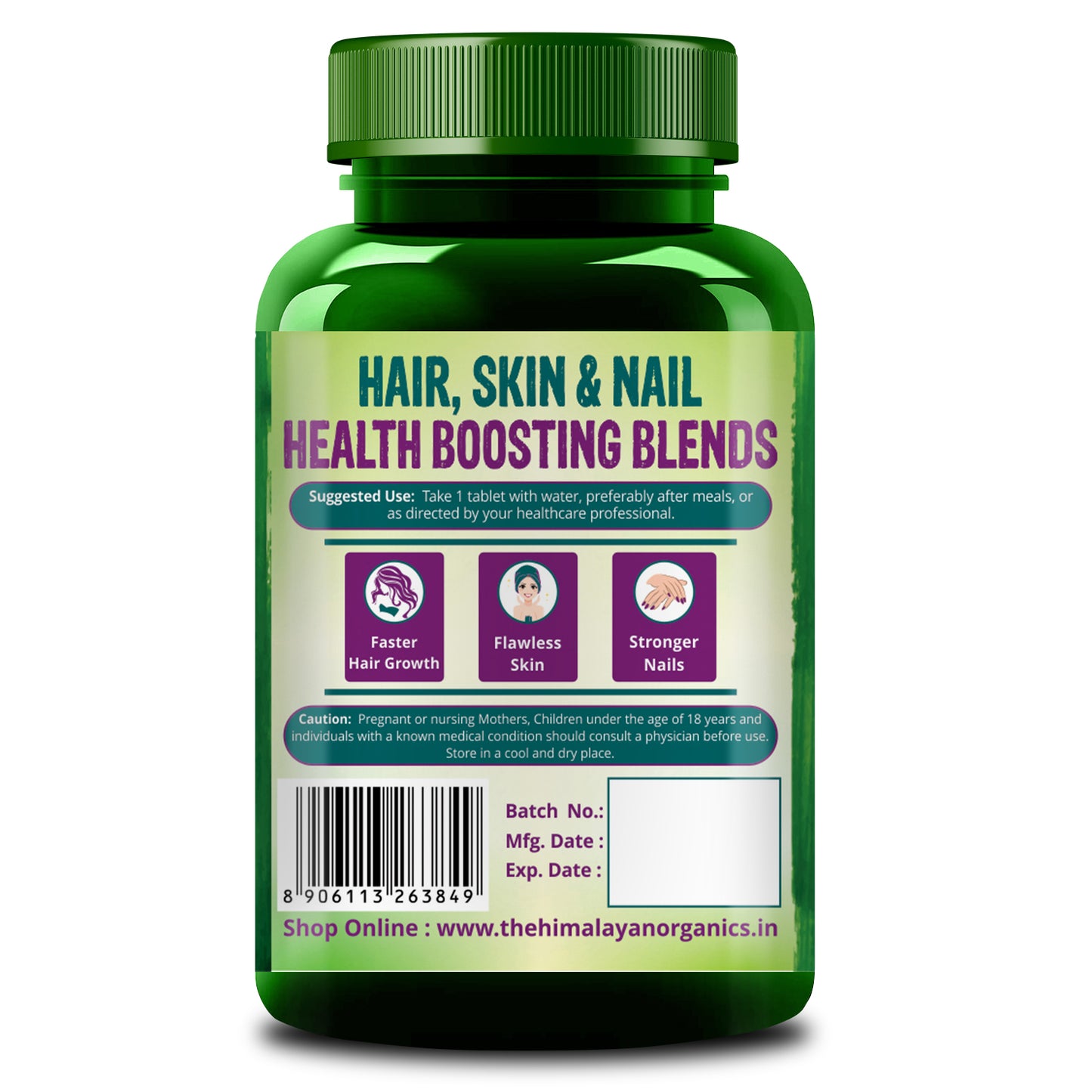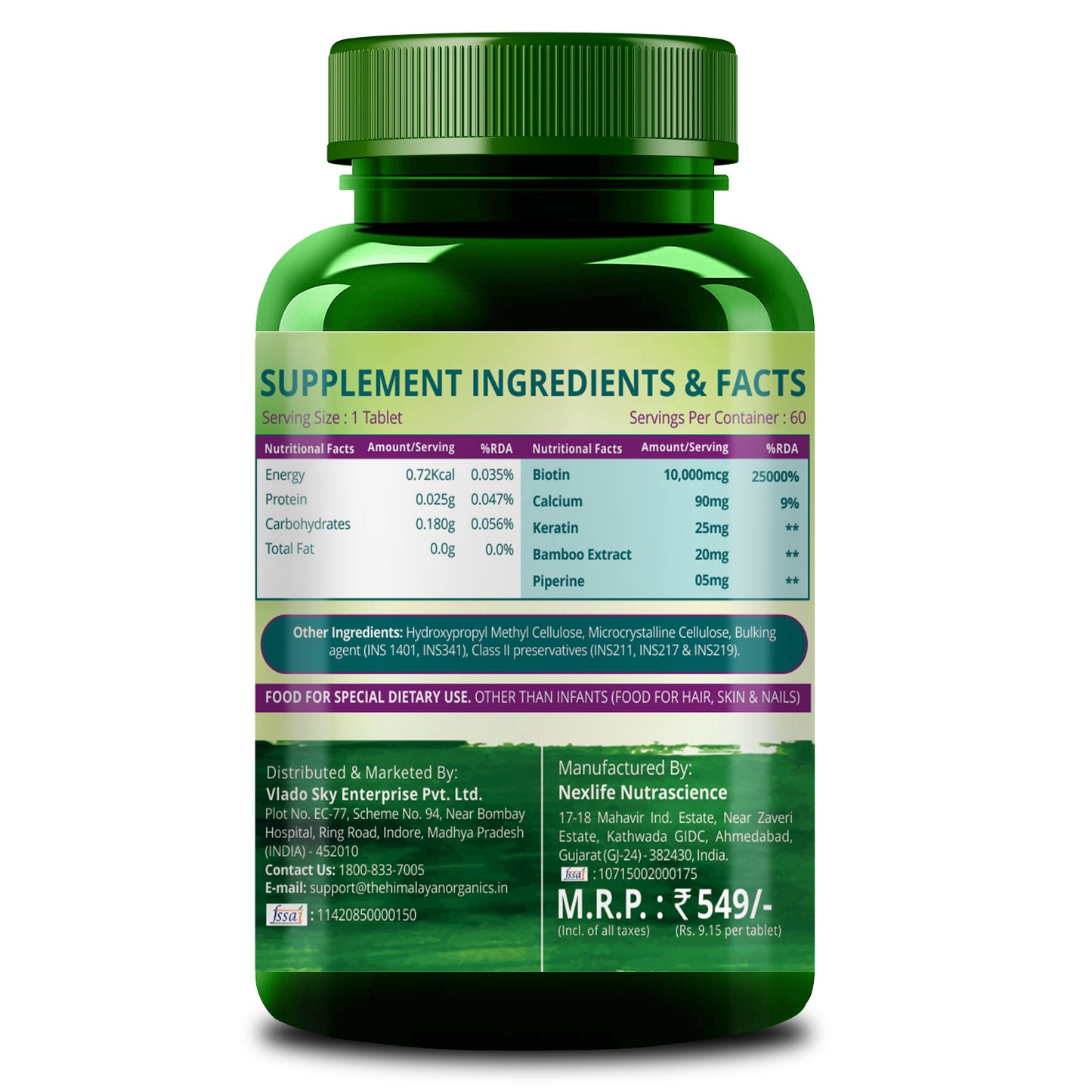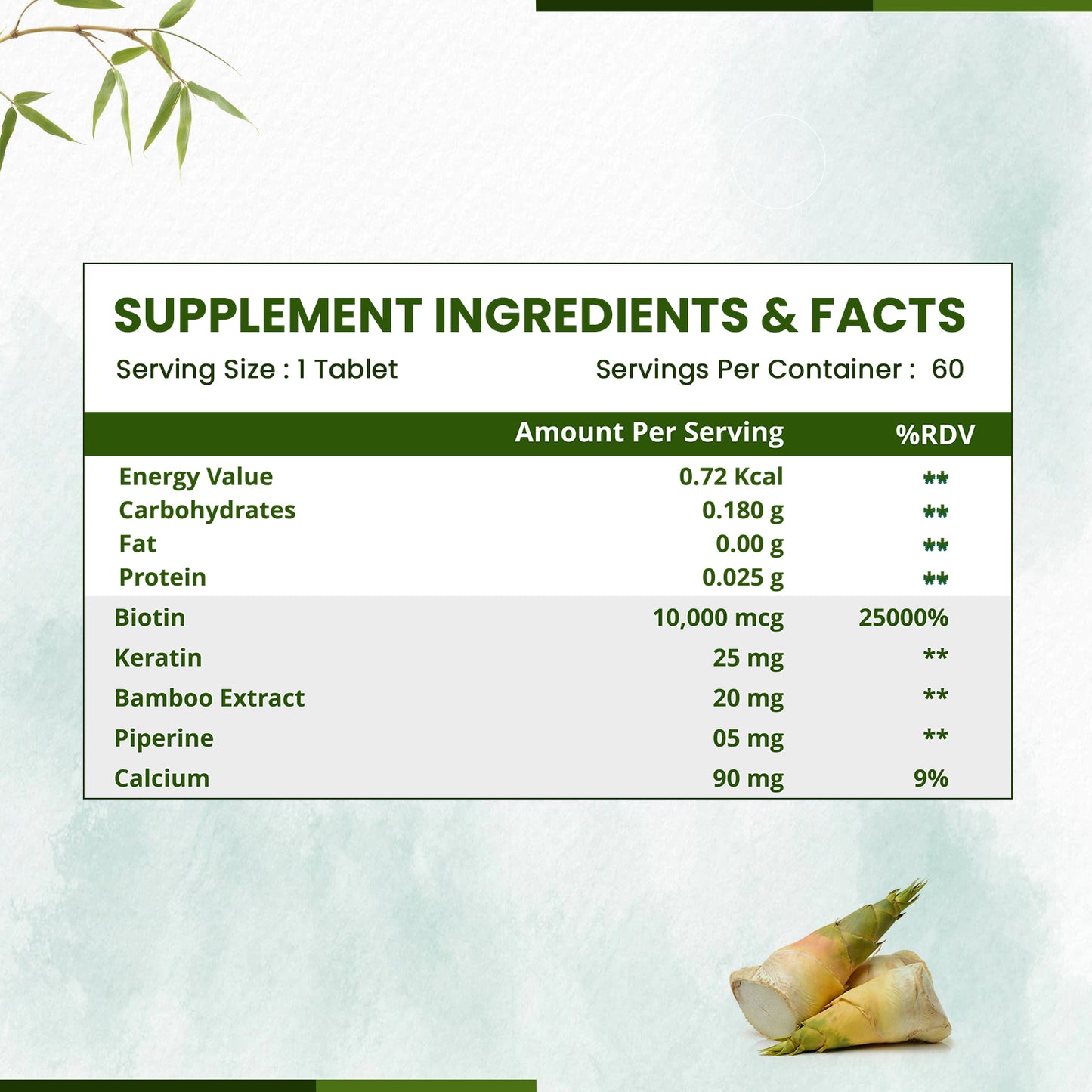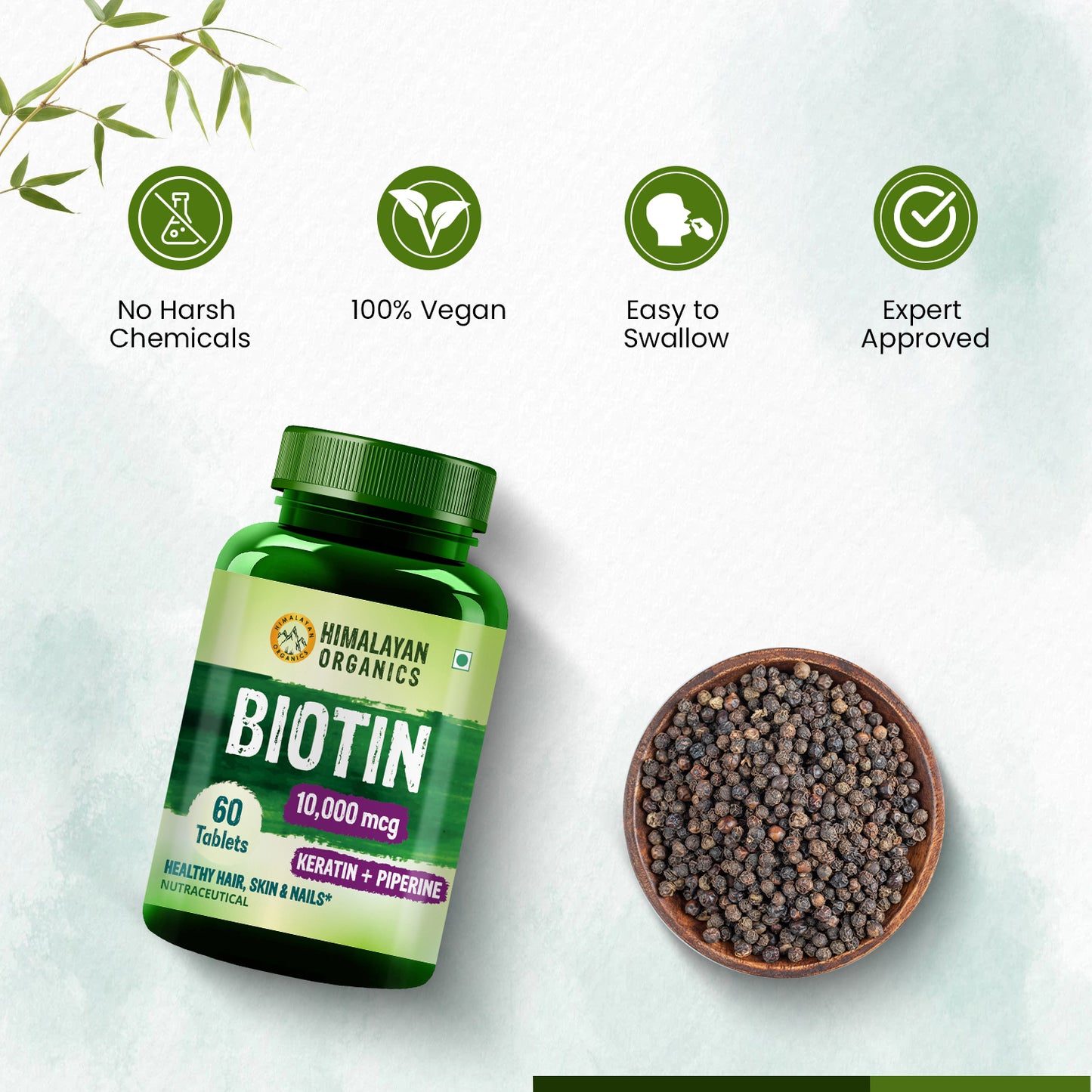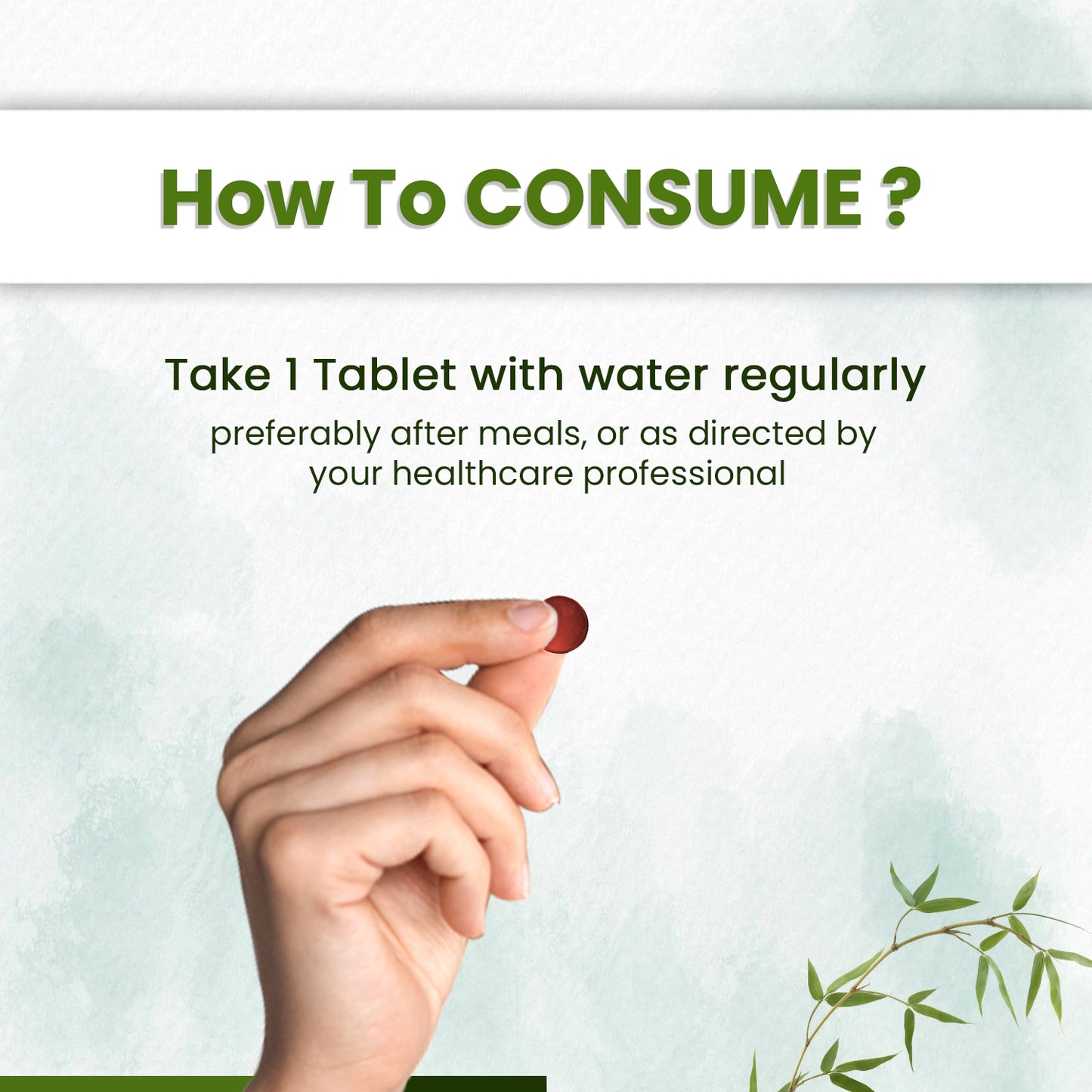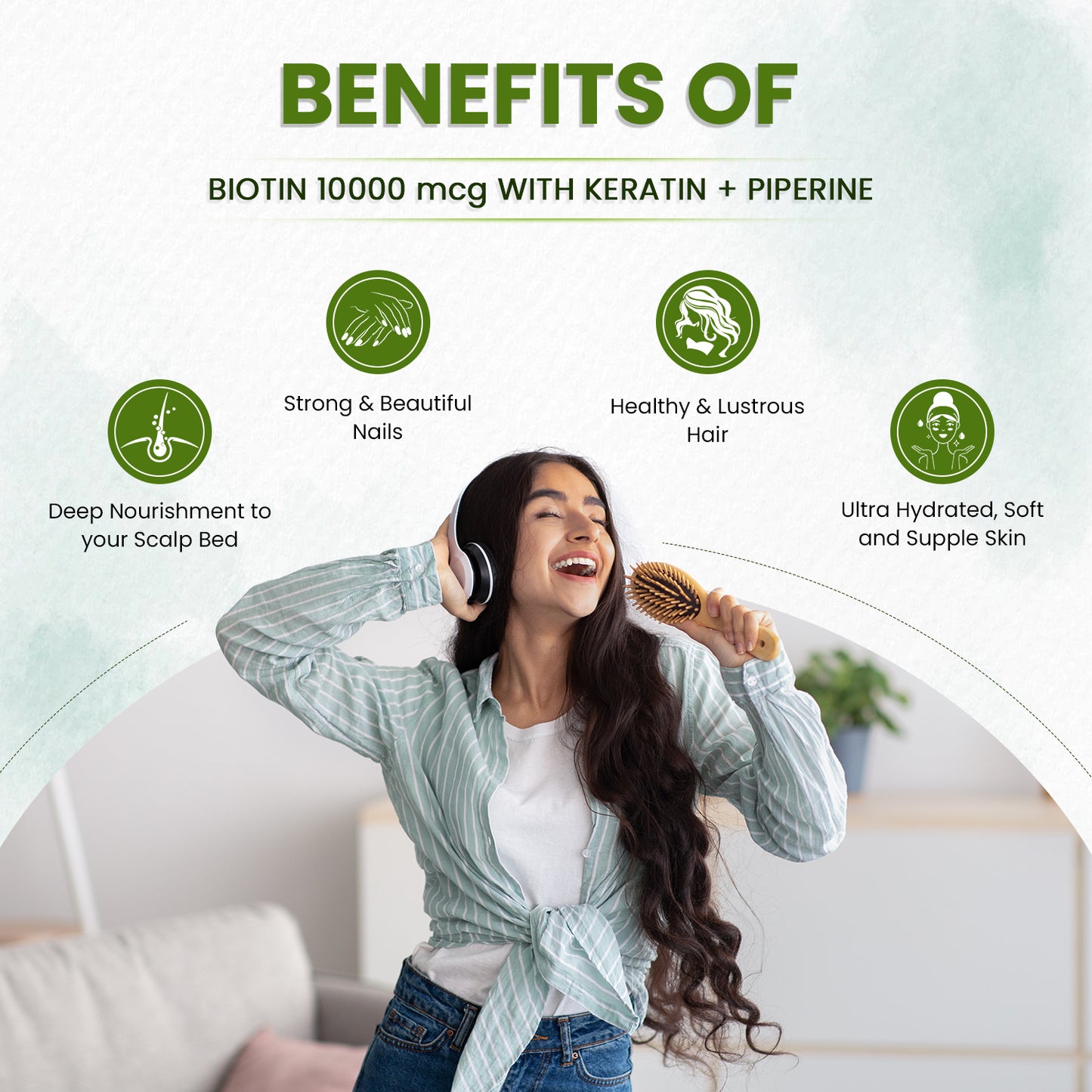 Description
Hello Gorgeous Hair, Radiant Skin & Beautiful Nails!
Himalayan Organics Biotin 10000mcg is a special formula crafted for your nail, hair, and skin health. Biotin or Vitamin H is a water-soluble vitamin that you need to take regularly as your body cannot store it. The word Biotin comes from the ancient Greek word, "Biotos" meaning, ''life.'' It is one of the essential vitamins that convert food into energy and gives life to your hair, nail, and skin. We know it is difficult to manage a biotin-rich diet in a busy lifestyle, and that is why Himalayan Organics Biotin Supplement is here for your rescue. These tablets deeply nourish your hair and help them grow stronger. It discourages brittle nails due to various reasons and improves skin tone for a radiant glow!
Nourishing food that encourages youthful self!
Biotin Also known as Vitamin B-7 or Vitamin H, it keeps your skin, hair, eyes, nails, and nervous system healthy. It improves your body's keratin infrastructure, nourishes scalp bed, promotes healthy hair, enhances cognitive functioning, supports nail health, and maintains healthy skin.
Vitamin for all-natural Glow Glitter & Gleam!
SKIN HEALTH: Himalayan Organics Biotin tablets contain vital micronutrients that assist in skin nourishment while enhancing the skin's glow. The vitamin's influence on the skin may stem from its effect on fat metabolism. This process is crucial for maintaining healthy skin.
HAIR HEALTH: These tablets have a perfect balance of Biotin essential for your long, healthy, shiny, smooth, and frizz-free hair. It is a vitamin for your hair that nourishes your scalp bed, combats hair damage, enhances hair elasticity, and strengthens hair follicles.
NAIL HEALTH: Brittle nails are fragile and easily split or crack. A biotin deficiency can lead to brittle nails. Himalayan Organics Biotin supplements assist in improving the strength of the nails. Not just that, it also supports several enzymes involved in the breakdown of fats, proteins, and carbohydrates for energy.
BETTER ABSORBTION: Himalayan Organic Biotin contains vital micronutrients and is specially formulated to absorb faster in the body making it more effective. It is a dietary source for Vitamin B7, vital for the body to help convert food into energy. These Biotin tablets promote better metabolism.
GLUTEN-FREE FORMULA: At Himalayan Organics, every product is developed finely, keeping in mind the concept of holistic wellness. These tablets are no exception. Devoid of gluten, soy, dairy, fish, shellfish, tree nuts, these tablets are 100% vegan & expert-approved.
Is this supplement pass all industry-standard tests?
Himalayan Organics Biotin 10000mcg with Keratin + Piperine Supplement is ISO & FSSAI certified and made in GMP certified facility.
Good
I really like the product
Greetings of the day, Thank you for your feedback.
Awesome
I am happy to say that it really works.
Greetings of the day, Thank you for your feedback.
Greetings of the day, Thank you for your feedback.
Greetings of the day, Thank you for your feedback.