Regular price
Rs. 257.00
Sale price
Rs. 249.00
Unit price
per
3 % off
3 % off
Share
Offers available
FLAT 4% OFF
No minimum purchase
THO4
FLAT 7% OFF
on purchase of 999/-
THO7
FLAT 10% OFF
on purchase of 1499/-
THO10
View full details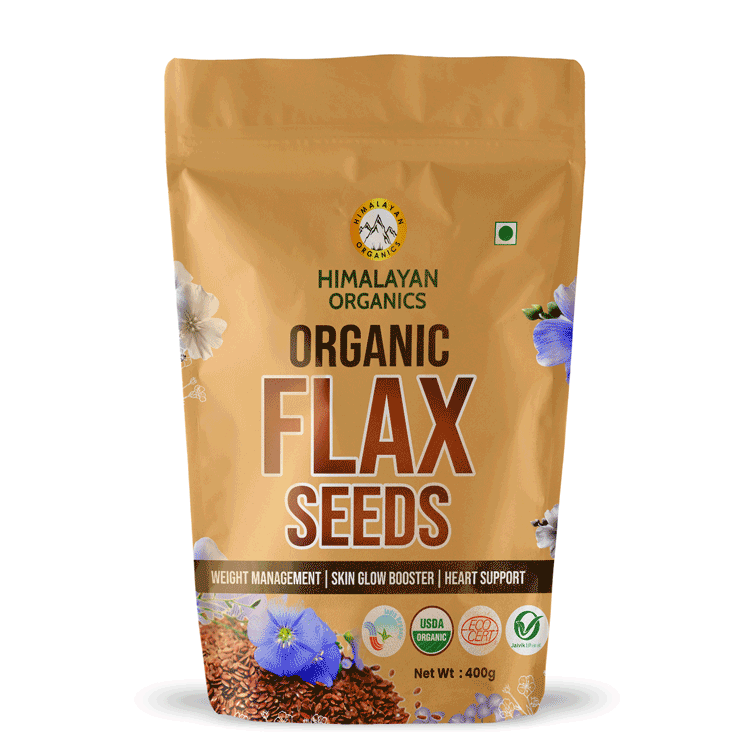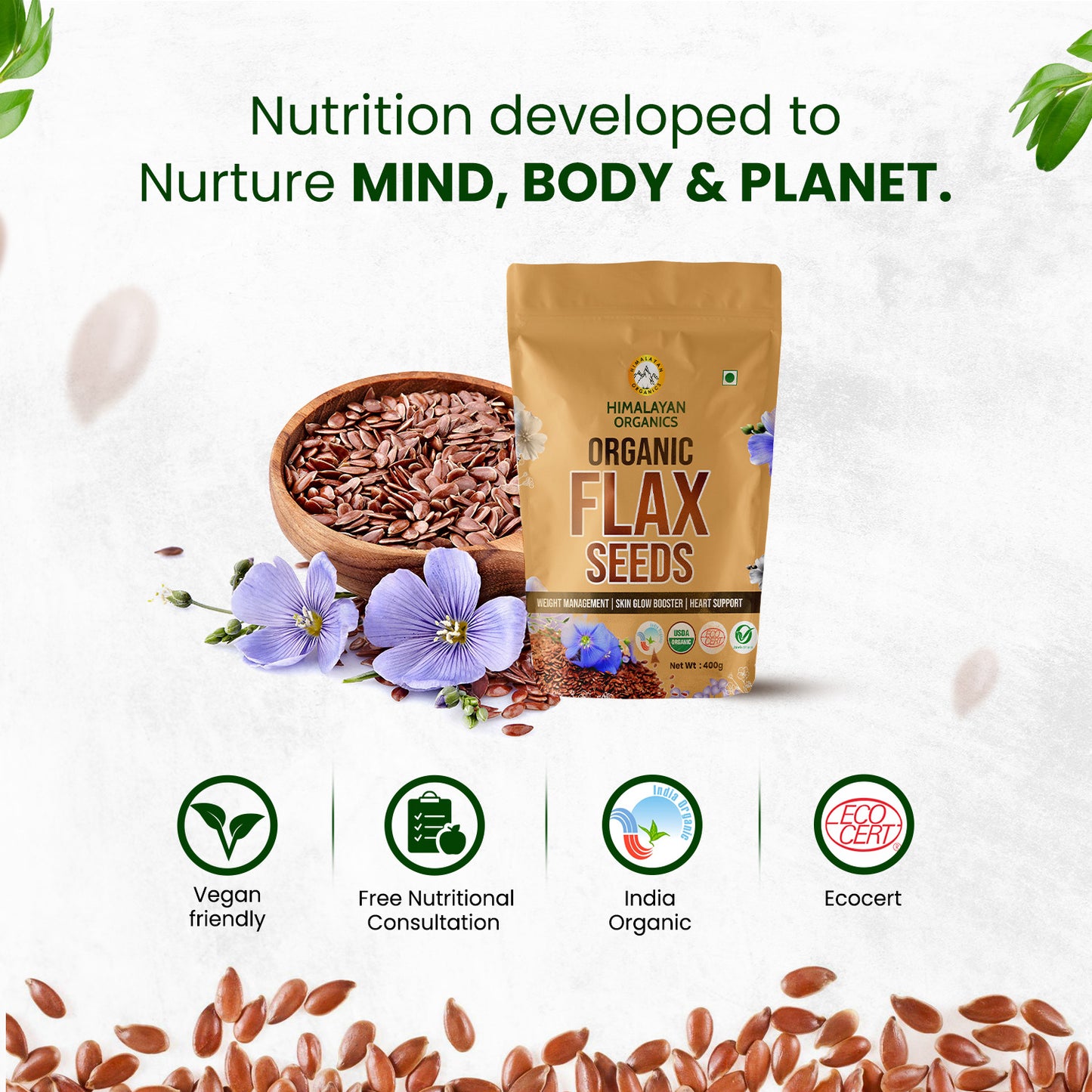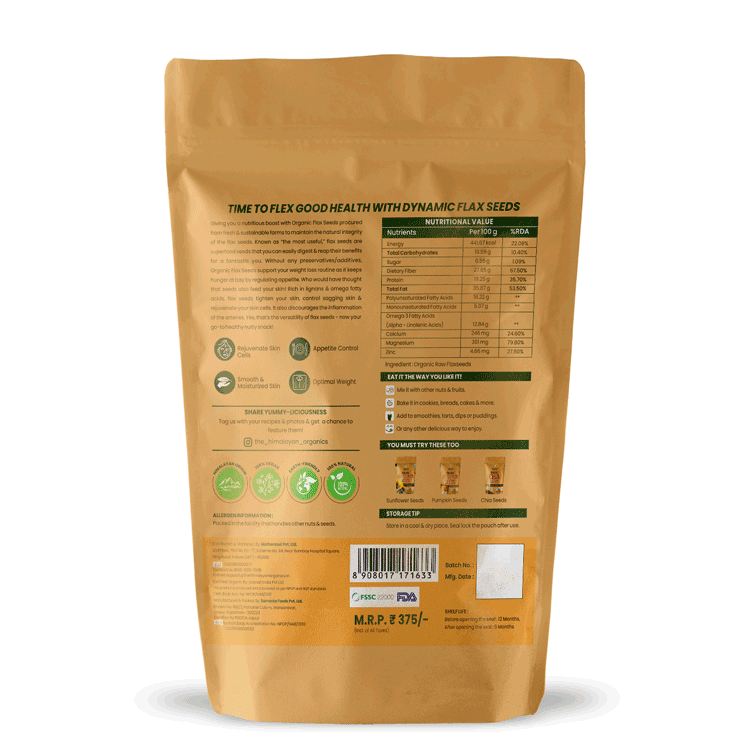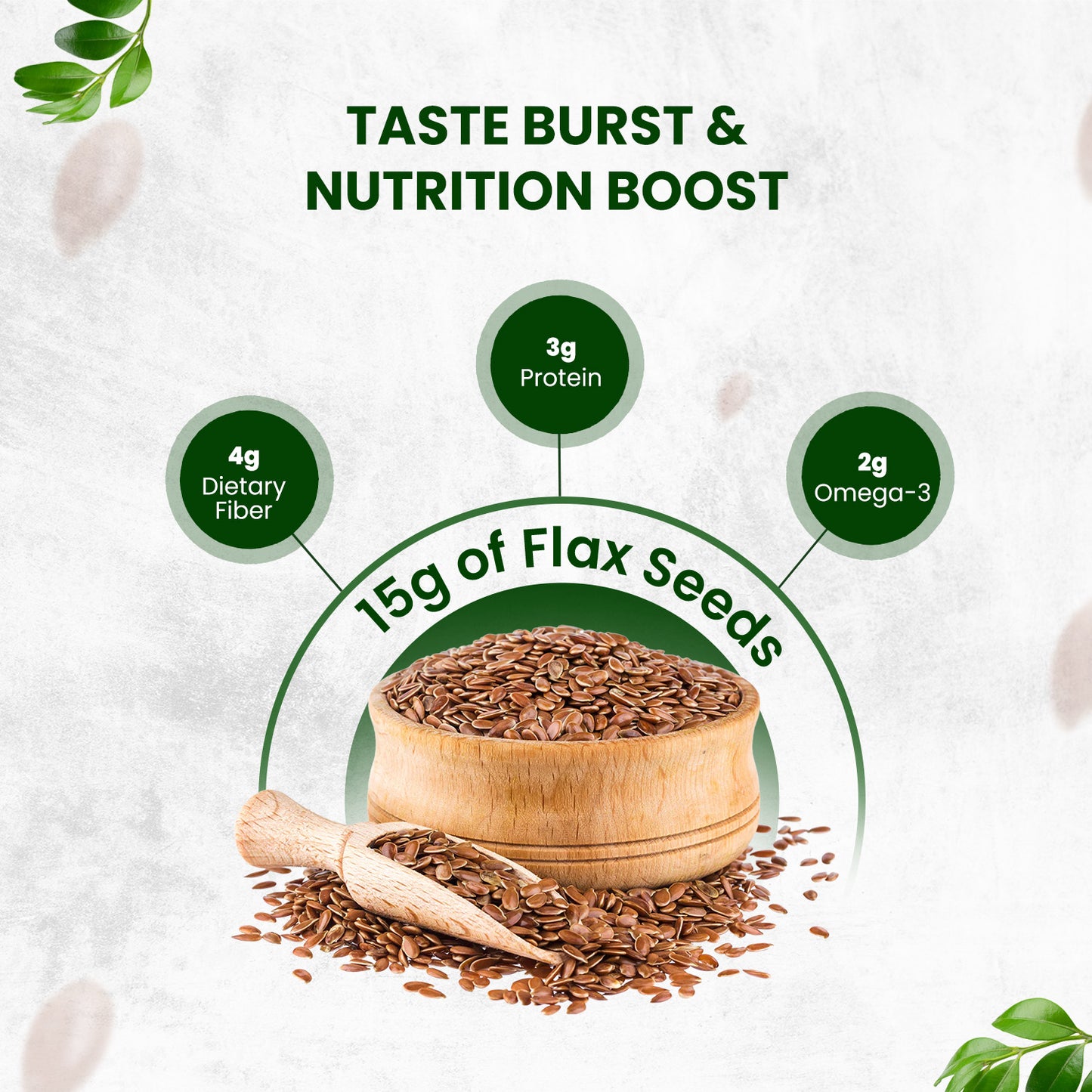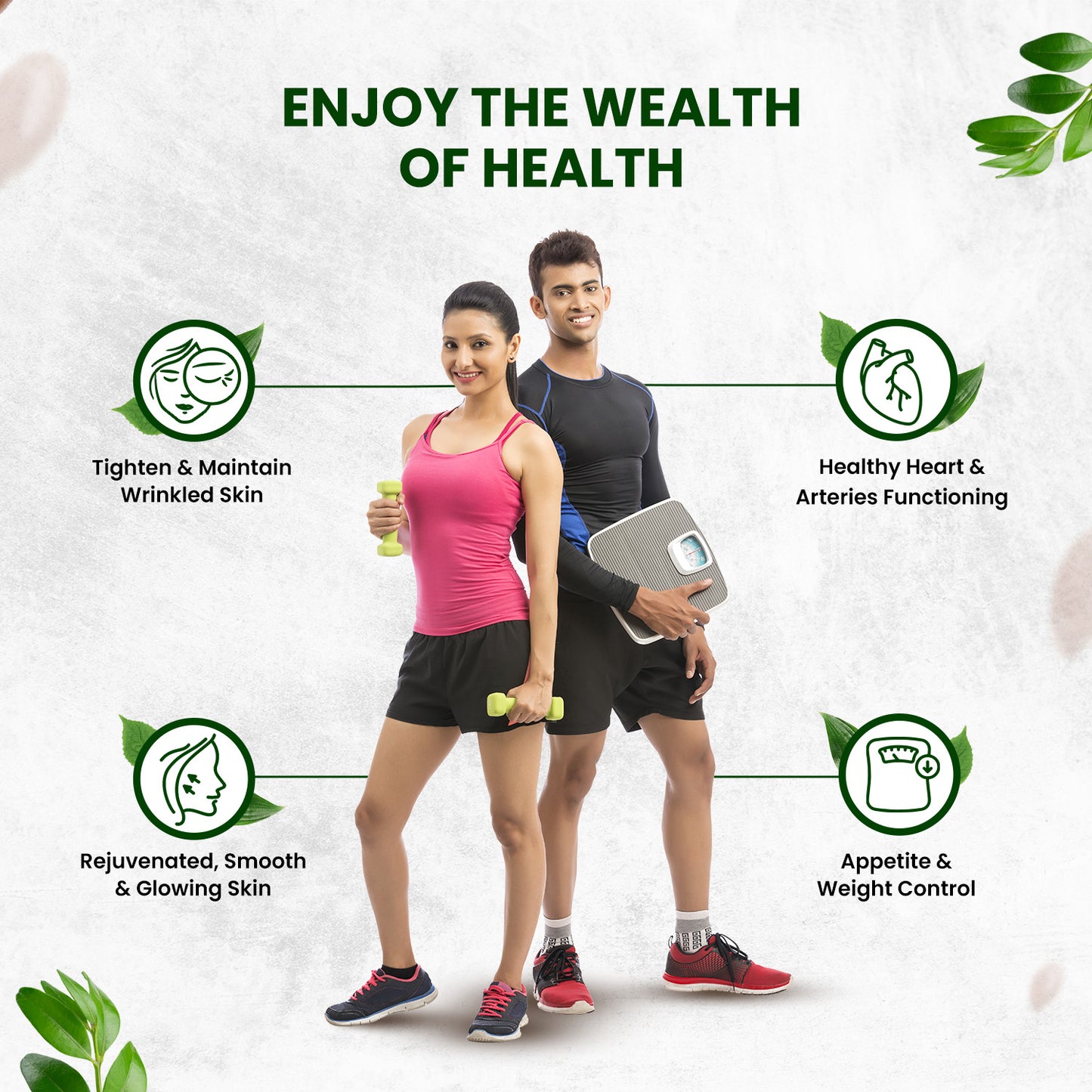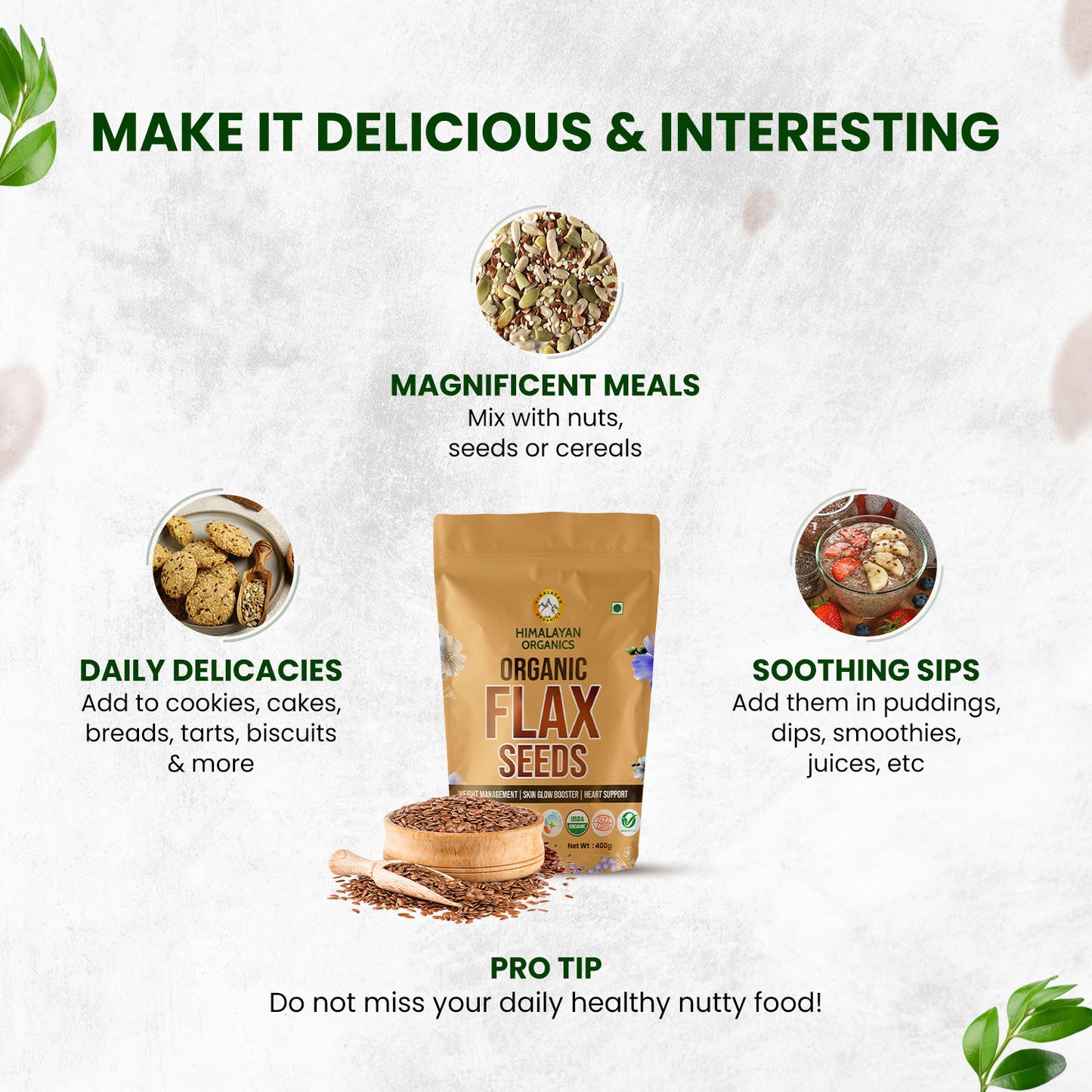 Description
Flexing health is now easier: With an ultimate health booster.
Tiny seeds! Abundant nutrition! Antioxidants, fiber, protein, amino acids.
Seeds of health & happiness! Hearty Heart | Strong Immunity.
Crunchy & nutritious bites: Satisfaction & fulfillment whenever you munch.
HEALTHY WEIGHT:
Rich in fiber that keeps you full and satisfied & reduces untimely cravings
GLOWING SKIN:
Smooth & supple skin with rejuvenated skin cells
HEART SUPPORT:
Omega 3 fatty acid content regulates inflammation & cholesterol
Flax Seeds - Crispy & crunchy seeds, these are dense in thiamine, protein, fiber & fatty acids.
FAQs
Himalayan Organics Flax Seeds are unroasted & unsalted.
You can add them to morning drinks, top up your breakfast bowl with them, mix them in smoothies or find your own interesting way to consume them.
Yes, flax seeds are a nutritious snack that you can consume at any time of the day, including in the morning empty stomach. You can even have them along with other nuts like almonds, walnuts & more.
Please lock the pouch after every use. Do not keep the pouch open so that the seeds remain moisture-free and maintain their crunchiness & flavor.
Yes, it is an expert-approved organic formula made as per regulatory standards, making it fit for consumption & side-effect free. Also, as it is a perishable product, please do not consume it after the expiry date in any condition.
YOUR DAILY CLEAN, GREEN, VEGAN NUTRITION
Can I use these as a face pack and mix them with a few other things?
Himalayan Organics Certified Organic Flax Seeds can be used with a suitable combination of face packs.
This product is easy to incorporate into drinks or recipes, i think i have done great buy for myself!
Greetings of the day, Thank you for your feedback
Greetings of the day, Thank you for your feedback.
I have bought several Himalayan organics products and found them of good quality. Packing is also good. this seed gives great results.
Greetings of the day, Thank you for your feedback.
Does this help in hair growth as well?
Himalayan Organics Certified Organic Flax Seeds are loaded with antioxidants and vitamin E, and Omega 3 along with some B vitamins that help to seal the cuticles and nourished the hair follicles thus beneficial for hair health when combined with a nutritious diet the best way to consume flax seed is soaked overnight and consume in the morning.