Regular price
Rs. 1,174.00
Regular price
Rs. 1,174.00
Sale price
Rs. 1,174.00
Unit price
per
0 % off
0 % off
Share
Offers available
FLAT 4% OFF
No minimum purchase
THO4
FLAT 7% OFF
on purchase of 999/-
THO7
FLAT 10% OFF
on purchase of 1499/-
THO10
View full details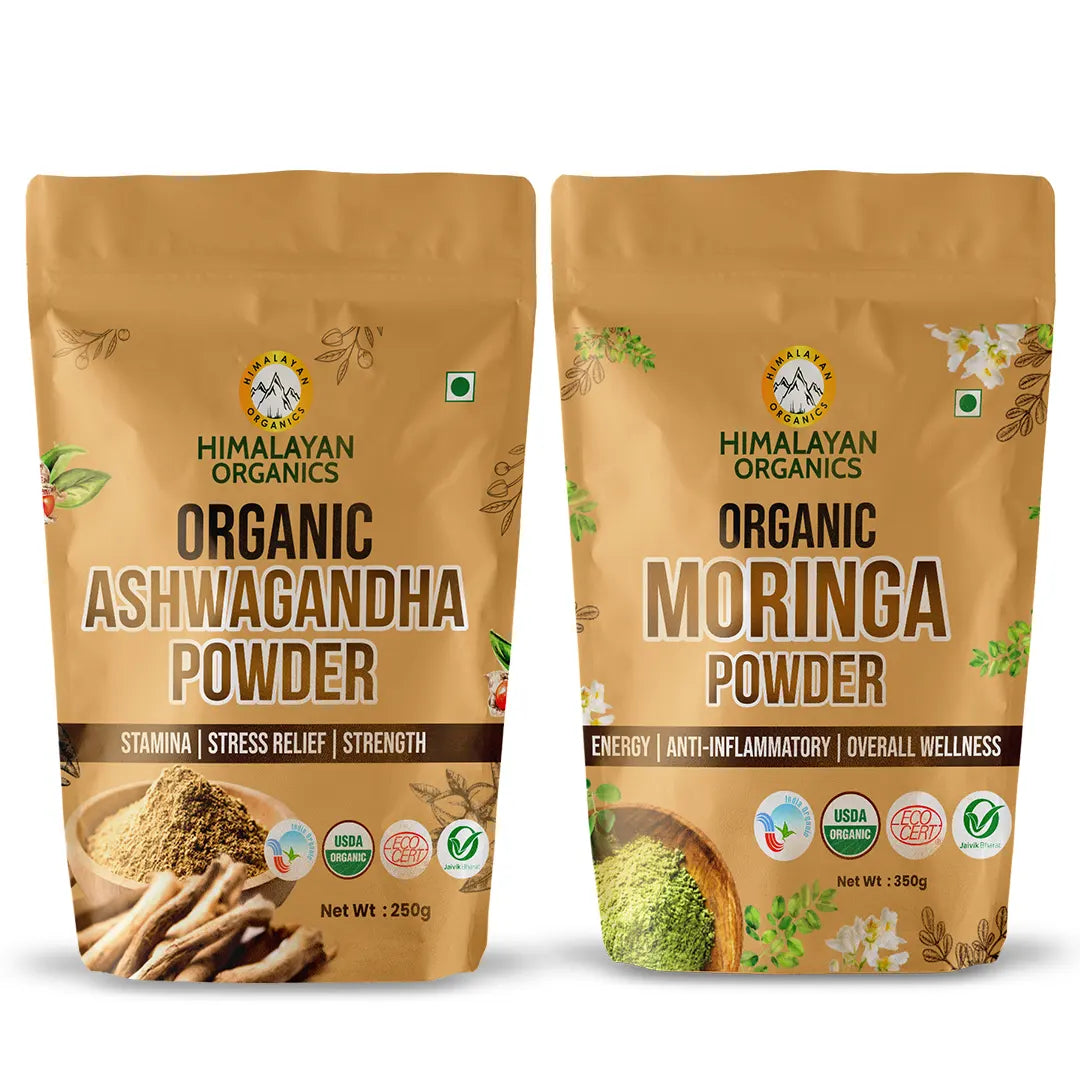 Description
In a busy and hushy life, a combo of vitality and immunity is a must for your health! With the power of ashwagandha powder, and anti-bacterial properties of moringa powder, you strengthen from inside and glow on the outside. All natural, clean and green production, packaging and serving of the powders make them safe and best for you. 
Stress Relieving - Ashwagandha powder controls cortisol levels and stress inducing hormones, relieving stress, calming the mind and energising your body, keeping you active the whole day. 
Potent Antioxidant - Moringa powder has beta-carotene and antioxidants, for removing the free radicals from your body, with other plant nutrients, keeping you ever healthy. 
Peaceful Sleep - Ashwagandha relaxes your mind so you get a sound sleep, helping you fight through diseases like insomnia, and keeping you healthy and active. 
Overall Health Benefits - Himalayan Organics Organic Moringa Powder is your nutrient-dense daily superfood. It has vitamins, minerals, plant compounds, fewer carbs, and antioxidant & anti-inflammatory properties. These give a natural nutrition boost to your whole body & help fulfil your daily nutritional needs.

All organic - All of the natural nutrients are harvested, packed and served organically to you, in their best and purest form.
Good and natural, liked the taste and quality. Excellent
Loved the products...
All natural, clean and green production Product, Loved the products...
Greetings of the day, Thank you for the feedback.