Regular price
Rs. 600.00
Sale price
Rs. 600.00
Unit price
per
0 % off
0 % off
Share
Offers available
FLAT 4% OFF
No minimum purchase
THO4
FLAT 7% OFF
on purchase of 999/-
THO7
FLAT 10% OFF
on purchase of 1499/-
THO10
View full details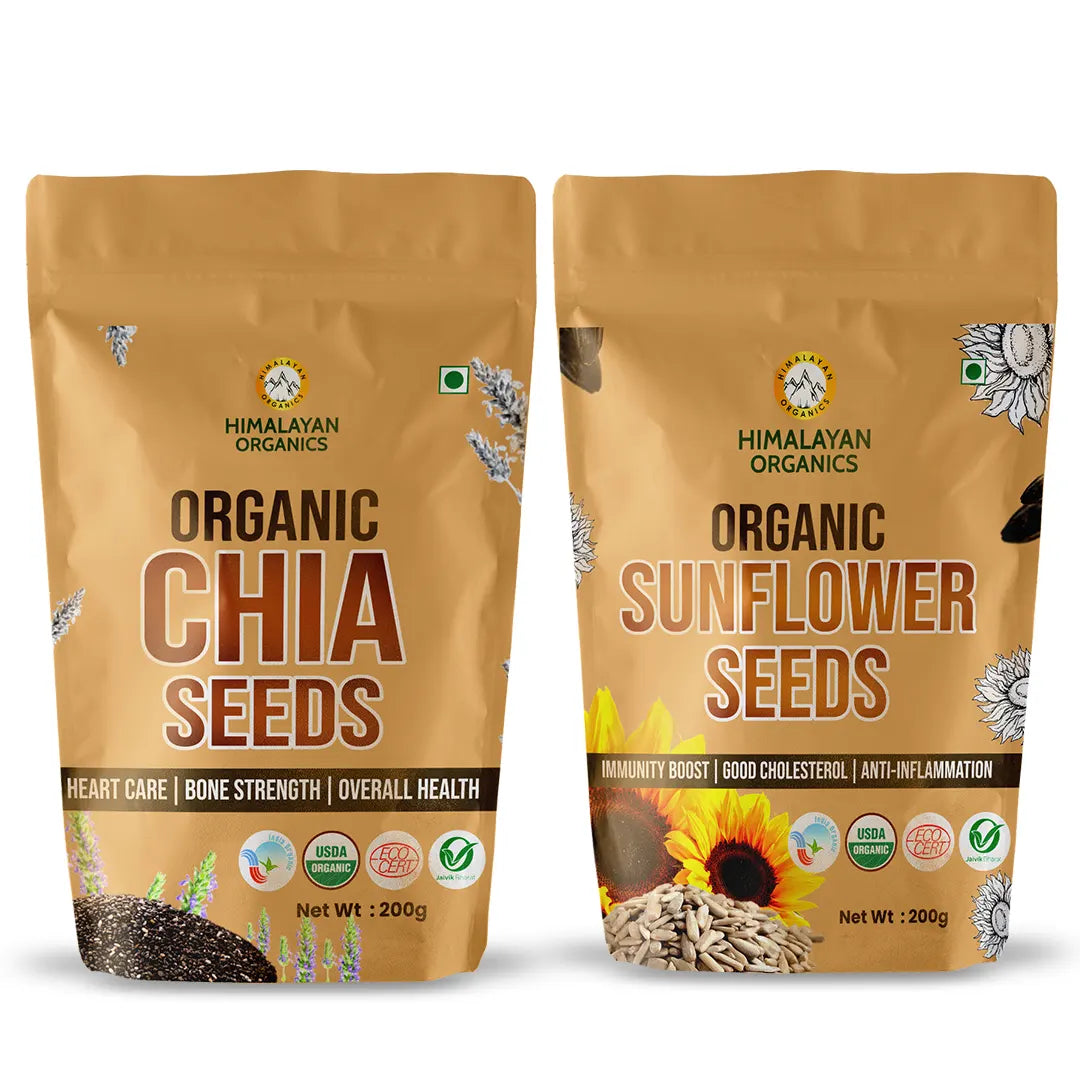 Description
The combination of omega 3 and vitamins, with healthy nervous system and immunity reinforcement. Goodness of Chia seeds and nutrient-filled bite of sunflower seeds is your goodie ingredient in the next delicious breakfast or in the sweet morning bliss. The seeds are pure and safe for your health as are harvested organically, packed with total hygiene and love. 
 Nutrition powerhouse: Himalayan Organics Organic Sunflower seeds are a great way to lend a healthy crunch to your favourite salads, or simply eat them out of the hand. They're rich in Vitamin E, copper, Vitamin B1, selenium and folate which is helpful for most bodily functions.
Abundant Protein : Himalayan Organics Organic Chia Seeds supply a good deal of high-quality protein readily absorbed by the body. The protein helps in muscle and tissue repair besides regulating metabolism.
Healthy nervous system: Sunflower seeds have a lot of therapeutic benefits, especially for people with depression. The sunflower seeds are rich in tryptophan, which can be essential in soothing the nervous system and helping you in curing the problem of insomnia.
Immunity Reinforcement : Just a spoonful of chia seeds carry loads of antioxidants, magnesium, and zinc that amp up your natural immunity levels for optimum well-being. Achieve good levels of immunity and stay safe.
Certified Organic:
Himalayan Organics Organic Chia Seeds is a pure, clean, and nutritious superfood. Carefully handpicked from the best farms and packaged to the highest standards for retaining nutrient values.
I'm aiming for my healthy and glowing skin can i consume these?
Himalayan Organics Combo of Certified Organic Chia Seeds & Sunflower Seeds can help in glowing skin but along with these, you have to add a balanced diet with a healthy lifestyle.
Greetings of the day, Thank you for your feedback
Greetings of the day, Thank you for your feedback.
Both seeds are very good i used to soak them over night & then use get results in just 2 weeks worth buying.
Greetings of the day, Thank you for your feedback
Very good in taste, healthy and quality of the seeds is nice.
Greetings of the day, Thank you for your feedback.