Regular price
Rs. 884.00
Sale price
Rs. 884.00
Unit price
per
0 % off
0 % off
Share
Offers available
FLAT 4% OFF
No minimum purchase
THO4
FLAT 7% OFF
on purchase of 999/-
THO7
FLAT 10% OFF
on purchase of 1499/-
THO10
View full details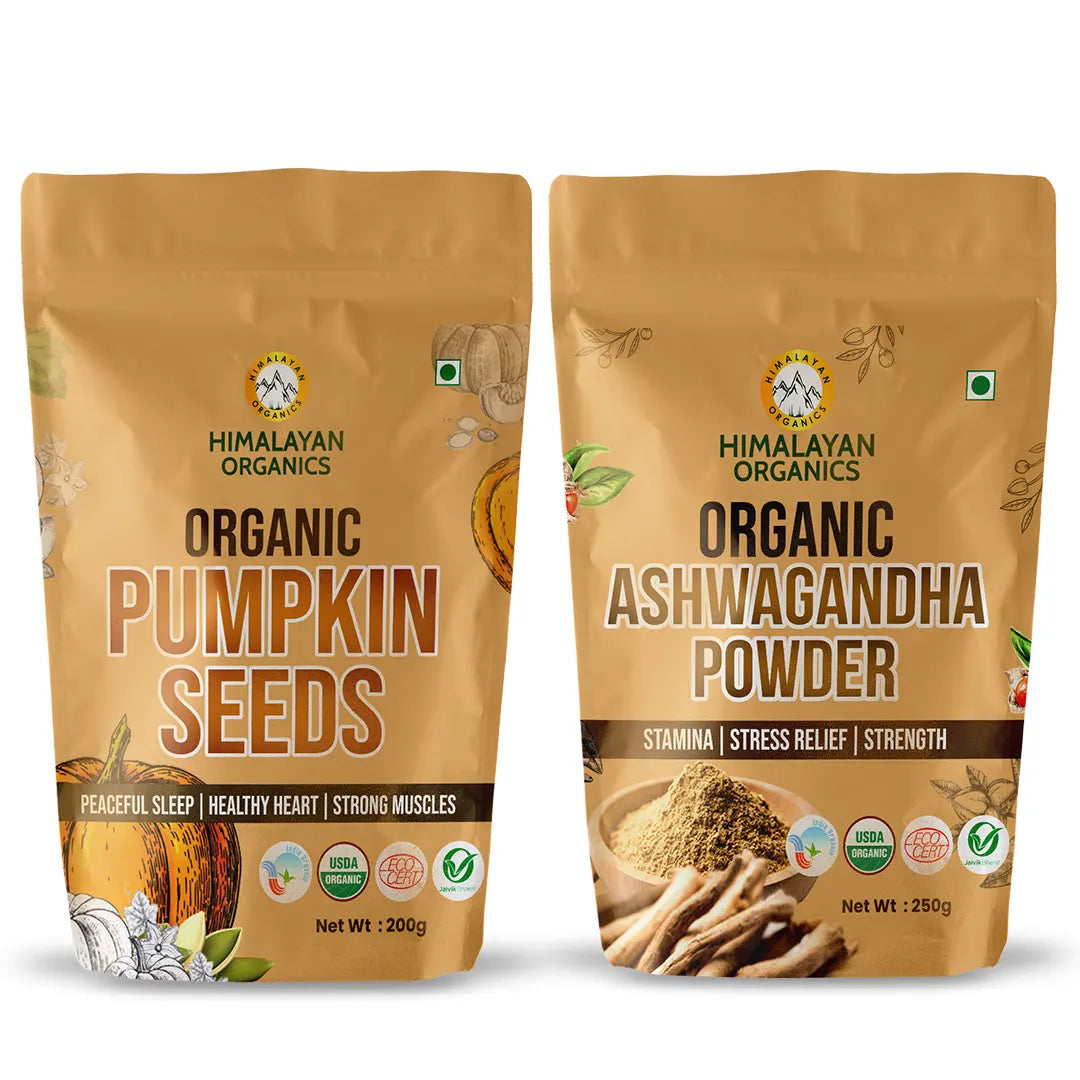 Description
Ashwagandha serves you better vigour and vitality, while pumpkin seeds have stronger and healthier muscles for you. The blend of nutrients brought together work in harmony to nutrify you for better stamina, calm mind, more strength, and overall health support. Served you in the best form as harvested organically, hand picked from best farms, packed with hygiene and served to you with love. 
DIMINISHES STRESS: Organic Ashwagandha Powder contains pure Ashwagandha root powder that calms the mind, reinvigorates the body, and boosts your lifestyle. It reduces cortisol levels and stress hormones which may lead to lifestyle diseases. It is enriched with antioxidants that keep you active throughout the day.
MUSCULAR HEALTH: Himalayan Organics Organic Pumpkin Seeds is a natural nutrition to make your muscles solid & sturdy. Not only are they rich in magnesium content but also in protein, fibre & zinc that stimulate metabolic activity as well as support in maintaining muscle health.
IMPROVES SLEEP: Himalayan Organics Organic Ashwagandha Powder helps you sleep better. Restful sleep is extremely important for detox and recovery. Insomniacs often develop disorders like obesity, hypertension, diabetes, stress and other lifestyle diseases. A good sleep helps prevent such diseases. 
OVERALL HEART FUNCTIONING: Perky Pumpkin is also there to make your heart healthy. With a rich content of antioxidants, magnesium, zinc & fatty acids, Pumpkin Seeds discourages cholesterol oxidation & regulates blood pressure Levels. Pumpkin is also known to enhance nitric oxide production, essential for smooth blood flow & a relaxed heart.
CERTIFIED ORGANIC PRODUCT:
At Himalayan Organics, every product is finely developed, keeping in mind the concept of holistic wellness. So are Himalayan Organics Organic Pumpkin Seeds. It is a Certified Organic Product formulated with Organic Pumpkin, which is sourced from sustainable farms & processed in clean facilities so that your body gets the purest nutrition it deserves.
Greetings of the day, Thank you for your feedback
It's very very good and quality product as it really improved my sleep. Also low down the level of stress.
Greetings of the day, Thank you for your positive feedback.
All good, found it very helpful. Good in taste and gives you energy.
Greetings of the day, Thank you for your positive Feedback.