Regular price
Rs. 2,279.00
Regular price
Rs. 3,415.00
Sale price
Rs. 2,279.00
Unit price
per
33 % off
33 % off
Share
Offers available
FLAT 4% OFF
No minimum purchase
THO4
FLAT 7% OFF
on purchase of 999/-
THO7
FLAT 10% OFF
on purchase of 1499/-
THO10
View full details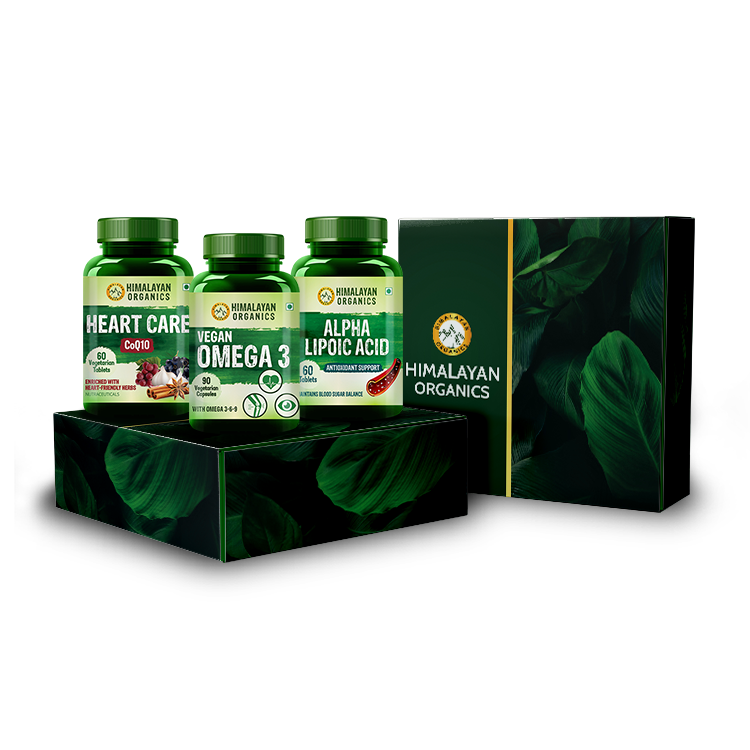 Description
A gift of care for a restlessly working heart 
Your heart works for you restlessly, all day long, even when you sleep. Hence, your heart deserves some special care and attention. This gift by Himalayan Organics is thoughtfully curated to keep your heart happy and healthy!! 
Benefits
Heart care supplement tablets
Himalayan Organics Heart Care Supplement is enriched with 10mg of CoQ10 well known for safeguarding your cells against oxidative damage and improving heart function. Moreover, it also helps generate energy in your cells that manage insulin sensitivity and blood sugar levels crucial for optimal heart health & cellular energy.
Vegan Omega 3 capsules
Omega-3 has anti-inflammatory properties and acts as a powerful antioxidant. Omega-3 boosts the functioning of brain and ensures that the brain cells function properly.
Alpha-Lipoic acid tablets
Himalayan Organics ALA Tablets are extremely effective in maintaining blood sugar levels. It boosts glucose metabolism & enables the proper functioning of blood vessels. ALA improves blood vessel functions by decreasing oxygen-derived free radicals.
The gift set includes: 
Heart care supplement tablets

Vegan Omega 3 capsules

Alpha-Lipoic acid tablets