Regular price
Rs. 2,097.00
Regular price
Rs. 2,197.00
Sale price
Rs. 2,097.00
Unit price
per
4 % off
4 % off
Share
Offers available
FLAT 4% OFF
No minimum purchase
THO4
FLAT 7% OFF
on purchase of 999/-
THO7
FLAT 10% OFF
on purchase of 1499/-
THO10
View full details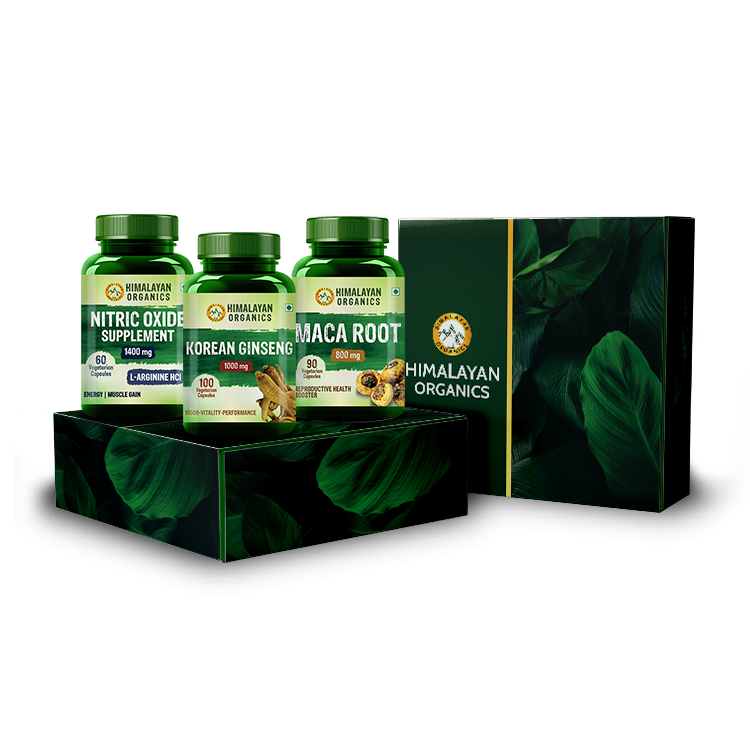 Description
A gift set that improves vitality! 

Improve vitality, endurance, and overall health with this amazing gift set by Himalayan Organics. It's a perfect set that has everything you need for better vitality and quality of life. 
Benefits-
Maca root capsules
Himalayan Organics Maca Root is a superfood for your body because of its nutritional value. It's a good source of carbs and fiber. Besides carbs, it is rich in various essential vitamins, minerals, and bioactive plant compounds, such as vitamin C, copper, and iron. In short, it is a superfood with high nutritional value.
Korean Ginseng capsules
Korean Ginseng helps elevate mood, thereby helping you combat stress and get things done before they become too much to handle. It will help keep your mind on the task you take and help you get things done with enhanced focus. Ready to function at your best while feeling rejuvenated!
Nitric oxide supplement tablets
L-arginine and L-citrulline, Himalayan Organics Nitric Oxide has a perfect balance of these two amino acids that support various bodily functions. L-arginine is the building block of protein that supports the development of T-cells, which are white blood cells that play central roles in the immune response. 
The pack includes 
Maca root capsules

Korean Ginseng capsules

Nitric oxide supplement tablets
Slow but effective.
Ayurvedic medicines are not like allopathic medicines. Allopathy is instant effects but temperory ones with loads of side effects.
However, ayurveda has slow but permanent effects without any side effects.
This combo fulfills my all-family supplement need a great product and worth the price for me and my family!
Greetings of the day, Thank you for your feedback.
Greetings of the day, Thank you for your feedback
Can we consume all three supplements together?
Yes, these supplement can be consume together.