Himalayan Organics Plant-Based Vitamin B Complex with 100% RDA B1, B2, B3, B5, B6, B9 & B12 | Hair Growth, Boost Energy And Immunity | 30 Veg Capsules
Himalayan Organics Plant-Based Vitamin B Complex with 100% RDA B1, B2, B3, B5, B6, B9 & B12 | Hair Growth, Boost Energy And Immunity | 30 Veg Capsules
Regular price
Rs. 499.00
Sale price
Rs. 449.00
Unit price
per
10 % off
10 % off
Share
Offers available
FLAT 4% OFF
No minimum purchase
THO4
FLAT 7% OFF
on purchase of 999/-
THO7
FLAT 10% OFF
on purchase of 1499/-
THO10
View full details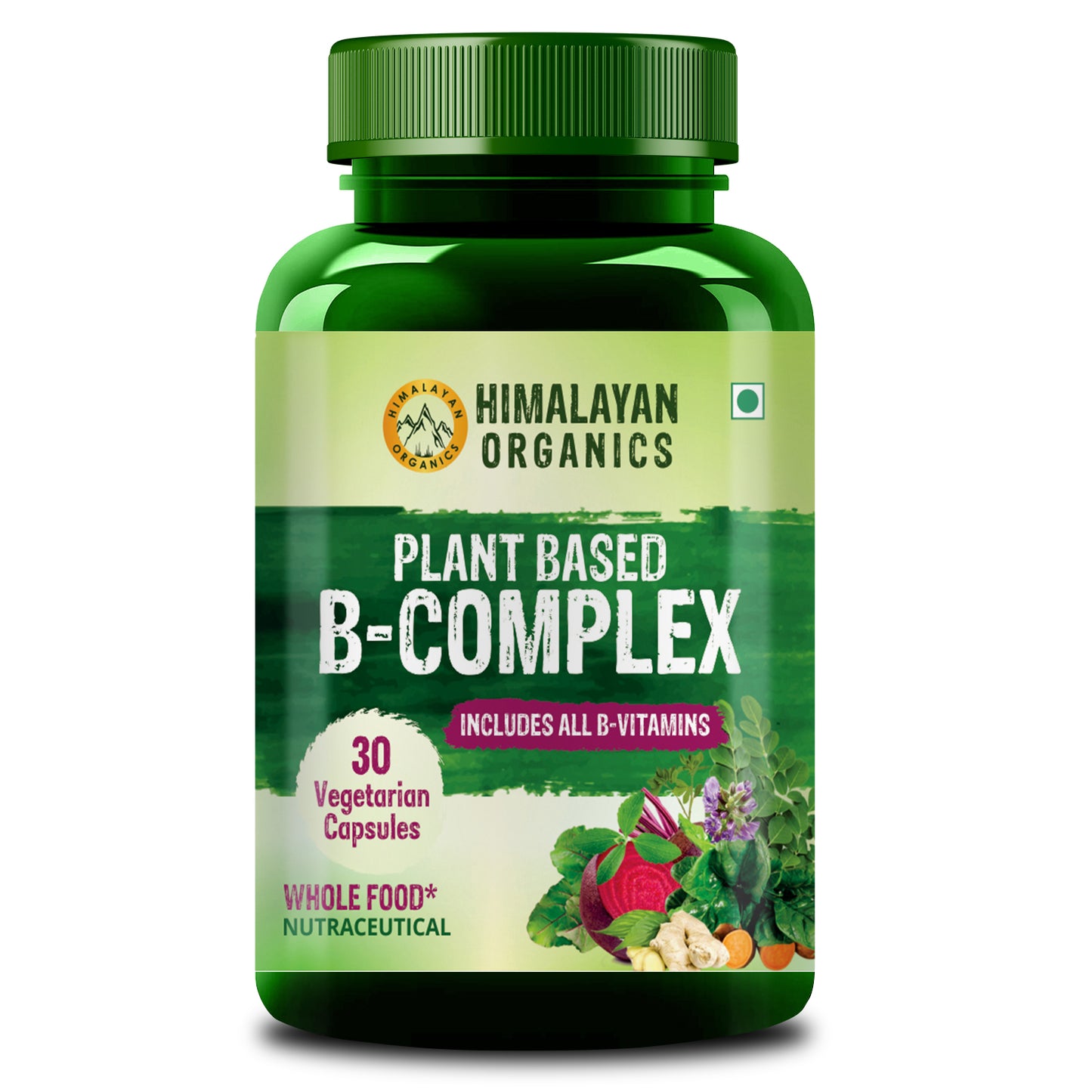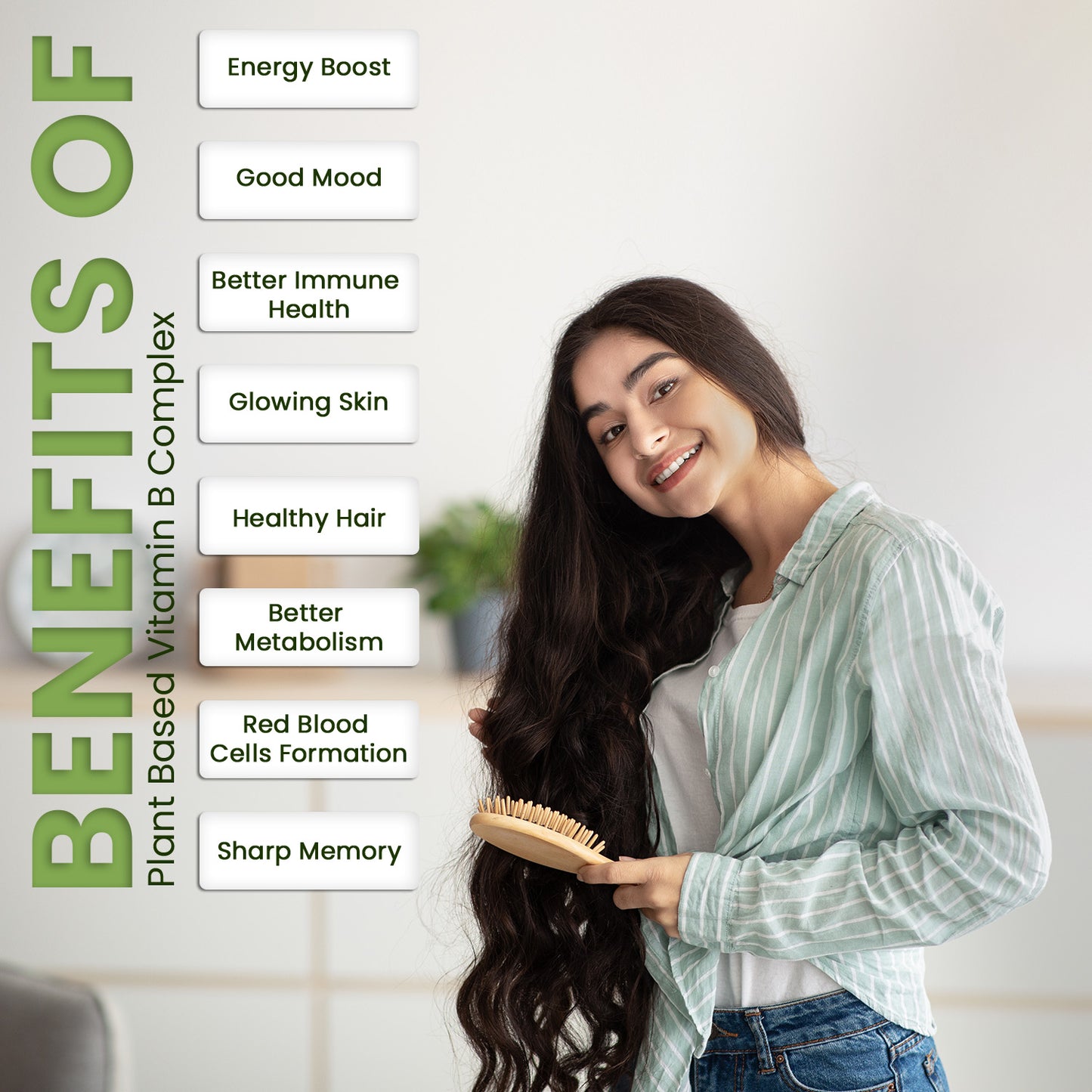 Description
Healthy Body Clock : With building blocks like B1, B2, B3, B5, B6, B7, B9, B12.
Accomplish your health goals : With 10+ natural ingredients.
Head-to-toe health : Digestion, Energy, Cognition, Beauty, Nerves, Muscles & Bones.
24/7 energetic you : With daily nutrient boost.
DIGESTIVE SUPPORT:
By producing optimal HCL in the stomach.
HIGH ENERGY & ENDURANCE:
Converts carbohydrates to glucose to energy.
BEAUTIFY & NUTRIFY:
Hair, Skin & Nails with optimal nutrition.
Beetroot - Low-calorie vegetable that regulates BP, improves athletic performance & digestion.
Moringa - Good for radiant skin, strong hair, better immunity & regulated inflammation.
Wheatgrass - For healthy liver functioning, detoxification, smooth digestion & faster metabolism.
Alfalfa - Regulates cholesterol, discourages free radicals & manages blood sugar levels.
FAQs
Natural ingredients like Spinach, Spirulina, Wheatgrass, Pumpkin, Beetroot, Alfalfa, Stevia, Barley Grass, Lichen, Fenugreek & more.
To fulfill the needs of all B vitamins together in 1 go.
Yes, it is a vegan formula devoid of gluten, soy, dairy, fish, shellfish & tree nuts.
No. All our products are made under expert supervision & certified by relevant bodies, making them perfectly fit for consumption.
It is not possible to overcome any deficiency overnight. You need to consume it continually for minimum 45-90 days for results.
YOUR DAILY CLEAN, GREEN, VEGAN NUTRITION
Himalayan Organics Plant-Based Vitamin B Complex with 100% RDA B1, B2, B3, B5, B6, B9 & B12 | Hair Growth, Boost Energy And Immunity | 30 Veg Capsules
Does these product can be consume by men as well? or only women
Himalayan Organics Plant-Based Vitamin B Complex supplement can be consumed by both men and women.
Is the b6 active or inactive?
Himalayan Organics Plant-Based Vitamin B Complex contains natural plant extracts that have active vitamin B6.
What's the right way to consume this supplement?
Take 1 capsule of Himalayan Organics Plant-Based Vitamin B Complex regularly with water, preferably after meals.