Regular price
Rs. 549.00
Sale price
Rs. 499.00
Unit price
per
9 % off
9 % off
Share
Offers available
FLAT 4% OFF
No minimum purchase
THO4
FLAT 7% OFF
on purchase of 999/-
THO7
FLAT 10% OFF
on purchase of 1499/-
THO10
View full details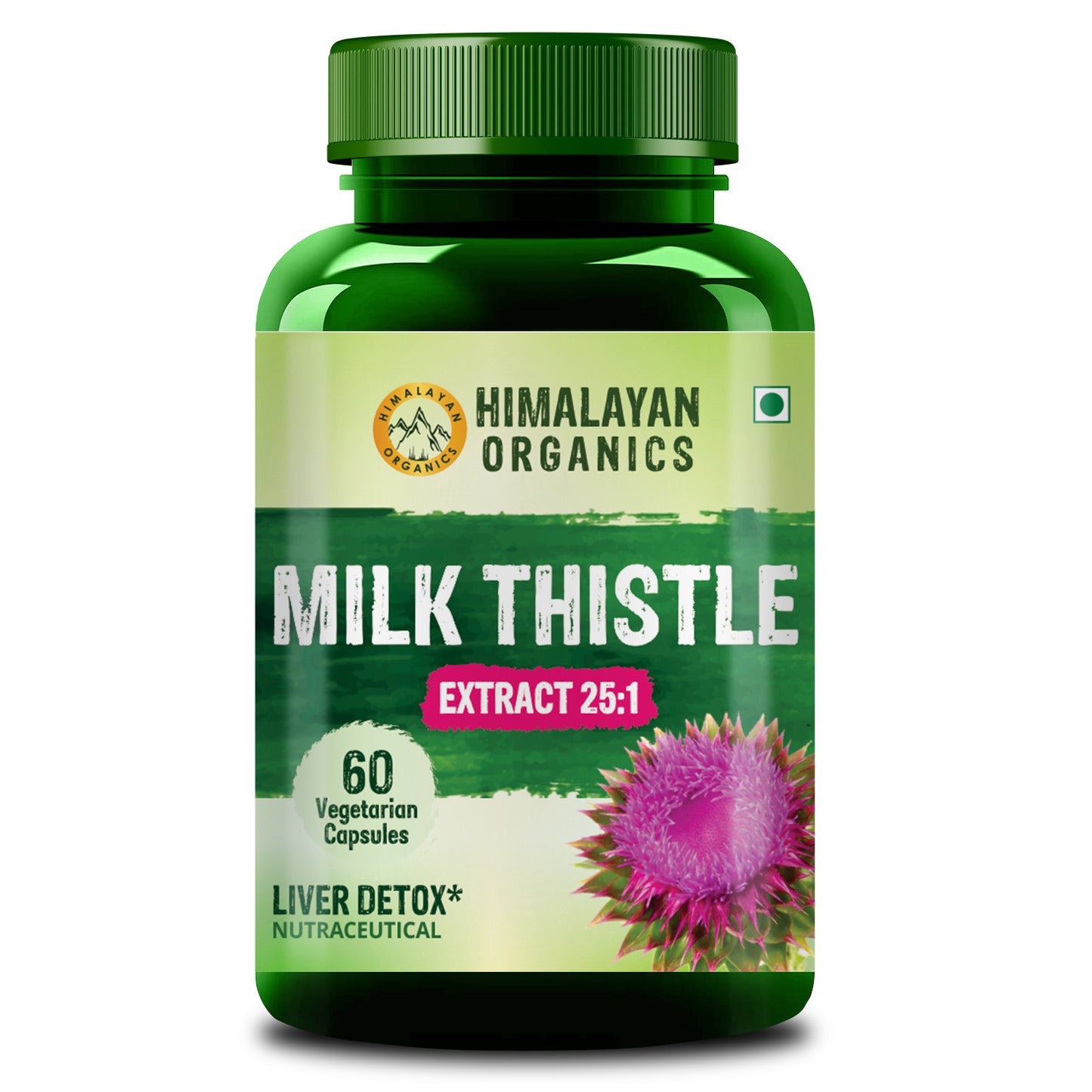 Description
Plant based daily liver care: A super strong & healthy liver makes your overall health better.
Robust liver performance: Milk Thistle supports daily smooth liver function & enhances the liver output.
Your daily natural liver protector: Protects against damage causing toxins, free radicals & oxidative stress.
Potent antioxidant effects: Silymarin, an active compound of Milk Thistle, is highly dense in flavonoids that neutralizes damage causing radicals.
LIVER SUPPORT:
Silymarin in the Milk Thistle minimizes the stress on the liver & enhances performance.
LIVER CLEANSER:
Milk Thistle is a free radical scavenger & detoxifier that promotes liver toxin removal.
BOOSTS METABOLIC ACTIVITY:
Helping break down fats faster & use it as a means of energy in the body.
Milk Thistle - A medicinal plant enriched with potent antioxidant, antiviral & anti-inflammatory properties, is known to detoxify, cleanse & protect the liver naturally.
FAQs
Milk Thistle helps to regulate the LDL or bad cholesterol which is essential for a healthy heart.
Yes, Milk Thistle is known to improve insulin resistance, which regulates blood glucose levels & reduces the stress on your liver.
Milk Thistle has hepatoprotective & other medicinal properties that safeguards the liver against inflammation, damage & stress. But in case of any severity, you should definitely consult an expert or doctor.
Along with taking a supplement, it is highly recommended to maintain a healthy lifestyle, eat a balanced diet, avoid alcohol & smoking & exercise daily.
For best results, it is recommended to consume it continually for a minimum of 45-90 days & further as per the suggestion of your healthcare expert
YOUR DAILY CLEAN, GREEN, VEGAN NUTRITION