Regular price
Rs. 1,275.00
Sale price
Rs. 759.00
Unit price
per
40 % off
40 % off
Share
Offers available
FLAT 4% OFF
No minimum purchase
THO4
FLAT 7% OFF
on purchase of 999/-
THO7
FLAT 10% OFF
on purchase of 1499/-
THO10
View full details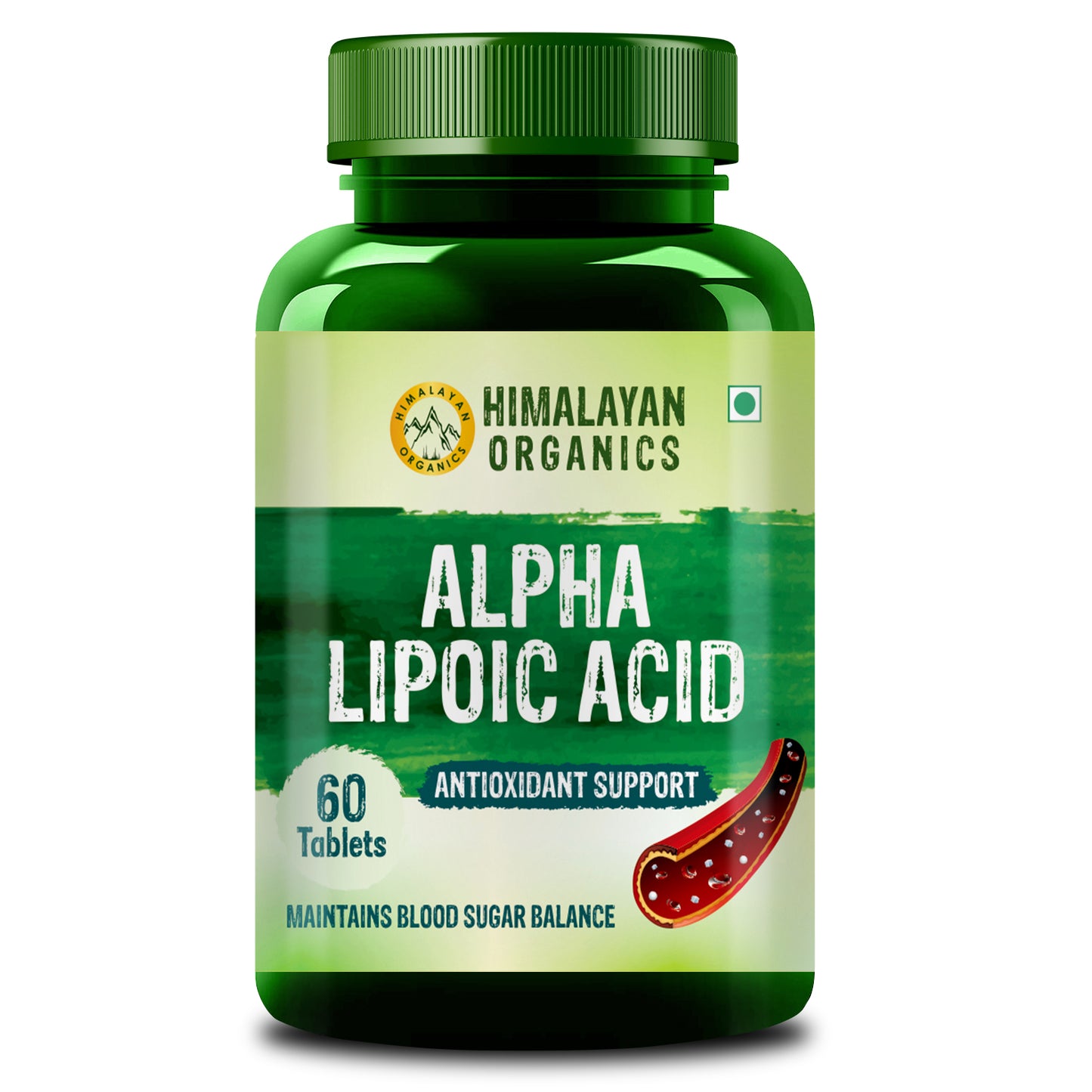 Description
What is Alpha Lipoic Acid: Alpha lipoic acid is a powerful antioxidant that breaks down carbohydrates & produces energy for healthy functions of the organs in the whole body.
What is in the tablet: The Tablets contain the desired amount of ALA required for several body functions like healthy weight management, enhanced cognitive function, and better vision.
How many tablets are in 1 pack: 1 pack of Himalayan Organics Alpha Lipoic Acid tablets contains 60 vegan tablets for superior health and boosted athletic performance.
Who can take ALA tablets:Pregnant and nursing women, people under age 18, and with a medical condition must consult their doctor before consuming the supplement.
Stabilises Blood-Sugar:
with enhanced hepatic insulin sensitivity and prevents the development of diseases like Non-alcoholic fatty liver.
Better Vision:
with reduced damage of oxidative stress caused due to ageing of the eyes.
Supports brain health:
as it reduces oxidative stress and protects brain nerves and tissues.
Alpha Lipoic Acid - converts glucose into energy using oxygen, it works on the cellular level to boost energy production for the whole body.
FAQs
ALA is a natural antioxidant found in our body that helps in many body functions. ALA tablets are used to enhance athletic performance, stabilise blood sugar levels, protect your brain and eyesight from oxidative damage, and help manage a healthy weight.
No, Himalayan Organics serves products safe from harmful chemicals, free from gluten, dairy, soy and nuts, and not tested on animals.
Yes, Himalayan Organics Alpha Lipoic Acid tablets help inhibit chemerin production, a molecule associated with obesity and slow metabolism, and help lose weight easier.
Humans only produce ALA in small amounts that do not fulfil our daily needs. Thus, we must supplement pure ALA without extra calories to help our body function smoothly.
Just 1 tablet of Himalayan Organics Alpha Lipoic Acid with water after meals or as directed by your healthcare professional.
YOUR DAILY CLEAN, GREEN, VEGAN NUTRITION
Greetings of the day, Thank you for your feedback
The product works as described. Had a tingling in my foot and I could feel relief after the first use.
Greetings of the day, Thank you for your feedback
In how many days it will show the results?
We would like to suggest that for best results, you should consume Himalayan Organics Alpha Lipoic consistently for a minimum of 45-90 days.
Great
I really like the product
Greetings of the day, Thank you for your feedback.
Greetings of the day, Thank you for your feedback.