Regular price
Rs. 849.00
Sale price
Rs. 791.00
Unit price
per
6 % off
6 % off
Share
Offers available
FLAT 4% OFF
No minimum purchase
THO4
FLAT 7% OFF
on purchase of 999/-
THO7
FLAT 10% OFF
on purchase of 1499/-
THO10
View full details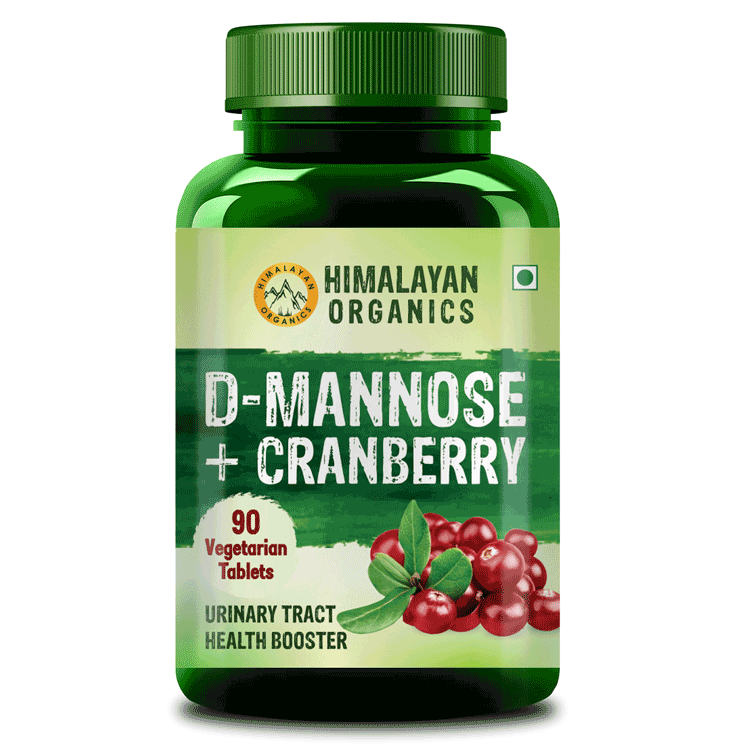 Description
What is D-Mannose?D-Mannose is the active constituent in Cranberry fruit that promotes small and large intestine health.
Two nourishing ingredients:Cranberry extract, a superfood, combined with D-Mannose to serve optimum kidney health.
Digestive health on check:The combination balances good and bad gut bacteria to keep digestion healthy.
Say goodbye to UTI:Combats bacteria growth at urinary tract walls and protects against Urinary Tract Infections.
Healthy and clean Urinary Tract:
With high antioxidants of D-Mannose.
Relieved urinary infections:
With escalated good bacteria growth
Enhances heart health:
Helps lower heart-damaging-oxidation with cranberry extracts.
Cranberry Extract - A superfood with high nutrients and antioxidants that help improve immune functions and manage blood pressure.
D-Mannose - A kind of sugar related to glucose that helps relieve urinary tract infections and supports kidney health.
FAQs
Yes, D-Mannose inhibits the growth of bad bacteria, while Cranberry extract's high nutrients help keep your urinary tract healthy.
Take 2 capsules daily with water, each with lunch and dinner or as directed by your physician to keep your urinary tract health in check.
The combination of Cranberry and D-Mannose combats the growth of bad bacteria and promotes the balance of good bacteria to keep your gut healthy and smooth functioning.
The Supplement is safe for all. Consult your doctor before using if you are pregnant, nursing, under medication, suffering from a disease, or under 18 yrs old.
The supplement is vegan-friendly, free from gluten, dairy, soy, and nuts and has not been tested on animals.
YOUR DAILY CLEAN, GREEN, VEGAN NUTRITION
Are these shelf storage or refrigerator ?
We would suggest you keep the Himalayan Organics D-MANNOSE + CRANBERRY supplement in a cool and dry place, there is no need to keep it in the refrigerator.
I am having a urine infection can I use these?
Yes, Himalayan Organics D-MANNOSE + CRANBERRY Antioxidant Rich Supplement helps to maintain the overall health of the Urinary Tract
Greetings of the day, Thank you for your feedback.
My age 28 year old can I use it cranberry tablets?
We would like to inform you that we suggested our products to above 18 year age groups.
My friend recommended this product and after 10days of consumption , I am quite relieved with the infection and itching .All in all a very good product
Greetings of the day, Thank you for your feedback.