Regular price
Rs. 1,797.00
Regular price
Rs. 2,323.00
Sale price
Rs. 1,797.00
Unit price
per
22 % off
22 % off
Share
Offers available
FLAT 4% OFF
No minimum purchase
THO4
FLAT 7% OFF
on purchase of 999/-
THO7
FLAT 10% OFF
on purchase of 1499/-
THO10
View full details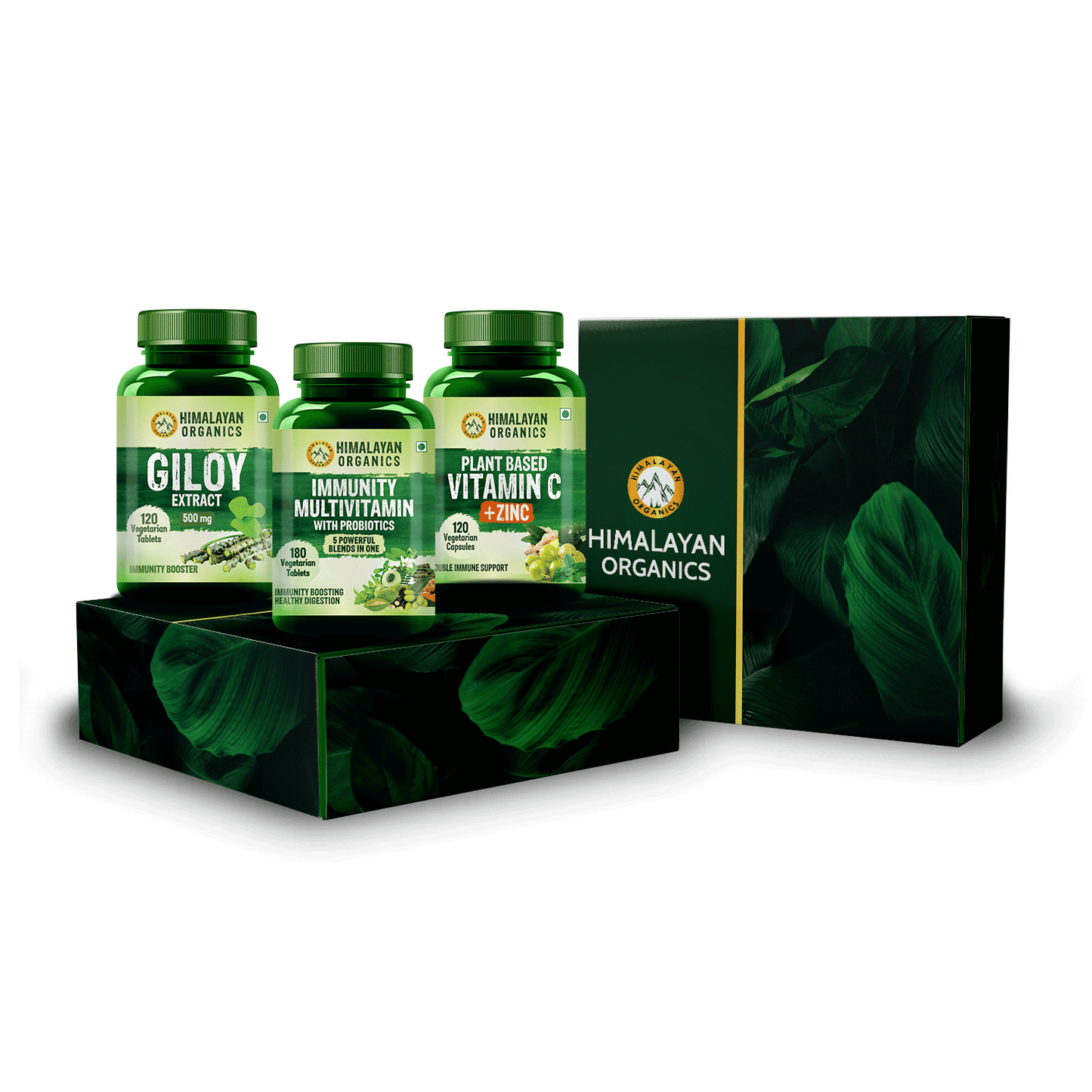 Description
Your on-the-go immunity boosting kit!
A combination of products with vital immunity-boosting powers, curated with different essential nutrients, ingredients, and formulas, to strengthen your body's defense mechanism along with boosted energy, glowing skin, and enhanced cognitive health. A set of immunity, brain, and healthy skin, all packed in one gift box.
Benefits -
Immunity Multivitamin + Probiotic Support
- An amalgamation of giloy extract, amla, neem leaves, tulsi, Brahmi, Curcuma longa, haritaki, vitamins, and minerals, blended with prebiotics and probiotics to strengthen your immunity while keeping it easing on your digestive system.
Vitamin C and Zinc
- Vitamin C is vital for the immune system and an integral part of the skin that helps in collagen synthesis. The combination of Vitamin C and zinc work as a shield against oxidative stress, along with enhancing the absorption of other nutrients like iron.
Giloy Extract
- The antioxidant and antimicrobial properties of Giloy help keep bacteria and free radicals at bay, also manage stress and anxiety and normalize brain functions.
The pack includes -
Immunity Multivitamin with Probiotics Tablets
Vitamin C with Zinc Capsules
Giloy Extract Capsules
Do these trio helps in boosting immunity and weight gain
Himalayan Organics Gift Pack of Immunity Multivitamin with Probiotics, Vitamin C, Zinc, and Giloy Extract boosts immunity, supports digestion, fights bacteria and free radicals, reduces stress and anxiety, enhances skin health, and provides antioxidant defense. But it does not help with weight gain.
Greetings of the day, Thank you for your feedback
I wanted to gift these to my mother she is 65+ can she use these supplements?
Himalayan Organics Gift Pack of Immunity Multivitamins with Probiotics, Vitamin C with Zinc & Giloy Extract can be used by people the age of 65+. People with certain medical conditions kindly connect with our healthcare professionals before consuming the supplement.
Greetings of the day, Thank you for your feedback.