Himalayan Organics Heart Care Supplement with Arjuna Bark, Grape seed, CoQ10, Resveratrol, Cinnamon, Garlic | 60 Veg Tablets
Himalayan Organics Heart Care Supplement with Arjuna Bark, Grape seed, CoQ10, Resveratrol, Cinnamon, Garlic | 60 Veg Tablets
Regular price
Rs. 965.00
Sale price
Rs. 649.00
Unit price
per
32 % off
32 % off
Share
Offers available
FLAT 4% OFF
No minimum purchase
THO4
FLAT 7% OFF
on purchase of 999/-
THO7
FLAT 10% OFF
on purchase of 1499/-
THO10
View full details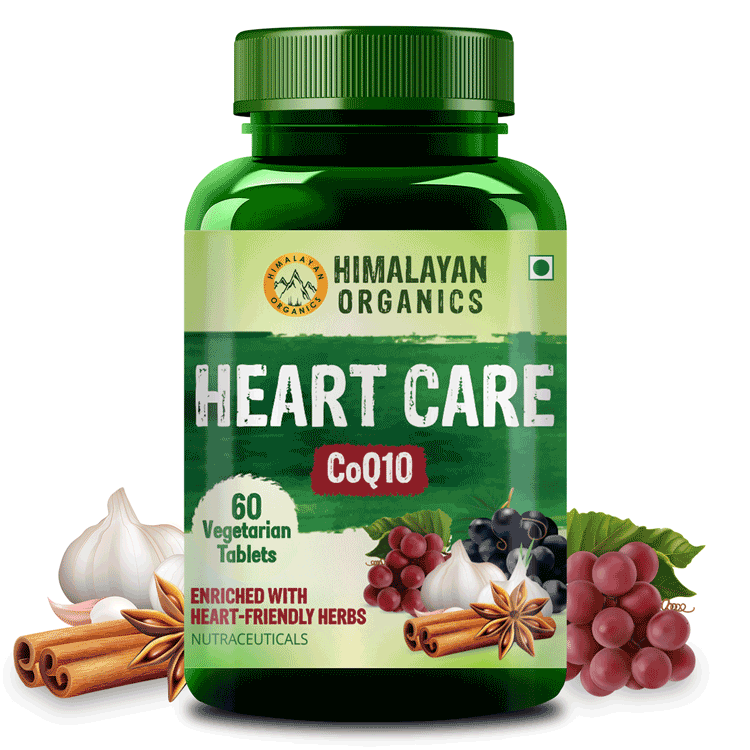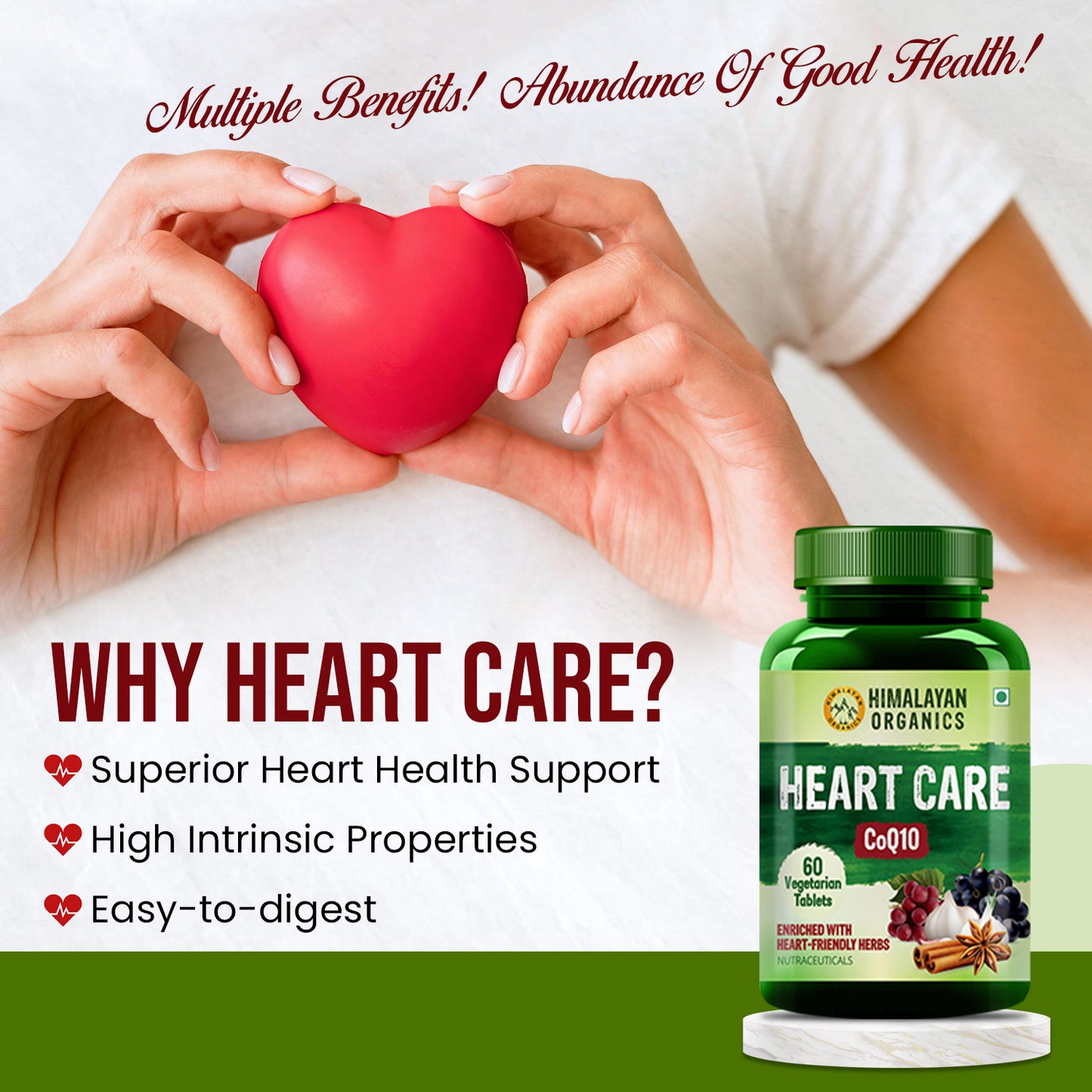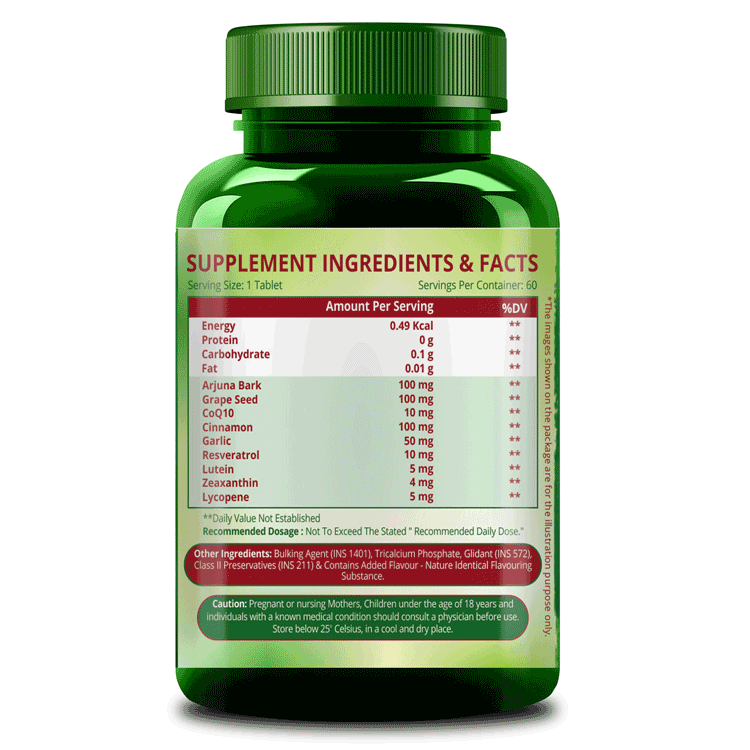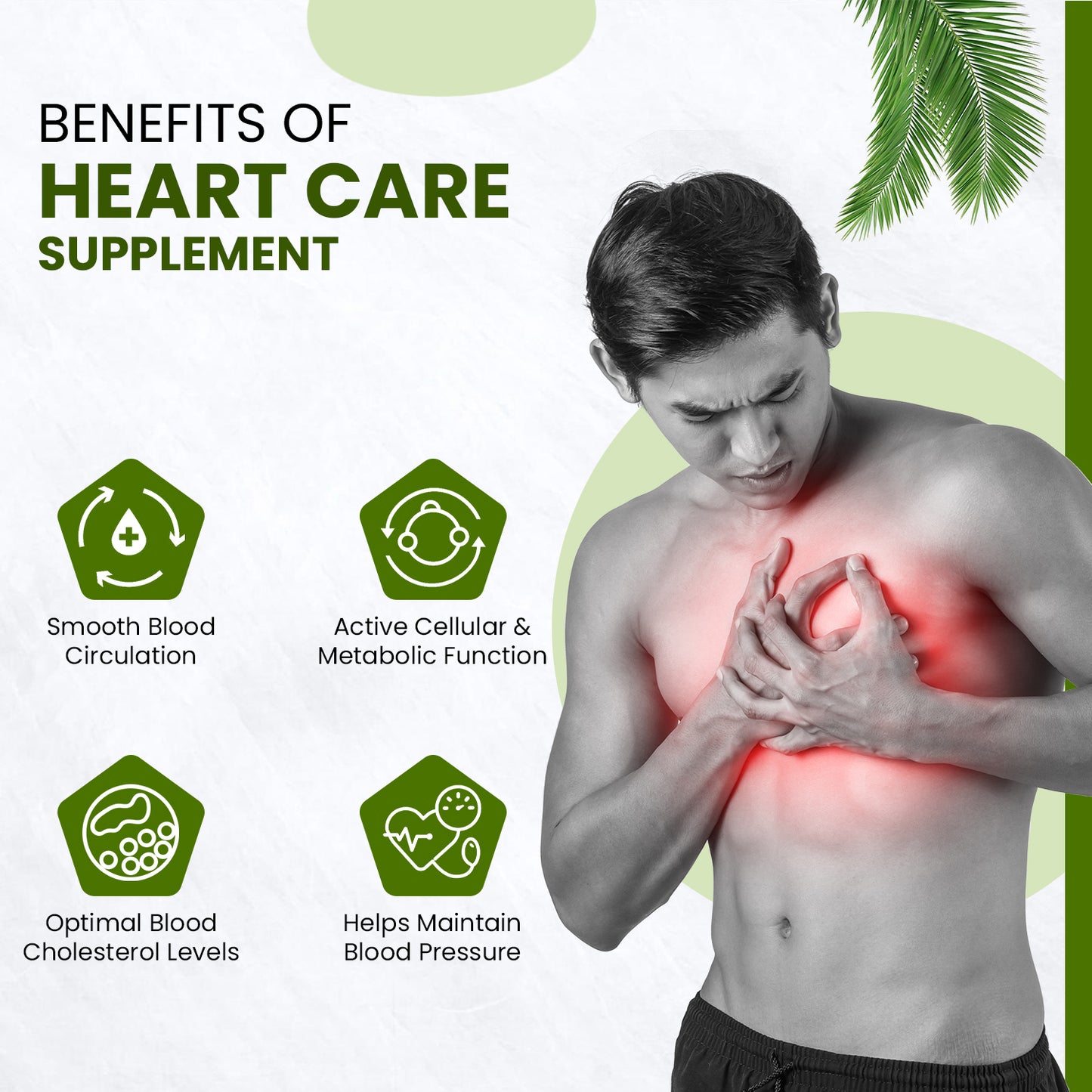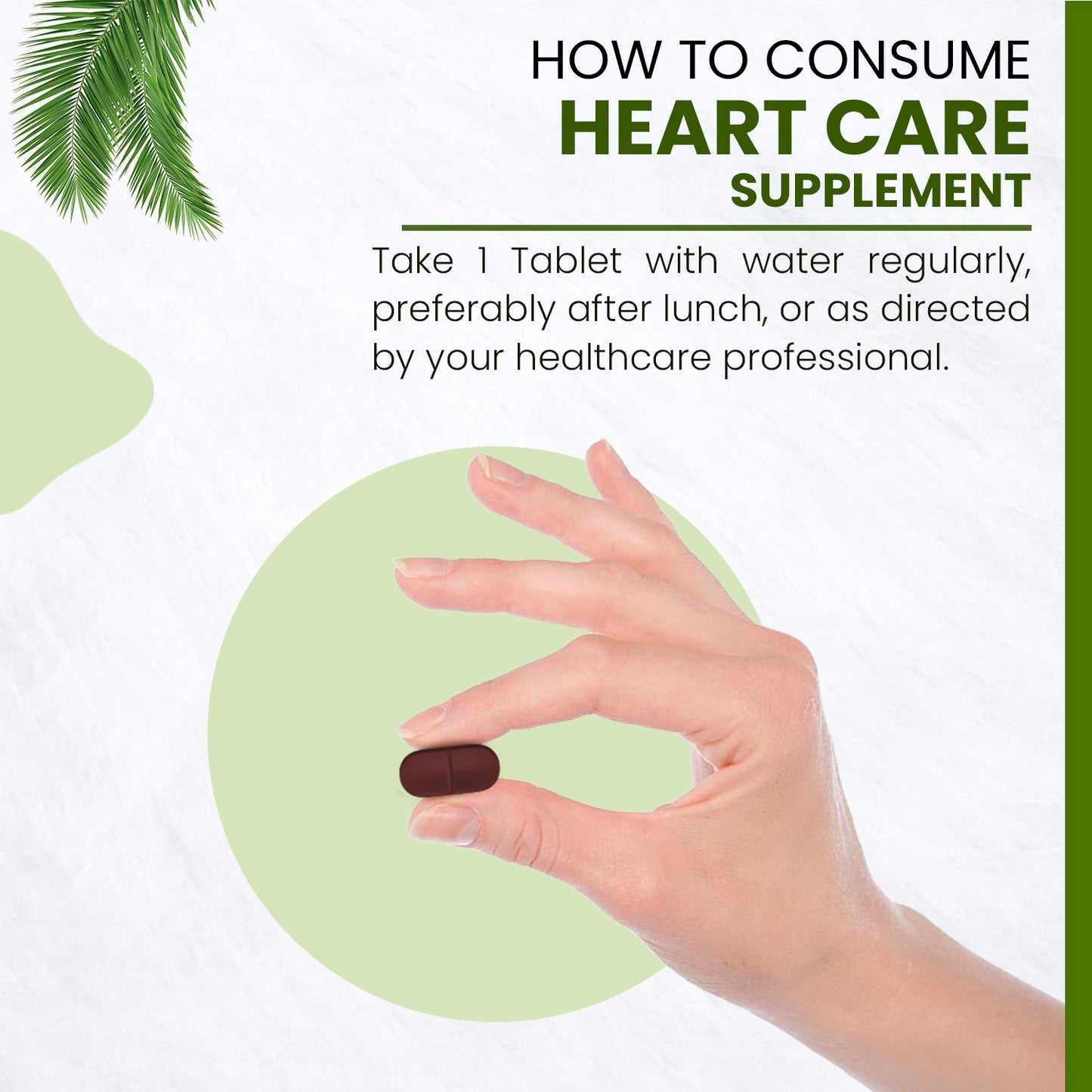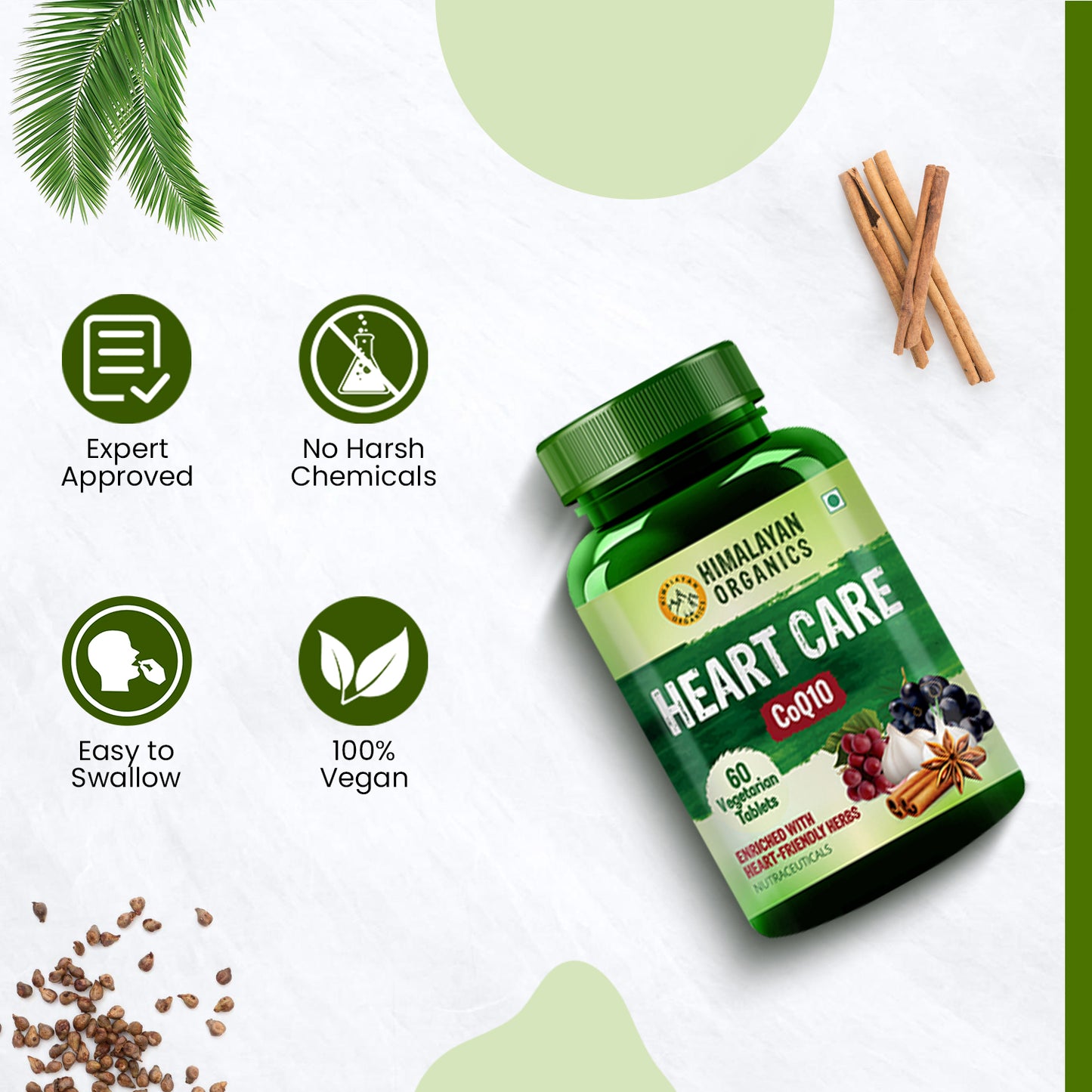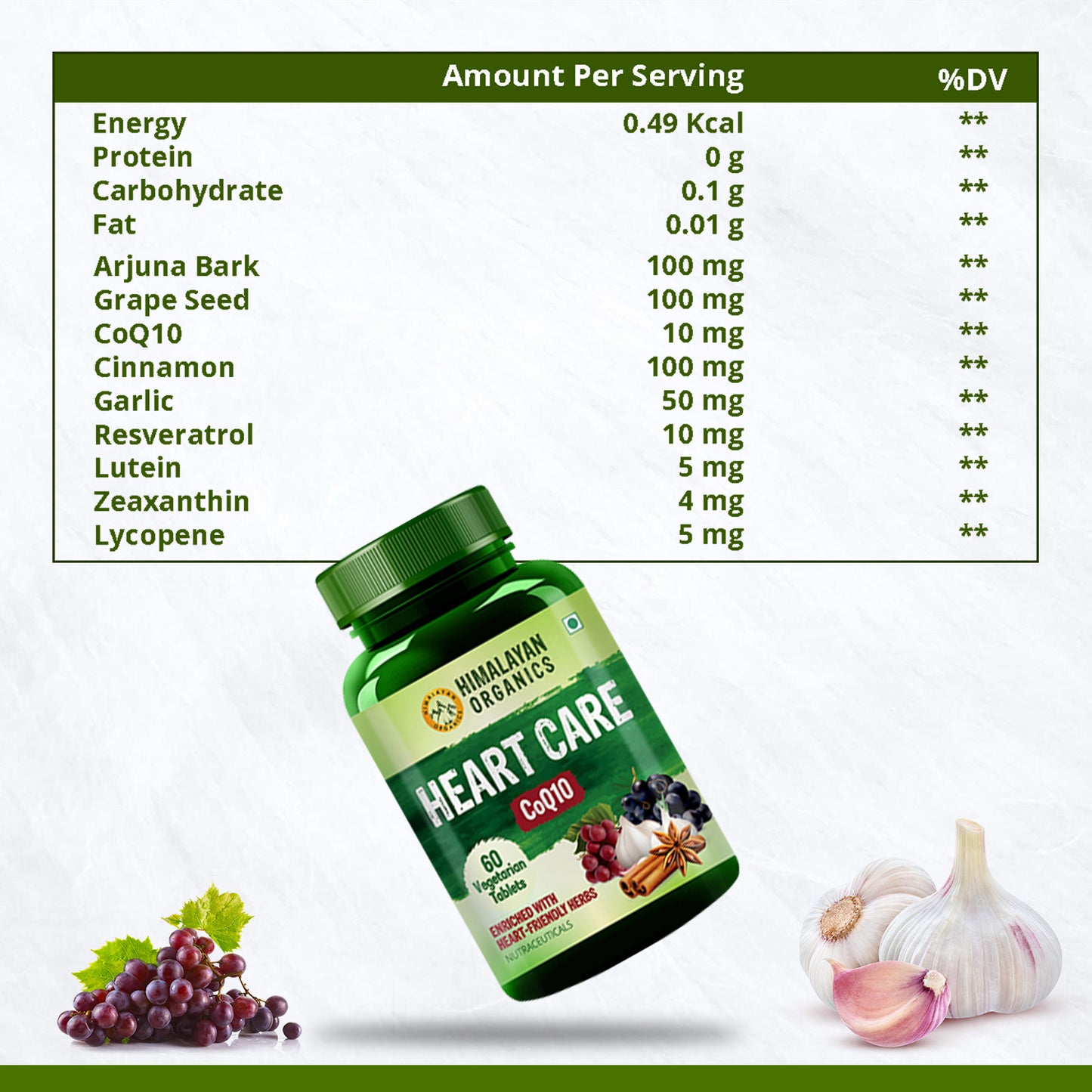 Description
Never skip a beat! : Regulate & balance all heart vitals
Your heart's caretaker : 8+ heart-enriching ingredients
Healthy & Heart-y you : With a complete heart care solution
Active cellular & metabolic function: Keeps your heart stress-free
BLOOD CIRCULATION:
Avoids build-up allowing the heart to contract, relax & pump properly.
CELLULAR HEALTH:
Safeguards cells against oxidative stress & generates energy in the cells.
HEALTHY VITALS:
Regulates insulin resistance & helps to stabilize cholesterol & BP levels.
Arjuna Bark - Regulates blood sugar, cholesterol & blood pressure levels.
Resveratrol - Discourages the pressure exerted on the arteries & relaxes the vessels.
CoQ10- Manages energy levels & oxidative damage for optimal heart functioning.
Grape Seed - Antioxidant-rich that governs inflammation allowing smooth blood flow.
FAQs
CoQ10 or coenzymeQ10 is a natural enzyme & potent antioxidant essential for cellular energy production. CoQ10 levels decline with age. Hence supplements help.
Garlic is known to be a blood thinner due to its anti-platelet properties that discourage blood clots & reduce the risk of heart problems.
It is highly recommended to maintain a healthy lifestyle, have a balanced diet & proper exercise routine. You can even consult our expert dietician for the same.
Both men & women can take 1 tablet of Heart Care. But, pregnant or nursing women & individuals with any health condition should consult their doctor.
Yes, it is an expert-approved & vegan formula made as per the RDA protocols & is certified by FSSAI, making it fit for consumption & side-effect free.
YOUR DAILY CLEAN, GREEN, VEGAN NUTRITION
Very Good
I had a heart attack some years ago and had to have a stent inserted. Also, was put onto a statin . I found that if I didn't do some physical exercise for a few days, my feet and ankles would swell up. Also, the statin resulted in blackish coloured stools, which I was told, was not a good sign. After taking Heart Care for over a month, I've noticed that my feet do not swell up even if I have not exercised for a month. Also the colour of my stools is now always normal. Finally, I have stopped feeling tired and lethargic, which used to be the case before I started taking Heart Care. This certainly worked for me. I must add that I also take many ayurvedic supplements to keep and stay healthy.
During pregnancy normally heart rate fluctuates can I consume these?
We would like to inform you that, we do not suggest Himalayan Organics Heart Care Supplement to pregnant women and lactating mothers.
What are the precautions should be taken while consuming these?
Himalayan Organics Heart Care Supplement It is highly recommended to maintain a healthy lifestyle, have a balanced diet & proper exercise routine.
Greetings of the day, Thank you for your feedback
Hi good to associate with Himalaya it's too early to rate product although I'm going to reorder
Greetings of the day, Thank you for your feedback