Himalayan Organics Immunity Multivitamin with Probiotics with Vitamin C, D, K2, Zinc, Ginseng, Giloy, Biotin For Men & Women
Himalayan Organics Immunity Multivitamin with Probiotics with Vitamin C, D, K2, Zinc, Ginseng, Giloy, Biotin For Men & Women
Regular price
Rs. 799.00
Sale price
Rs. 699.00
Unit price
per
12 % off
12 % off
Share
Offers available
FLAT 4% OFF
No minimum purchase
THO4
FLAT 7% OFF
on purchase of 999/-
THO7
FLAT 10% OFF
on purchase of 1499/-
THO10
View full details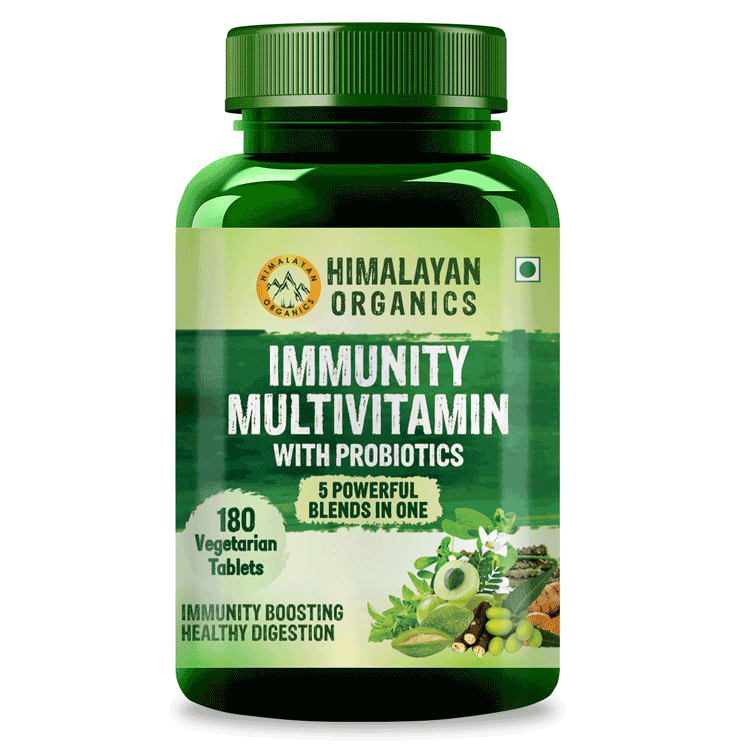 Description
10X Immune & Gut Health boost!
As the name suggests, Himalayan Organics Immunity Multivitamin with Probiotics helps maintain a healthy digestive system while enhancing your immunity. The tablets are formulated with perfect blends of Giloy Extract, Amla, Neem Leaves, Tulsi, Brahmi, Curcuma Longa, Haritaki, and other essential nutrients that help ensure super strong immune functioning. These tablets enhance antioxidant action, balance vitamin and mineral levels, increase energy and stamina, and promote smooth digestion and gut health. An ideal supplement for men & women for head-to-heel vibrancy.
Ingredients:
36+ Immunity-Boosting Ingredients in one!
Essential Vitamin Blend: Contains daily essential vitamins including Vitamin A, B1, B2, B3, B5, B6, B12, Folic Acid & more that takes care of your whole body & well-being.
Essential Mineral Blend: Meticulous blend of essential minerals like Calcium, Magnesium, Phosphorus, Manganese, Potassium etc., fulfills mineral deficiencies.
Antioxidant Blend: Omega 3, Spirulina, and Grapeseed Extract are the powerhouse of antioxidants that manage free radicals in the body.
Immunity Blend: Natural extracts like Giloy, Tulsi, Neem & more have immunity-boosting properties that strengthen your defense mechanism.
Prebiotic & Probiotic Blend: Gut-friendly strains & Fructooligosaccherides smoothens your digestion for a happier gut.
Multivitamins for multiple benefits!
BETTER IMMUNITY EVERY DAY: An amalgamation of Giloy Extract, Amla, Neem Leaves, Tulsi, Brahmi, Curcuma Longa, Haritaki, Vitamins, and Minerals strengthen your immunity & helps you stay upbeat in all seasons & reasons. Moreover, the presence of gut-friendly bacteria in the formulation maintains good gut composition, a key factor for stronger immunity.
INTESTINAL HEALTH: The body needs good bacteria to help balance the bad ones to function properly. Himalayan Organics Immunity Multivitamin with Probiotics contains an essential Prebiotic & Probiotic blend critical for healthy digestion. They help regulate the integrity of the intestinal lining, support proper intestinal motility, and participate in detoxification, thus promoting a healthy gut and intestinal health.
BLEND OF ANTIOXIDANTS: These tablets have ingredients that are potent antioxidants and have anti-inflammatory properties that manage the presence of free radicals in the body and release oxidative stress. Wonderful antioxidants for men and women, to keep you fit in your hectic schedules every day!
HIGH ON ENERGY: Having a presence of B Vitamins, Vitamin E, Vitamin B12, Brahmi, Zinc & more, these tablets keep the metabolism healthy and provide adequate energy to carry out all essential functions without fatigue.
SAFE, HEALTHY, GLUTEN-FREE: Himalayan Organics Immunity Multivitamin with Probiotics is an effective blend of trusted ingredients that are carefully processed and manufactured in a GMP-certified manufacturing facility. These tablets are 100% Vegan, gluten-free & contain no harsh chemicals.
Comparatively a great product I have used other brands as well but didn't get many results but after using these my skin feels good
Greetings of the day, Thank you for your feedback
I'm planning to conceive can I take these as a folic acid alternative to this supplement?
Himalayan Organics Immunity Multivitamins with Probiotics can be used by persons above the age of 18 years except for pregnant women and lactating mothers, also we will not suggest to women who are planning to conceive.
Trusted good products with great services
I am a regular buyer of Himalayan Organics Products for long time. Good quality products with good cost. Delivers great value. Online Order process and function is very smooth and fast delivery. Staff managing Order processing are helpful and efficient. Always recomended.
Greetings of the day, Thank you for your feedback
Do these contain some % of giloy, tulsi neem, or extract?
Yes, Himalayan Organics Immunity Multivitamin with Probiotics contains 50mg of giloy extract, 15mg of tulsi extract, and 15mg of neem leaves powder