Regular price
Rs. 975.00
Sale price
Rs. 699.00
Unit price
per
28 % off
28 % off
Share
Offers available
FLAT 4% OFF
No minimum purchase
THO4
FLAT 7% OFF
on purchase of 999/-
THO7
FLAT 10% OFF
on purchase of 1499/-
THO10
View full details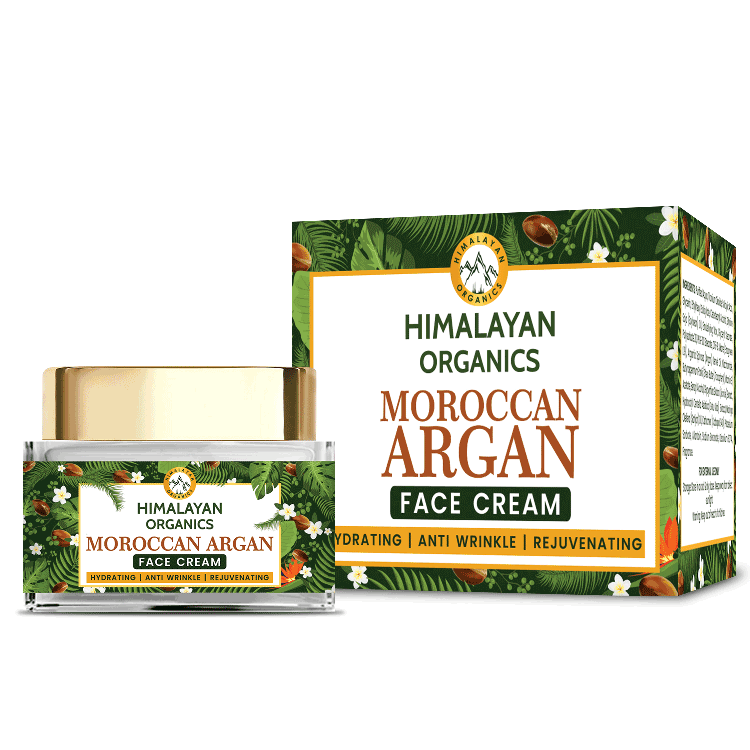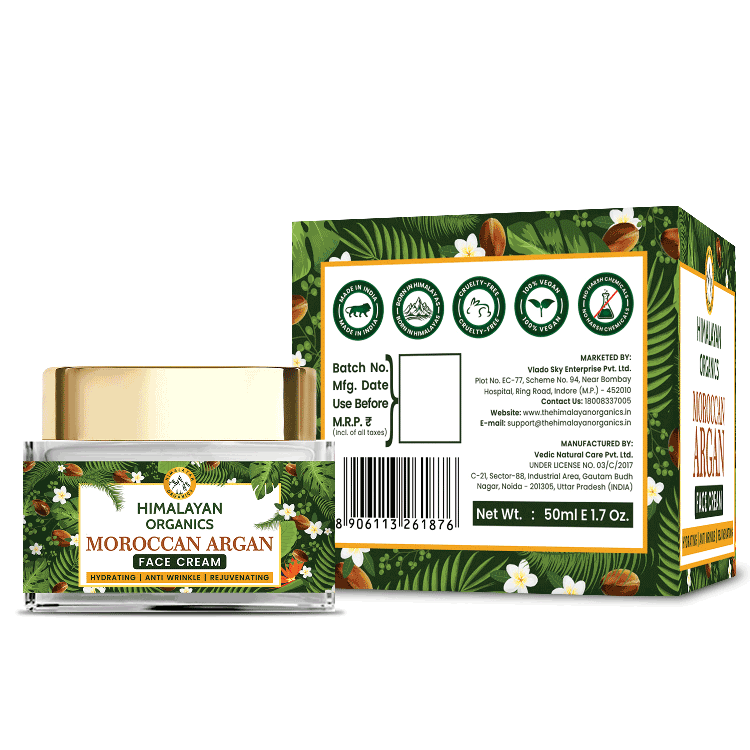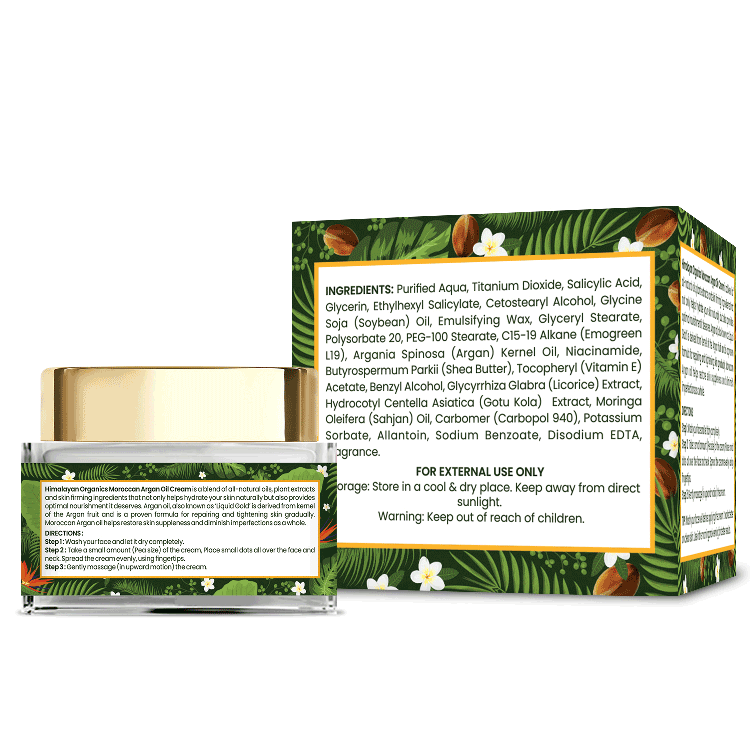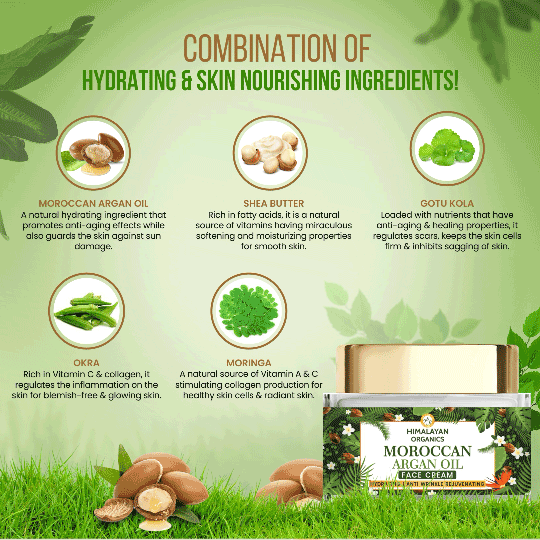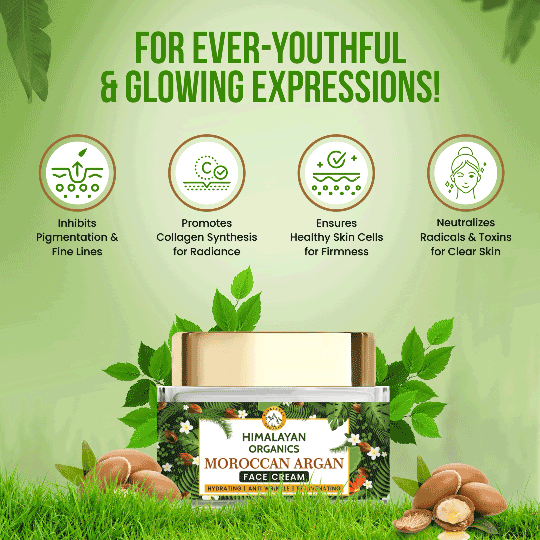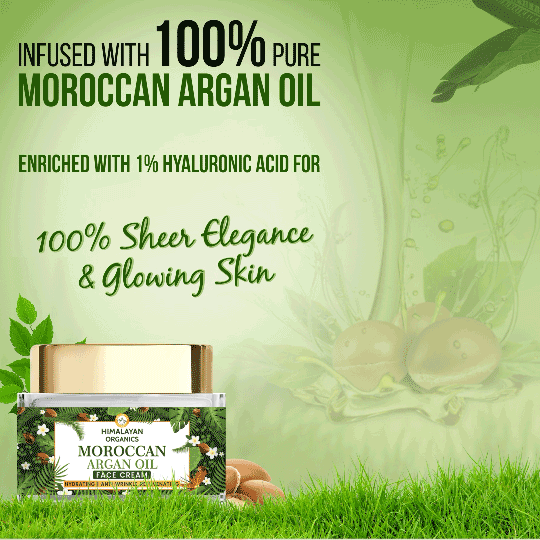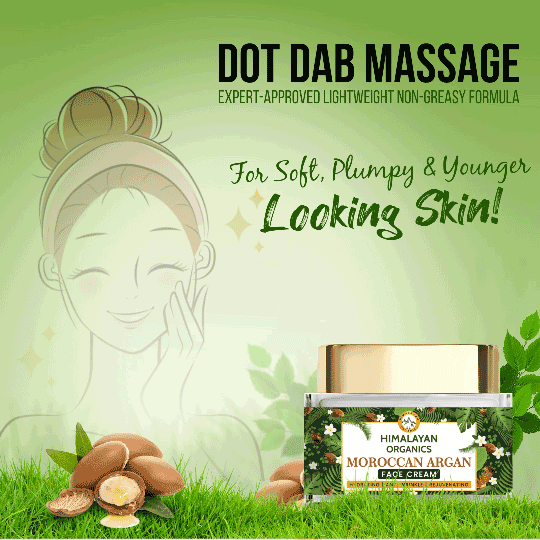 Description
Glow Gleam Glitter Naturally!
Himalayan Organics Moroccan Argan Oil Cream is a luxurious blend of all-natural oils, plant extracts, and premium skin firming ingredients that hydrates your skin naturally and provides the optimal nourishment it deserves. Argan oil, also known as 'liquid gold,' is derived from the kernel of the argan fruit and is a proven formula for repairing and tightening skin gradually. Moroccan argan oil promotes suppleness and diminishes imperfections as a whole. It aids in managing the microscopic damages in the skin that happens due to day-long exposure to sunlight, harsh weather elements, or environmental pollutants. Along with that, this cream also addresses multiple signs of skin aging like dryness, dullness, spots, fine lines, breakouts, and wrinkles. In short, it is your personal potion for glowing, gleaming, and glittering skin!
Combination of Hydrating & Skin Nourishing Ingredients!
Moroccan Argan  oil is a natural hydrating ingredient that promotes anti-aging effects. It manages fine lines and wrinkles while also guards the skin against sun damage. Shea Butter Rich in fatty acids,
Shea butter is a natural source of vitamins for your skin having miraculous softening and moisturizing properties which makes it an ideal softener for the skin. It has healing and anti-inflammatory properties that soothe the skin, cool it down, and combat signs of aging.
Moringa  has many nutrients that are healthy for the skin. It is a natural source of vitamin A and C that stimulates collagen production that is a vital component for the care of your skin that safeguards against aging.
Okra Rich in micronutrients, okra is essential for the system as well as the skin. It is rich in Vitamin C and collagen that promotes healthier-looking skin with fewer lines and dark spots.
Get Glowy Gleamy Glittery Skin All-Naturally!
YOUTHFUL GLOW: Himalayan Organics brings you one of the most precious gifts from nature, packed in a wonder bottle, to help you delay the signs of aging almost naturally. Argan oil is known for its multi-purpose nature and anti-aging properties. Rich in nutrients, this non-greasy oil is easily absorbed by your skin and hydrates it naturally for a youthful and radiant glow always.
HEALTHY SKIN CELLS: With nutrient benefits from Okra, Moringa, Shea Butter, Argan Oil, and more, the cream enables the nourishment of the skin while managing dead skin and decreasing pigmentation. It promotes collagen synthesis that ensures healthy skin cells, delays signs of aging, encourages healthier-looking skin free from fine lines and wrinkles, enhances skin elasticity, and hydrates the skin from deep within.
SMOOTH AND LUSTROUS SKIN: With the constant moisture from Moroccan oil and shea butter, your skin is really able to lock in and remain hydrated throughout the day. As the moisture combats scars and cleanses the skin, your skin becomes smoother. Not just that, it has deep antioxidant properties that keep your skin safe from aging, neutralizes damage-causing radicals, and combats environmental toxins for shiny skin.

Greetings of the day, Thank you for your feedback
Can a combination skin person use these creams in summer?
We would like to inform you that we do not suggest Himalayan Organics Moroccan Argan Oil Anti-Aging Cream used on combination skin types
does this cream fade scars and dark spots?
Himalayan Organics Moroccan Argan Oil Anti-Aging Cream help in lightening the dark spots & scars.
Greetings of the day, Thank you for your feedback
can i use this cream for acne-prone oily skin?
Himalayan Organics Moroccan argan Oil is a good ingredient for acne prone skin but as the product contains shea butter we do not suggest to use on acne prone oily skin, if you do not have large acne, you can use Himalayan Organics Vitamin C skin care range ( serum, day cream, night cream ). With highly acne prone skin we would like to suggest you to consult with the Dermatologist.