Regular price
Rs. 799.00
Sale price
Rs. 649.00
Unit price
per
18 % off
18 % off
Share
Offers available
FLAT 4% OFF
No minimum purchase
THO4
FLAT 7% OFF
on purchase of 999/-
THO7
FLAT 10% OFF
on purchase of 1499/-
THO10
View full details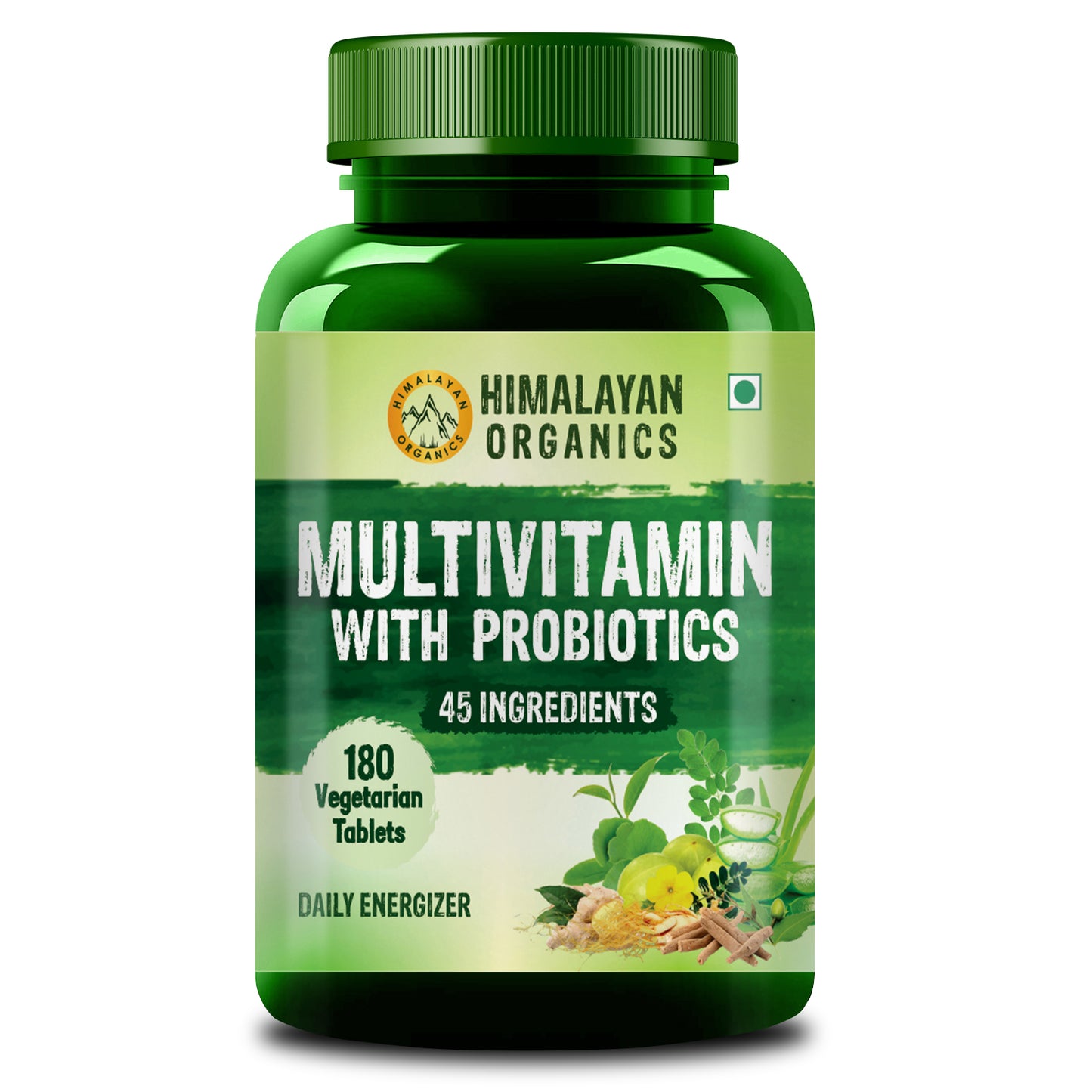 Description
What are multivitamins?: Healthy functioning of a body is the sum total of several nutrients and processed within. Multivitamins, as the name suggests, are different vitamins vital for the healthy functioning of our body.
Importance of Multivitamin with probiotics: Along with probiotics, multivitamins become easily absorbable. These multivitamin tablets fulfill nutritional deficiencies that cannot be fulfilled by your regular diet alone!
45 Ingredients in 1 Tablet: Himalayan Organics Multivitamin with Probiotics has 45 powerful ingredients in the form of 11 blends that help perfectly fulfill your vitamin intake while maintaining overall health in men & women.
Extremely powerful formula: Contains vital B-Vitamins, Vitamin A & Folic Acid that provide daily essential vitamins needed for healthy eyes, hair, energy & good nerve and blood cells. All-in-one nourishment!
GLOWING SKIN, HAPPY HAIR:
With Biotin, Vitamin E & Vitamin C.
STRONG BONES, HEALTHY JOINTS:
With Calcium, Magnesium, Potassium & Vitamin D.
YOUR DAILY ENERGY RECHARGE:
Naturally powerful blends for high energy & stamina.
Essential Mineral Blend: Zinc, Iron, Manganese, Copper, Iodine, Boron, Chromium & Molybdenum helps maintain cell metabolism & cardiovascular health.
Bone & Joint Blend:  The combination of Calcium, Magnesium, Vitamin K2, D, Cissus Quadrangularis, Alfalfa & Phosphorus promote healthy bones & joints.
Super Antioxidant Blend: Grapeseed, Lutein, Lycopene & Selenium are the powerhouse of antioxidants that neutralize free radicals in the body.
FAQs
- Yes. Multivitamin with probiotics helps improve gut health and digestion simultaneously.
This high potency multivitamin blend is beneficial for healthy hair, skin, better muscle growth & overall bone health. .
This is an advanced formula with 40+ nutrients in the form of 11 powerful blends that not only fulfill your daily multivitamin needs but also keep your overall digestion good.
Today's fast-paced lives & impure foods can hardly fulfil your daily required multivitamins. This multivitamin supplement provides essential vitamins, minerals & amino acids to keep you energetic throughout the day.
Yes. The best thing about this multivitamin is that it contains naturally essential blends to boost overall energy levels & metabolism.
YOUR DAILY CLEAN, GREEN, VEGAN NUTRITION
Does it cure iron and zinc deficiencies?
Himalayan Organics Multivitamin with probiotics does not cure iron and zinc deficiencies.
Greetings of the day, Thank you for your feedback
What's the mg in the product?
he mg denotes milligrams, and the Himalayan Organics Multivitamin with probiotics per tablet weighs 1000mg.