Regular price
Rs. 945.00
Sale price
Rs. 699.00
Unit price
per
26 % off
26 % off
Share
Offers available
FLAT 4% OFF
No minimum purchase
THO4
FLAT 7% OFF
on purchase of 999/-
THO7
FLAT 10% OFF
on purchase of 1499/-
THO10
View full details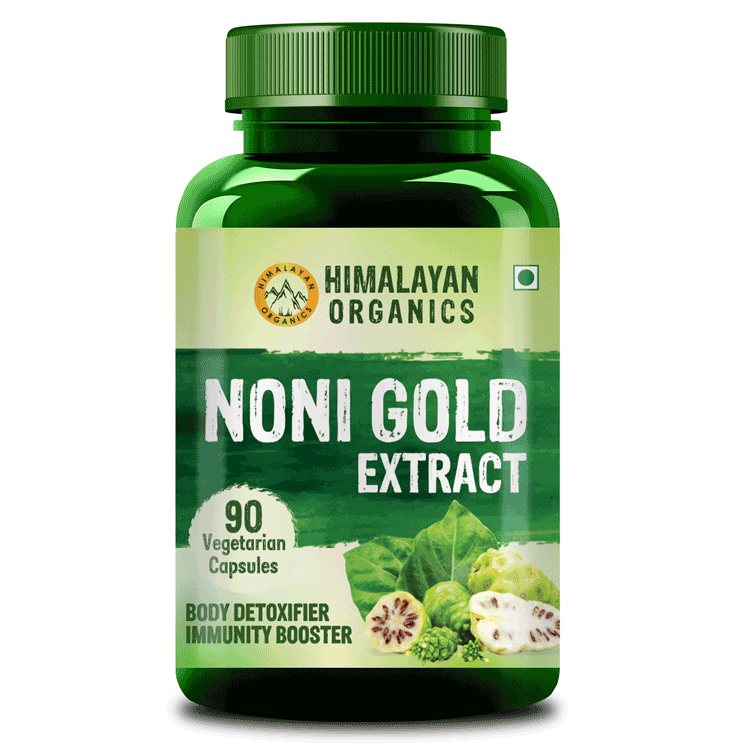 Description
Natural body detoxifier! Keep toxins at the bay.
Tiny fruit! Abundant properties! Anti-inflammatory, Antiviral, Antifungal & Antibacterial properties.
Nature's goodness packed in 1 fruit: Rich in Potassium, Biotin, Vitamin C & Folate.
Good Nourishment! Complete Enrichment! Fruit for your head-to-toe needs.
IMMUNE-ENHANCING FRUIT:
Vitamin C content protects the cells from free radical damage.
GOOD FOR JOINTS:
Natural joint pain relief by relieving inflammation & soreness.
SUPER GLOWING SKIN:
A powerhouse of antioxidants that replenishes the skin for a natural glow.
Noni Extract - Low in fat & high in water content, this mango-sized fruit is jam-packed with potent antioxidants, flavonoids & vitamins essential for removing toxins naturally.
FAQs
Noni stimulates the process of toxins removal from the body & eases the elimination of waste.
Both men & women can consume it. Pregnant, nursing mothers & individuals with medical conditions should consult their doctor.
Each bottle has 90 capsules with a dosage of 1 capsule a day. So the pack will last with you for 90 days or 12 weeks!
Yes, it is a vegan formula devoid of gluten, soy, dairy, fish, shellfish & tree nuts.
No. All our products are made under expert supervision as per the RDA protocols & certified by relevant bodies, making them perfectly fit for consumption & side-effect free.
YOUR DAILY CLEAN, GREEN, VEGAN NUTRITION
what is noni is it fruit, vegetable, or herb?
Himalayan Organics Noni Gold Extract Body Detoxifier Supplement contains noni gold, a mango-sized fruit jam-packed with potent antioxidants, flavonoids, and essential vitamins for natural toxin removal.
What are the ingredients of this Noni capsules?
Himalayan Organics Noni Gold Extract contain ingridient noni extract (morinda citrifolia).
I got this as recommended by a friend who swears by it for general overall health. It's been about a week and can already feel the improvement in energy level
Greetings of the day, Thank you for your feedback
What's the best time to consume post-lunch or post-dinner?
We would suggest you take 1 capsule of Himalayan Organics Noni Gold Extract Supplement regularly with water after your meal.
How to use it for the best result?
We would like to suggest you take 1 capsule regularly of Himalayan Organics Noni Gold Extract with water preferably after meals. For best results, you should consume it consistently for a minimum of 45-90 days.