Regular price
Rs. 699.00
Sale price
Rs. 599.00
Unit price
per
14 % off
14 % off
Share
Offers available
FLAT 4% OFF
No minimum purchase
THO4
FLAT 7% OFF
on purchase of 999/-
THO7
FLAT 10% OFF
on purchase of 1499/-
THO10
View full details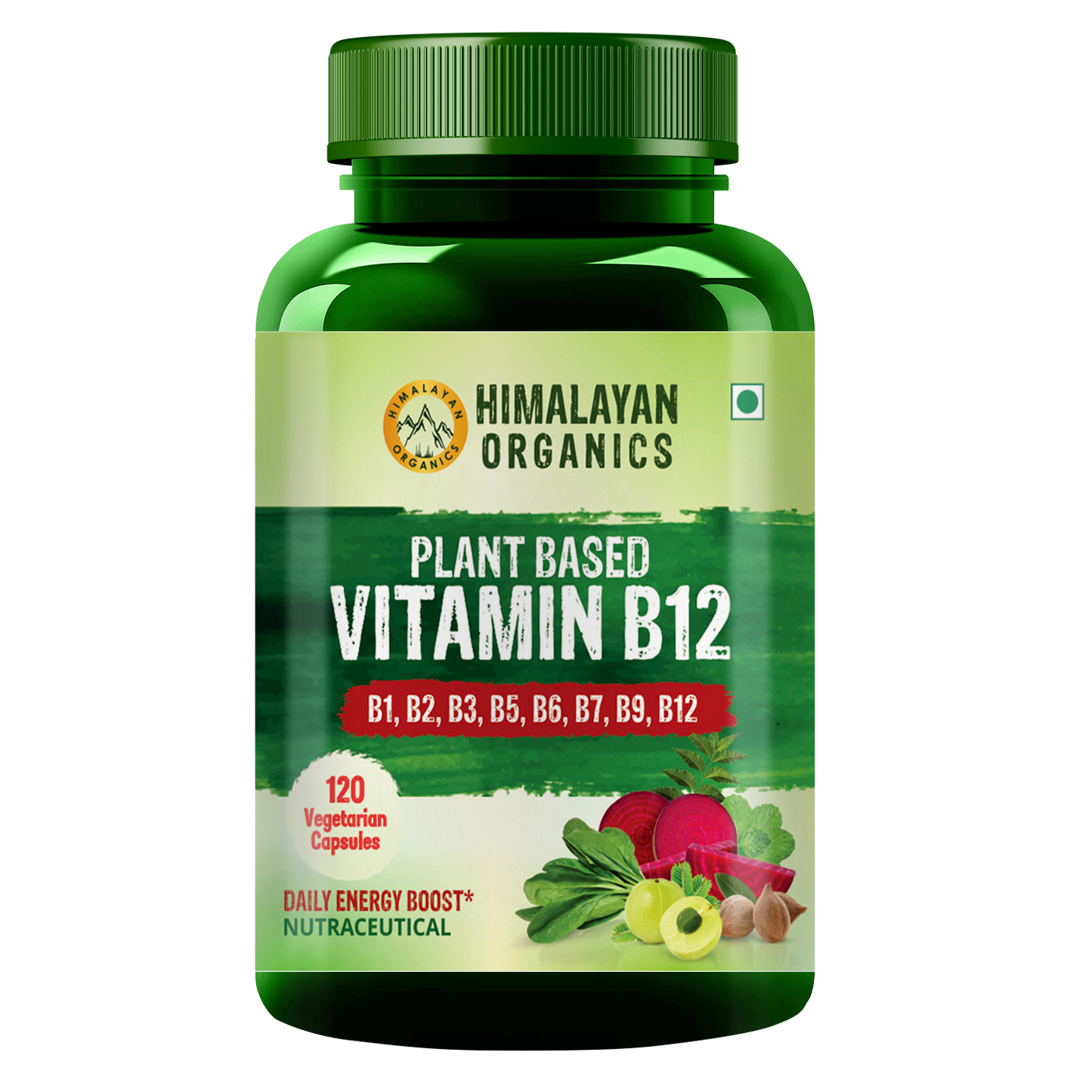 Description
Importance of Vitamin B12: Your body needs Vitamin B12 for normal functioning of nerve cells, red blood cells formulation, DNA synthesis & improving memory.
What's in the capsule: Contains plant-based sources of B12 such as Stevia Leaves, Alfalfa Leaves, Moringa, Wheatgrass, Beetroot.
How many capsules in 1 pack: It contains 120 vegan and gluten-free capsules for your healthy metabolism and superior nerve health.
Who can take: These plant-based capsules can be taken by both men & women for managing daily B12 deficiency.
How to Use: For holistic nutrition, Take 2 capsules daily, preferably one each, after lunch and dinner, or as prescribed by your healthcare professional.
SUPER STRONG IMMUNITY:
Contains Amla, Wheatgrass, and Beetroot.
ANTIOXIDANT RICH:
The plant-based extracts are rich in antioxidants.
NERVE HEALTH:
Supplies Vitamin B12 essential for nervous system.
Beetroot - Rich in essential nutrients and low in calories, beetroot helps manage blood pressure, improve athletic performance, and boost digestive health.
Moringa - Packed with antioxidants and bioactive compounds, Moringa regulates blood sugar levels, manages inflammation, combats free radicals, and boosts immunity.
Wheatgrass - A superfood, wheatgrass helps eliminate toxins, improves digestion, and boosts your metabolism.
Green Amla - Rich in antioxidants, Amla improves immunity, fastens metabolism, detoxifies the body, and supports digestive health.
FAQs
It is 100% organic and gluten-free!
It has Moringa leaves, Wheatgrass, Alfalfa leaves powder in it that are loaded with multivitamins.
Symptoms of vitamin B12 deficiency are fairly non-specific, and can include fatigue, weakness, lightheadedness, and loss of appetite. Shortness of breath, numbness, and memory problems can also occur.
Because vitamin B12 helps in the formation of nucleotides (genetic material), a deficiency can impair our normal production of DNA. This can first manifest as difficulty with the normal production of red blood cells, and can result in anaemia.
YOUR DAILY CLEAN, GREEN, VEGAN NUTRITION
Product didn't verify
I had checked ur product authentication but it didn't verify ... and ur customer care didn't pick my call
Aaj se 17din phaly order Kiya Tha aaj tak nahi mila
Himalayan Organics Plant Based Vitamin B12, Natural 120 Veg Capsules
Himalayan Organics Plant Based Vitamin B12, Natural 120 Veg Capsules