Regular price
Rs. 955.00
Sale price
Rs. 599.00
Unit price
per
37 % off
37 % off
Share
Offers available
FLAT 4% OFF
No minimum purchase
THO4
FLAT 7% OFF
on purchase of 999/-
THO7
FLAT 10% OFF
on purchase of 1499/-
THO10
View full details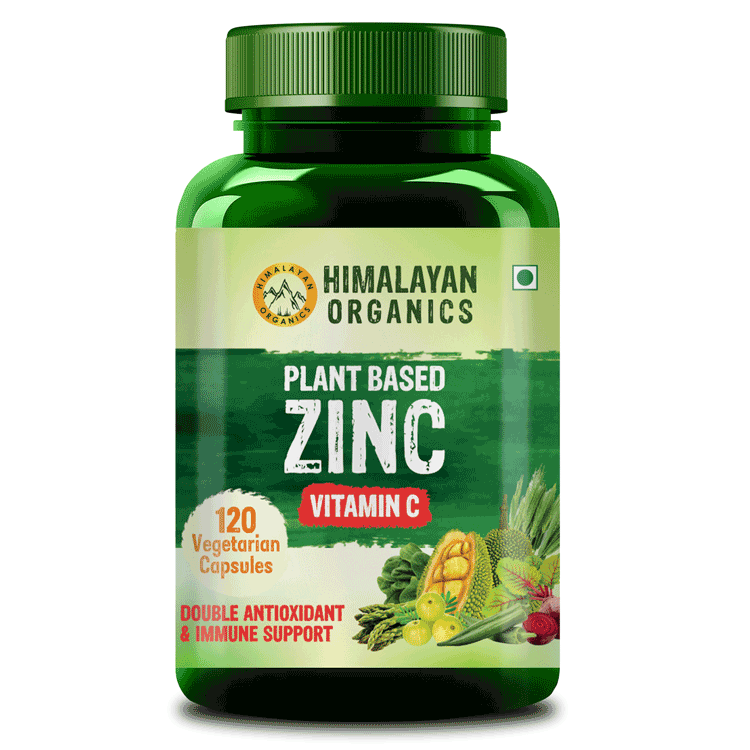 Description
2X POWER ALL DAY LONG!
Zinc and Vitamin C are the key nutrients essential for various reactions in your body. This vitamin and mineral combo supports nearly all the cells in your body for its smooth functioning. Precisely, that's why Himalayan Organics brings to you Plant-based Zinc Capsules enriched with the perfect balance of Vitamin C for your daily immunity, energy, and vitality. A power pack of 120 vegetarian capsules is a conscious amalgamation of various plant-based extracts rich in Vitamin C and Zinc, including Asparagus, Okra, Spinach, Beetroot, Wheatgrass, Spirulina, Pumpkin, and Amla. Whether you are a man or a woman, whether you work from home or office, whatever the case is, all you need is a stronger immunity, high energy, healthy functioning, and active life to lead your day smartly and efficiently. Himalayan Organics Plant-based Zinc with Vitamin C Capsules are a perfect friend for all your needs. 
INGREDIENTS:
Highly Nourishing Plant-based food for Good Overall Growth!

Spinach
Rich in Vitamin C, Antioxidants, Caroteins, that combat oxidative stress for a healthy self & support healthy eyes.

Beetroot
Bulbous & Sweet Root vegetable that regulates Blood Pressure & relaxes blood vessels for healthy cardiovascular functioning.

Jackfruit
Having an impressive nutrient profile, it regulates inflammation, manages blood sugar levels, strengthens immunity for a super strong & healthy you.

Asparagus Root
Low in Calories, high in vitamins, and a good source of fiber that manages bowel movement, smoothens digestion & aids in a healthy weight.

Wheatgrass
Superfood for head to heel wellness that eliminates toxins, strengthens immunity, improves metabolic activity & supports a healthy heart.
BENEFITS:
DUAL ACTION OF ZINC & VITAMIN C: These Capsules are a well-researched, expert-approved plant-based formulation that supplies an adequate balance of Zinc and Vitamin C for your daily needs. Not just that, Vitamin C with Zinc is easily absorbed in your body and hence, provides you the daily nutrition of both mineral and vitamin, that too from plant-based extracts sourced from most healthy farms.

BOOSTS IMMUNITY: Without a doubt, strong immunity is what everyone needs. Zinc and Vitamin C is a powerful duo that strengthens your immunity with their antioxidant and anti-inflammatory properties. It stimulates the production of healthy immune cells, safeguards against inflammation, to keep your immune system strong.

HEALTHY HEART: Himalayan Organics Plant-based Zinc and Vitamin C capsules supports the smooth functioning of your heart. Adequate levels of Vitamin C and Zinc helps to regulate healthy levels of blood sugar, blood pressure, and blood cholesterol for a healthy heart. Vitamin C relaxes the blood vessels that carry blood from the heart, allowing you to have a healthy lifestyle. Get ready for a healthy, wealthy heart!

BETTER NUTRIENT ABSORPTION: Vitamin C always helps in better and easy absorption of nutrients so that you do not fall short of them. This plant-based combo helps improve iron absorption from your diet, essential for making RBCs and transporting oxygen throughout your body.

GLUTEN-FREE FORMULA: At Himalayan Organics, every product is developed finely, keeping in mind the concept of holistic wellness. These capsules are no exception. Devoid of artificial colors, gluten, soy, dairy, fish, shellfish, tree nuts, these capsules are 100% vegan, cruelty-free, and sugar-free formula for all.
Dosage
Can it be taken with lunch?
Take 1 tablet of Himalayan Organics Plant-Based Zinc with Vitamin C regularly with water after your meal.
Greetings of the day, Thank you for your feedback.
After opening Can this be consumed after one month if stored in the refrigerator?
We would suggest you take 2 capsules of Himalayan Organics Plant-Based Zinc with Vitamin C regularly with water 1 each after your lunch and dinner. And you can store the supplement in a cool and dry place.
I'm having Pcod for 2 months and thyroid as well can I use these supplements?
Yes, Himalayan Organics Plant-Based Zinc with Vitamin C supplement can be used by you. People with certain medical conditions kindly connect with our healthcare professionals.