Regular price
Rs. 699.00
Sale price
Rs. 699.00
Unit price
per
0 % off
0 % off
Share
Offers available
FLAT 4% OFF
No minimum purchase
THO4
FLAT 7% OFF
on purchase of 999/-
THO7
FLAT 10% OFF
on purchase of 1499/-
THO10
View full details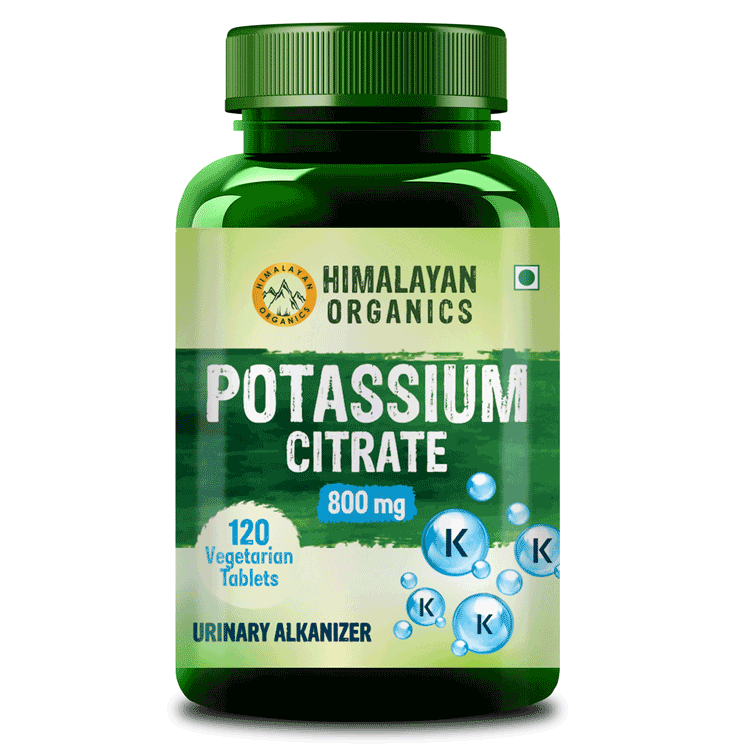 Description
Why do we need potassium citrate?Potassium citrate is an essential mineral that assists with various bodily functions, from blood pressure regulation to nerve impulses.
Healthy nervous system:The potassium helps maintain healthy transportation of messages between your body and brain.
Fulfilling daily potassium levels:Our body cannot produce potassium citrate on its own, thus, potassium citrate tablets help you maintain healthy mineral levels.
Expert-approved formula:Himalayan Organics Potassium Citrate Tablets are an expert-approved formula to serve you a holistically healthy body.
Healthy nerves and muscles:
With balanced potassium levels that relieves muscle cramps.
Alkalises urine:
By lowering levels of acid and promoting easier toxin elimination.
Balances electrolytes:
Healthy electrolyte balance helps maintain healthypH levels of the body.
Potassium citrate - Highly potent form of potassium and is easily absorbable.
FAQs
Our body cannot produce potassium independently, and since potassium assists essential body functions, it's important to balance potassium levels for which we need the supplement.
Potassium is an electrolyte that conducts electrical impulses throughout the body which is essential for managing muscle contraction, nerve impulse, blood pressure, and pH balance.
Potassium manages the level of calcium that the body loses through urine an heplps comabat the growth of kidney stones, as calcium is a major mineral in stone formation.
Anyone can take potassium supplements. Consult your doctor before consumption if you are pregnant, nursing, under medication, suffering from a disease or under 18 yrs old.
No, there are no harsh chemicals used in the curation of the tablets. The formula is expert-approved, free from gluten, dairy, and nuts, and vegan-friendly.
YOUR DAILY CLEAN, GREEN, VEGAN NUTRITION