Regular price
Rs. 749.00
Sale price
Rs. 749.00
Unit price
per
0 % off
0 % off
Share
Offers available
FLAT 4% OFF
No minimum purchase
THO4
FLAT 7% OFF
on purchase of 999/-
THO7
FLAT 10% OFF
on purchase of 1499/-
THO10
View full details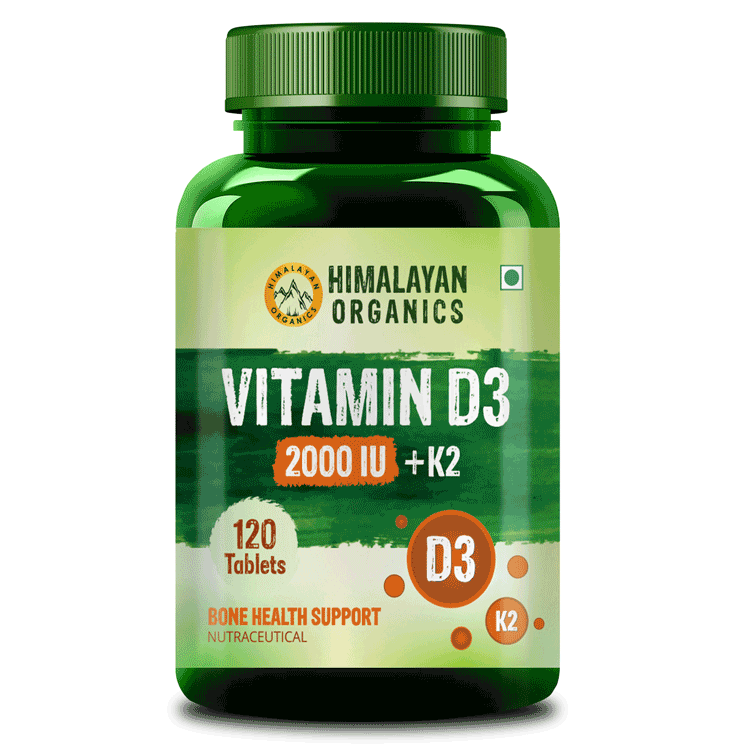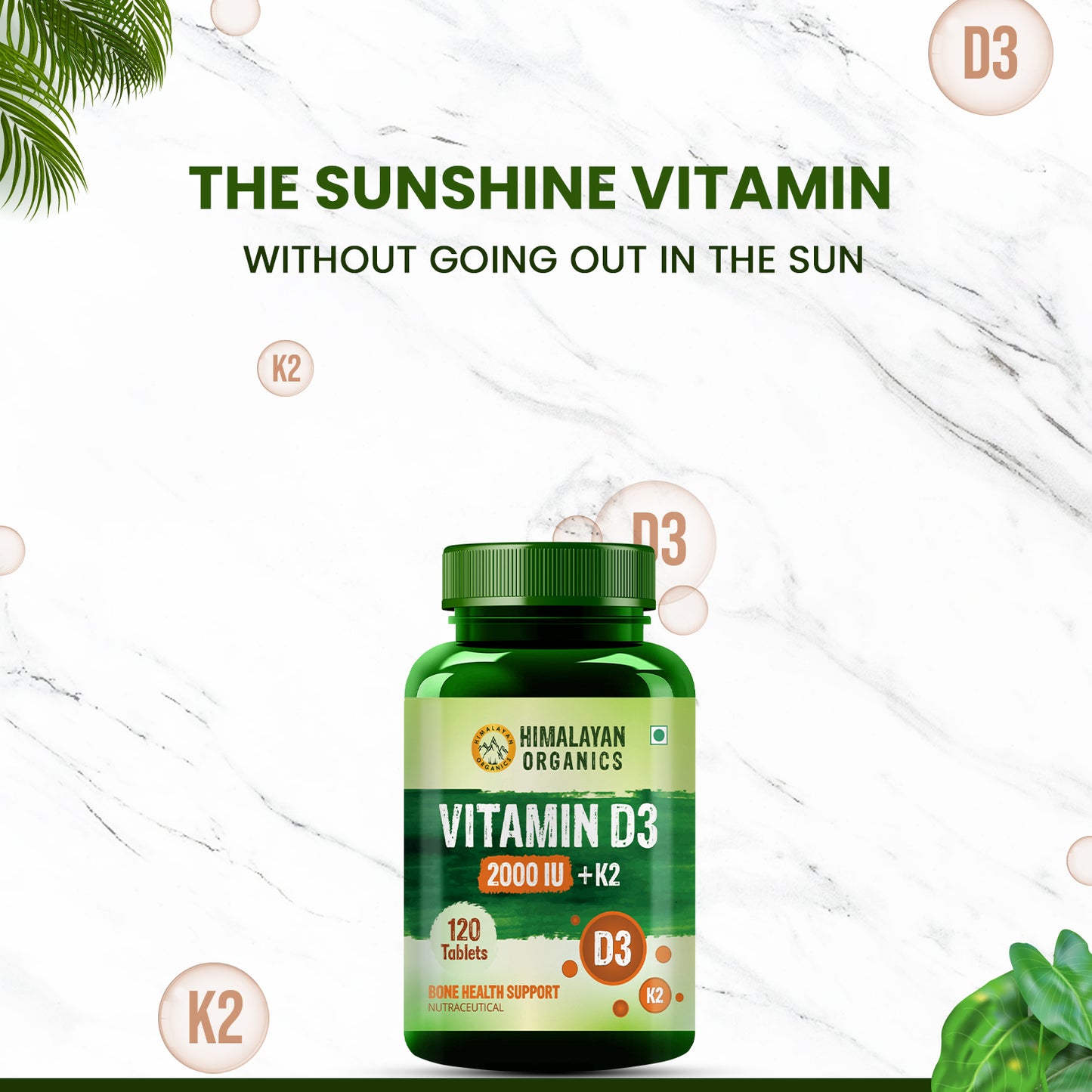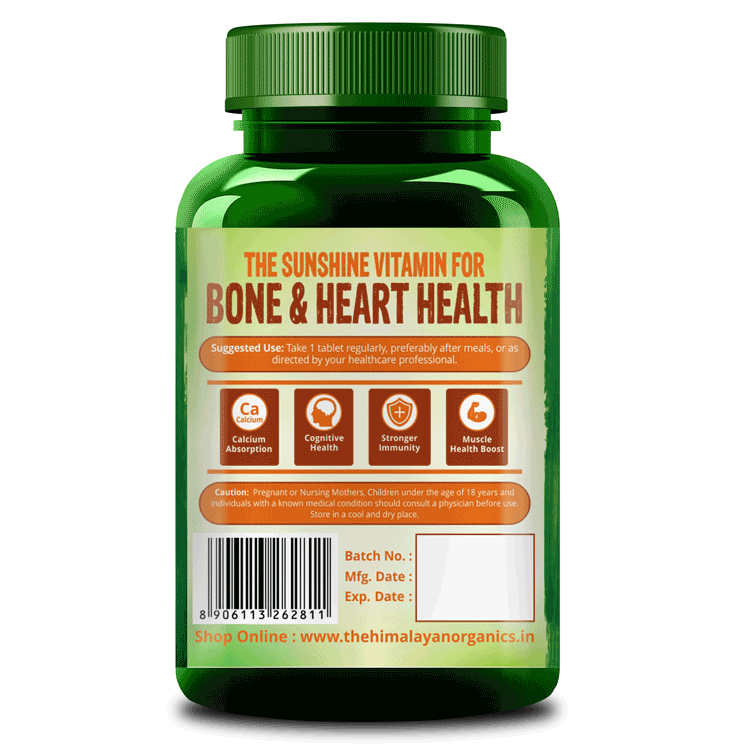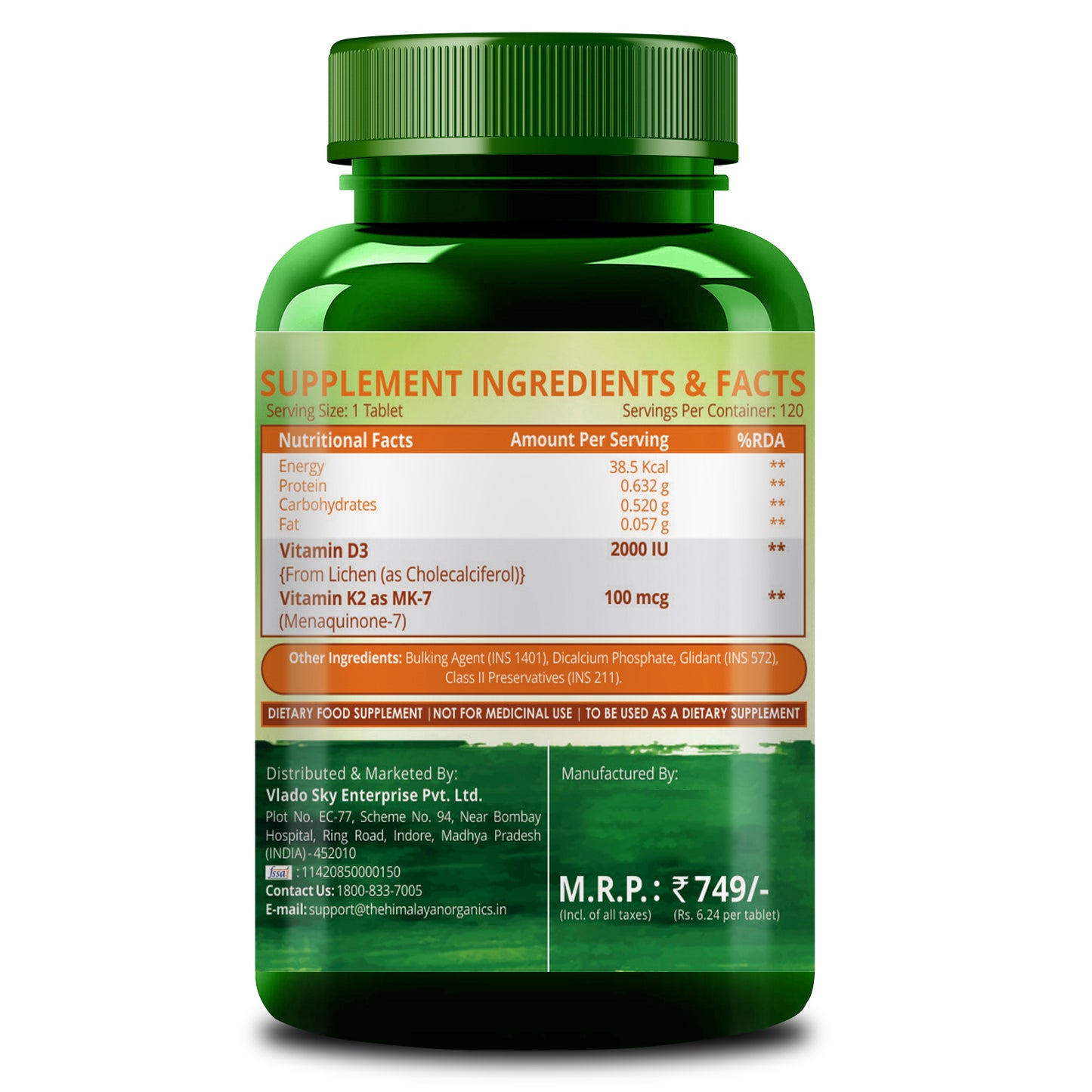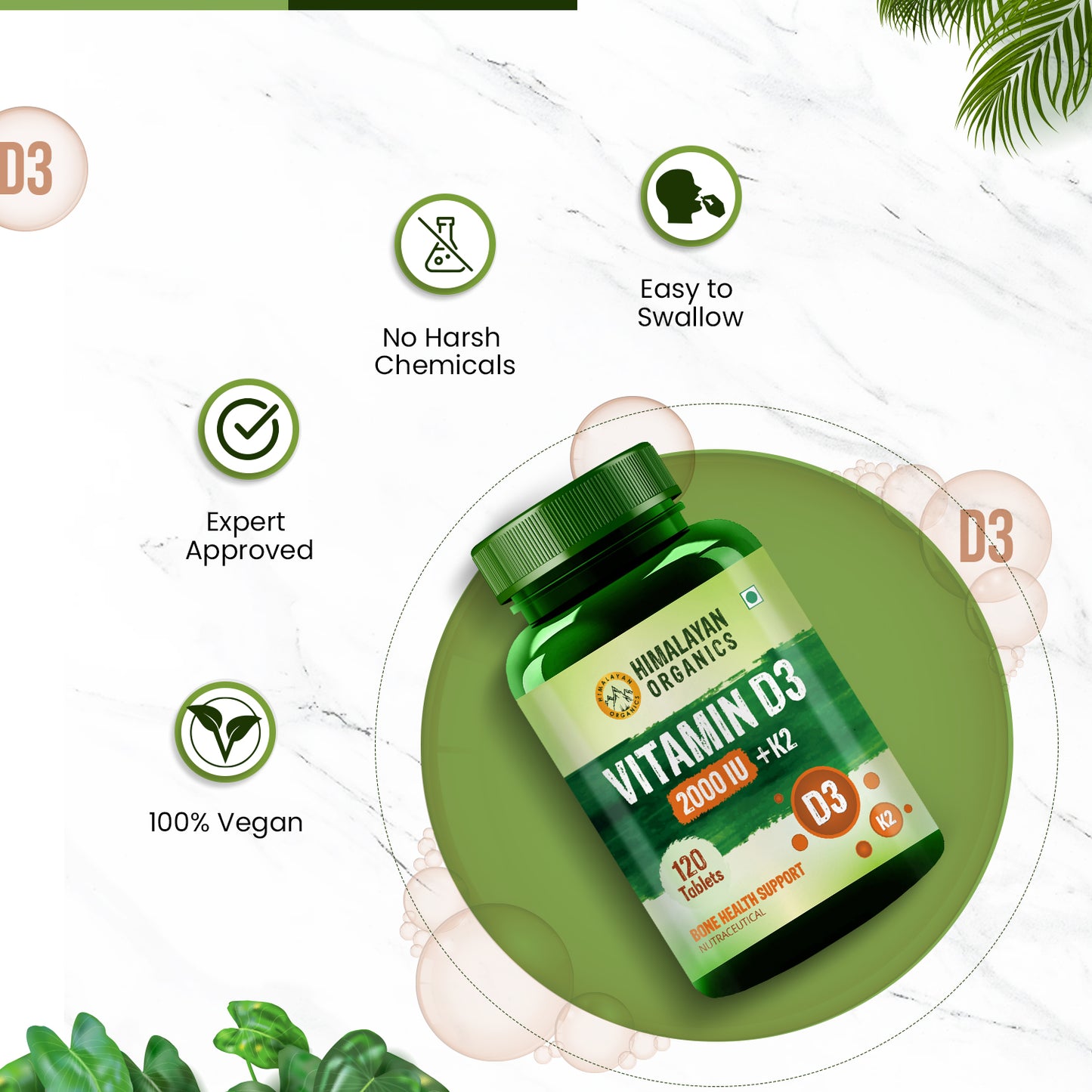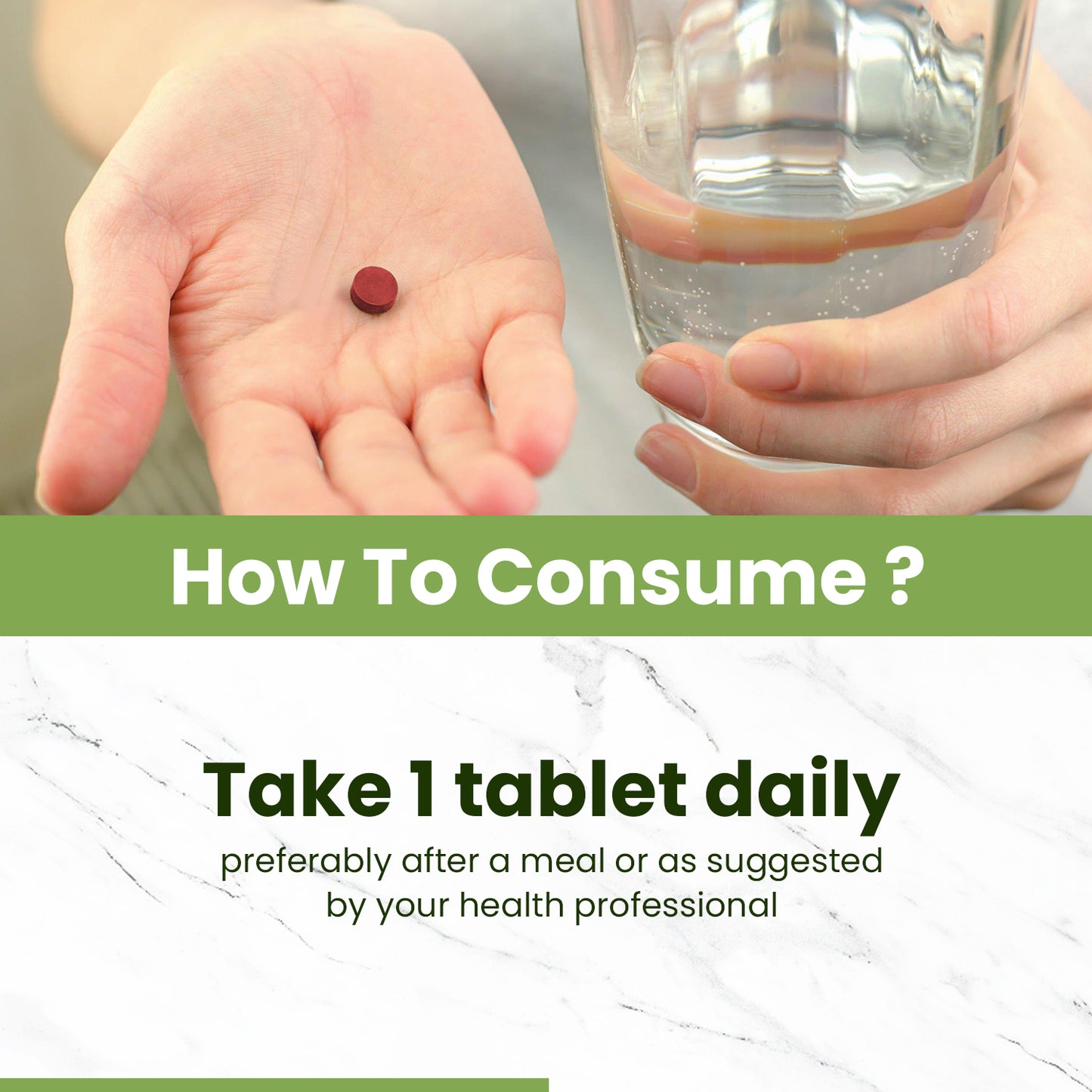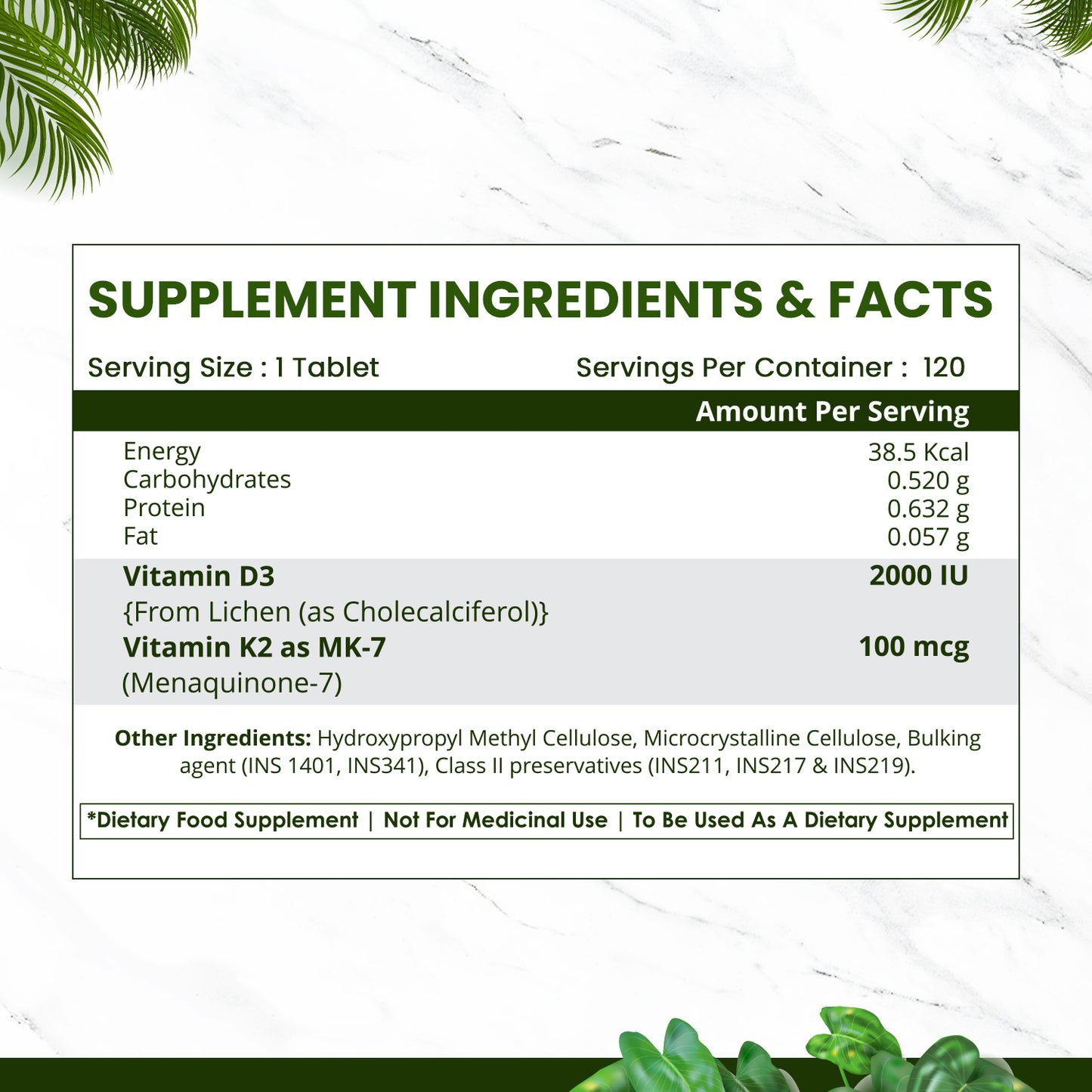 Description
Stronger partnership for healthier life!
Himalayan Organics Vitamin D3 2000IU with K2 is specially curated to help you overcome vitamin D3 and K2 deficiency. Vitamin D3 works on your bone density, allowing your bones to absorb calcium in a better way, while K2 helps calcium to bind in. The partnership of both vitamins plays a vital role in providing you with a better immune system, stronger bones, and a healthier heart.

Ingredients:
Vitamin D3 - Extracted from lichen, the most natural and toxins-free source of vitamin D3. The process through which lichen produces vitamin D3 is similar to what our body uses. Thus vitamin extracted here is the purest form of it.

Vitamin K2 - Absorbing calcium is not enough until you make sure it binds properly, and that's what K2 does. It enables the calcium binding that further builds and maintains our bones.
Benefits- 
CALCIUM ABSORPTION - Vitamin D3 makes sure you absorb the required calcium that you might miss in your daily diet. K2 binds the calcium to bones and saves from calcium buildup around arteries.
STRESS-FREE LIFE - Your body needs Vitamin D to keep depressive feelings & sadness at bay. When you fulfill the daily requirement of Vitamin D in your body, it helps you stay upbeat & happy.
STRONGER IMMUNITY - 2000IU of Vitamin D3 daily performs immunomodulatory functions. It supports better and stronger adaptive immune responses as well as safeguards you from infections.
HEALTHY HEART - Calcium buildup around arteries is not at all healthy in the long run. Vitamin K2 keeps calcium out of the arteries and other organs, promoting better working of the heart.
GLUTEN-FREE FORMULA - At Himalayan Organics, every product is developed finely, keeping in mind the concept of holistic wellness. These tablets are no exception. Devoid of gluten, soy, dairy, fish, shellfish, tree nuts, these tablets are 100% vegan & expert-approved.
Is this vegan, organic, or natural?
Himalayan Organics Vitamin D3 2000 IU Supplement is a vegan formula devoid of gluten, soy, dairy, fish, shellfish & tree nuts.
Greetings of the day, Thank you for your feedback
Greetings of the day, Thank you for your feedback
I love love it. From the very first day, I am using it and it helps essential nutrients that play an important role in the body. M feeling strong and it's a must-have
Greetings of the day, Thank you for your feedback
Greetings of the day, Thank you for your feedback