Regular price
Rs. 749.00
Sale price
Rs. 749.00
Unit price
per
0 % off
0 % off
Share
Offers available
FLAT 4% OFF
No minimum purchase
THO4
FLAT 7% OFF
on purchase of 999/-
THO7
FLAT 10% OFF
on purchase of 1499/-
THO10
View full details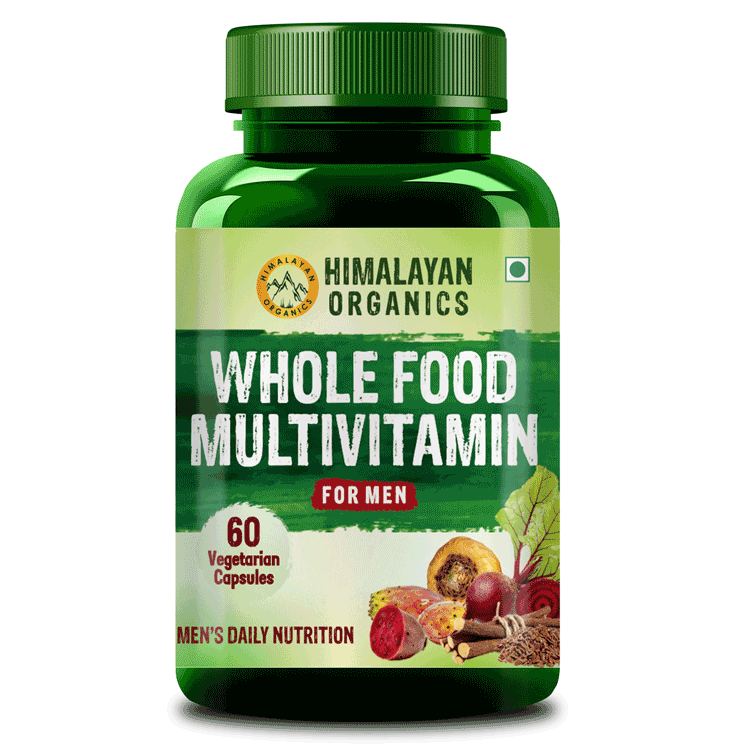 Description
Dear Men, everyday multitasking is now easier: You no longer need to worry about the multivitamin needs. Just get your daily dose of multivitamins & enjoy an active life!
25+ natural ingredients for men's daily nutrition: Mindful curation made with 25+ natural ingredients inclusive of nutrient-rich herbs, vegetables, fruits, spices & more.
Why Wholefood Multivitamin for Men?: Head-to-toe support to enrich their body, enhance their energy & elevate their performance.
1 formula! Abundant benefits!: Bones | Muscles | Digestion | Cognition | Performance | Nerves | Immunity | Hair | Skin.
BOOSTS ENERGY:
It enhances nutrient absorption which boosts metabolism & amplifies energy levels.
IMMUNITY SUPPORT:
Promotes healthy immune cells & guards against damage-causing molecules.
HEALTHY BONES & MUSCLES:
A perfect balance of nutrients improves bone density & combats muscle fatigue.
Moringa - Packed with Vitamin A, B1, B2 & Calcium that regulates blood sugar levels, neutralizes free radicals, manages inflammation & boosts immunity
Alfalfa - Rich in antioxidants & vitamins which balances blood cholesterol & blood sugar levels
Flaxseed - A functional superfood that is good for blood cholesterol, smooth arterial functioning, appetite control & weight management
Spirulina - One of the most nutritious foods in the world, packed with Protein, Vitamin B1, B2, B3, powerful antioxidants & anti-inflammatory properties
FAQs
No. In fact, it is an easily absorbable formula that promotes bowel movement, smoothens digestion & does not cause any reflux action or acidity.
Himalayan Organics Wholefood Multivitamin for Men has ingredients rich in Vitamin C that encourage collagen production, essential for skin elasticity & glow.
All our products are made under expert supervision as per the RDA protocols & certified by relevant bodies, making them perfectly fit for consumption & side-effect free.
Yes, it is a vegan formula devoid of gluten, soy, dairy, fish, shellfish & tree nuts.
It is not possible to overcome any deficiency overnight/fortnight. For best results, it is recommended to consume it continually for a minimum of 45-90 days & further as per the suggestion of your healthcare expert.
YOUR DAILY CLEAN, GREEN, VEGAN NUTRITION
Men having diabetic issues can consume these?
Himalayan Organics Whole Food Multivitamin for Men can be consumed by diabetic persons. Persons with certain medical conditions kindly connect with our healthcare professional before consuming the supplement.
A great superfood supplement for everyday need must try by every male
Greetings of the day, Thank you for your feedback
Greetings of the day, Thank you for your feedback